There are still two weeks left to 2015.... is it safe to say the market collapse,  crash,  Armageddon is going to come in 2016 instead of 2015, which was previously set for 2014, and 2013, and 2012 and 2011.....?  Have we survived another year above DOW 1,000?  Truly miraculous.....
2015 started with a sell-off which lasted one month.  From February until the middle of August stocks gyrated in a consolidating fashion before crashing into the end of August.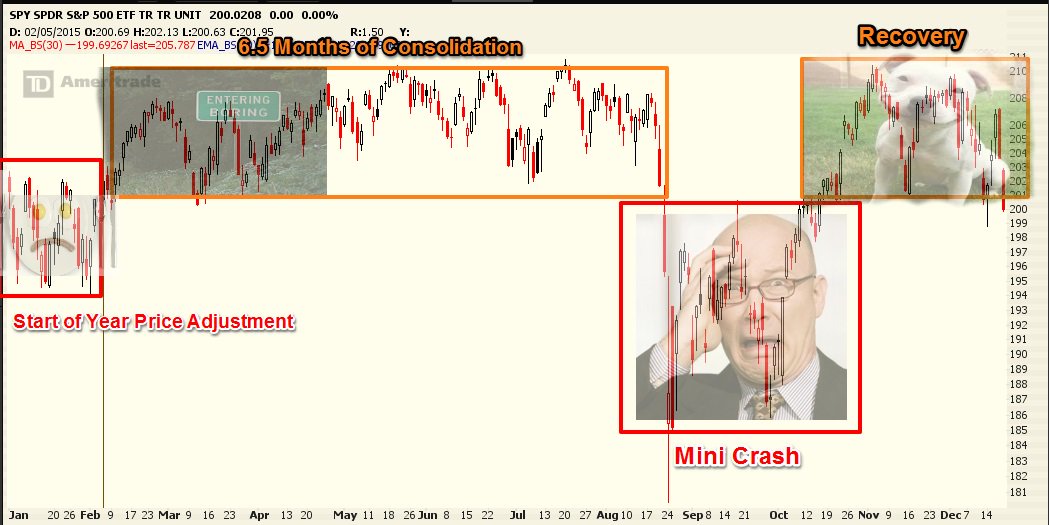 The recovery from that crash began at the end of September, with the stock market mounting an impressive rally back into the consolidation channel from months past.   Crude oil prices continue to take center stage.  At the start of the year I likened the Crude crash to that of the internet and the housing bubble.
Up, down, sideways - it doesnt matter where the market heads, there is always trades out there to be made.  2015 as a whole saw the trend end.  After 6 years of a historic bull market, stocks hit the wall in 2015.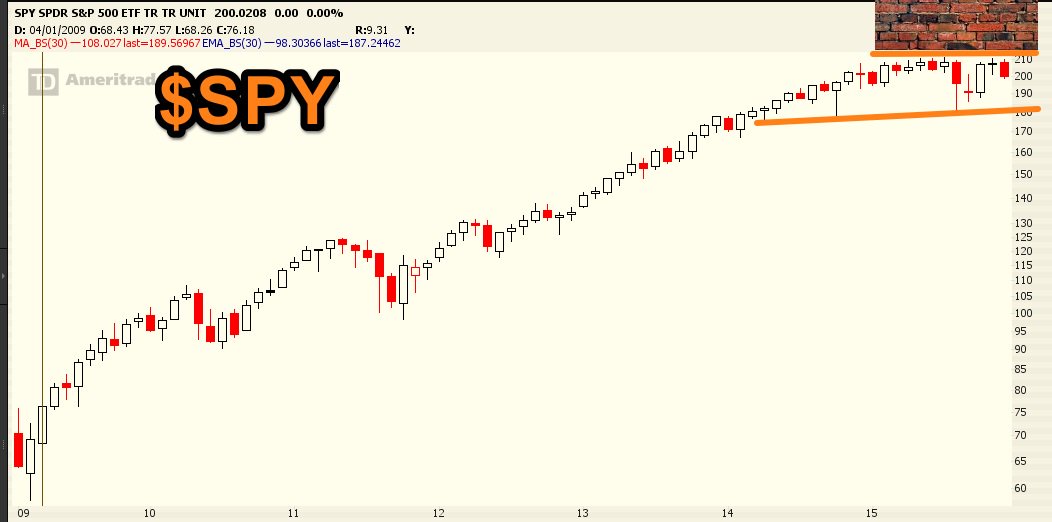 Prices kept bumping up against top side resistance without breaking through.
We end 2015 with prices holding support.  $SPY closed Friday's session at $200.  $QQQ at $110.  Both are key psychological levels with the $QQQ $110 level something that has been in play countless times in 2015.
The Nasdaq is moving in an ever widening pattern - forming a possible mega-phone topping pattern.  This deserves much attention heading into 2016.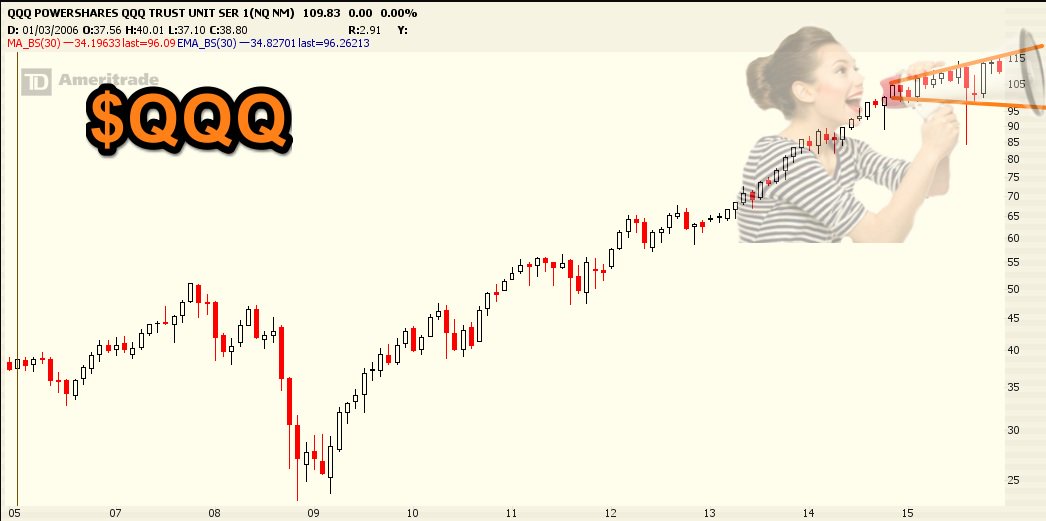 Things looked rather ominous at the start of 2015.  The market ended 2014 with two nasty days of selling.  That selling resumed as 2015 opened.   Prices were  in a free fall, which is not a bad thing when you are positioned for just that type of action.
JANUARY
JB loves to trade $PCLN, just as he did this past week, for a move in either direction.  $PCLN puts worked at the start of 2015 just as they worked last week as we end 2015.
and just as stocks were ready to fall even further they reversed course.  Even if it was only for one trading day.
On January 8th with only a handful of sessions under 2015's belt, I dubbed the 300 point Dow rally, the biggest rally we had seen all year.
and despite that rally $PCLN kept on moving lower:
As bleak as the market looked at times, the bid was always there to life prices back up to where they started.
Throughout 2015 the market would collapse, rally, and then close exactly where it started the session at.  It happened far too many times to be coincidence.  Which is why I think this market will close 2015 exactly where it started it at.  Poetic don't you think?
A week after the January 8th Recovery the action turned to OTL - off the lows.
and the trading action turning into what we are seeing late in 2015.  Sell the rips
and more OTL
and more....
and let us not forget about the Swiss.  After years of pegging their currency to the EURO they abruptly and unexpectedly pulled the plug on their currency manipulation and blew up FOREX accounts and FOREX brokers around the globe.
and my poignant post on preparing for more volatility.
FEBRUARY
We entered February still holding the line at some previous support levels.
Little did we know we were about to enter 6 months of full on - paraoblic consolidation.  The market was going to get a fresh coat of paint each month so we could sit and watch it dry.  Lucky for us we don't have to trade just the ETF's, there were plenty of stocks moving under the surface of the consolidation.
It early February when Greece was yet again coming back into focus.
Share buybacks also continued to put a bid under the stock market:
And despite the lack of a trend in February the option action was still creating some tremendous moves.  Look no further than another incredible $PCLN trade
and how about that US Dollar?  It was one of 5 things I highlighted to watch at the start of 2015.
and then we got $GOOGL $GOOG   GOOGLE or Alphabet or whatever its called these days.
$GOOGL was a stock I said to watch in 2015 for a breakout.  It spent the early part of the year stuck at $550.  We all know how that worked out.  The stock is over $750, up some $200 on the year.  That breakout started a little over a week before its blowout earnings report and its stock option posted some historic moves.
$.10 options into $100.   Unbelievable.
MARCH
as we headed into March $LL - Lumber liquidators was a recurring news and stock market mover.
The stock fell... and then fell some more.... its nearing sub $10 a share.
and as the US Dollar continued to breakout I put together this wonderful piece.
and Crude oil continued to roll over in March
and we got another mid-month bounce in March.
On March 19th The US Dollar flash crashed after the stock market's closing bell.  It's one thing for the stock market to crash, the currency market, on the other hand, is much larger.... yet prices were able to come back up to where the sell-off began.... just like the flash crash....
The March FED meeting resulted in a sharp rally.
and Barrons on March 23rd made some great calls on its front page.
and the recap from that week:
Sometimes you just have to dust yourself off and get back to work.
and a buyout that saw unusual option buying before the buyout became public knowledge
APRIL
and we entered April in the midst of 6 months of consolidation.  Headlines, fear, war.... they will do little to sway the indices to far in either direction.
and as usual some wonderfully astute charting
I am not sure what that formation is called, but it resolved at a gas station somewhere after emptying its tank.
and Tuesdays weren't a friend of mine...
and Chipotle Mexican Grill started it 2015 swings with a move that provided some 43,000% gains on some of its options.
Four months in and we still have not made any progress in 2015.....
More off the low action had the dip buyers ready to dive in on April 17th 2015
And the end of APRIL brought some big earnings reports and moves from the Likes of $AMZN.
and $MSFT $.09 to $3.50
and as the market remained aloft The bears remained
but we know as the months progressed in 2015 the bears would finally get their chest pounding moment.  The summer of 2015 provided a sharp collapse of stock prices that had the remaining bears proclaiming victory.
However the market was still in the Spring and summer was a few months away.  May 1st was up... it was a Friday and the market remained well contained.
Stay Tuned for Part II of 2015 - The Year In Review