Chipotle Mexican Grill ( $CMG ) has been falling from grace as of late, with the E. coli breakout news adding to recent woes. We have been playing for downside the past few weeks, and even mentioned the stock heading to $550 this week on our Week Ahead Webinar on Sunday, and via Twitter on Monday:
and Twitter:
We actually added $550 weekly puts on Monday, as Chipotle Mexican Grill ( $CMG ) broke under the $590 level:
The stock looked poised to break down, but found support at $580 on Tuesday/Wednesday, and bounced back above $610 heading into Friday. My $550 puts,which had showed so much promise, were now bidless and just a blemish on my account. That was until Friday  afternoon, when they came back to life in a major way.
As the stock started to fall Friday, I looked for some lotto put options, although I had no idea why the stock was selling off at the time. The spreads on the puts started  getting wider and pricier, and I was somehow lucky enough to fill a few $580 puts at .80. Once I saw some news on why the stock was falling, I became more confident that the puts would make some money. Sure enough, 10 minutes later I closed those puts @ $5 and $20..
Figuring $550 would be near the bottom, I then closed my $550 puts @ $3.10 and $3.80 as the stock hit $550. Considering there was only 28 minutes left in the day, I did not think the risk of holding for more downside outweighed the possibility of a bounce and my puts expiring worthless.
Chipotle Mexican Grill ( $CMG ) sold off into the close, and finished down another $15. The $580 calls closed at $46 and the $550s closed at $15. The type of moves that can make ones month or year.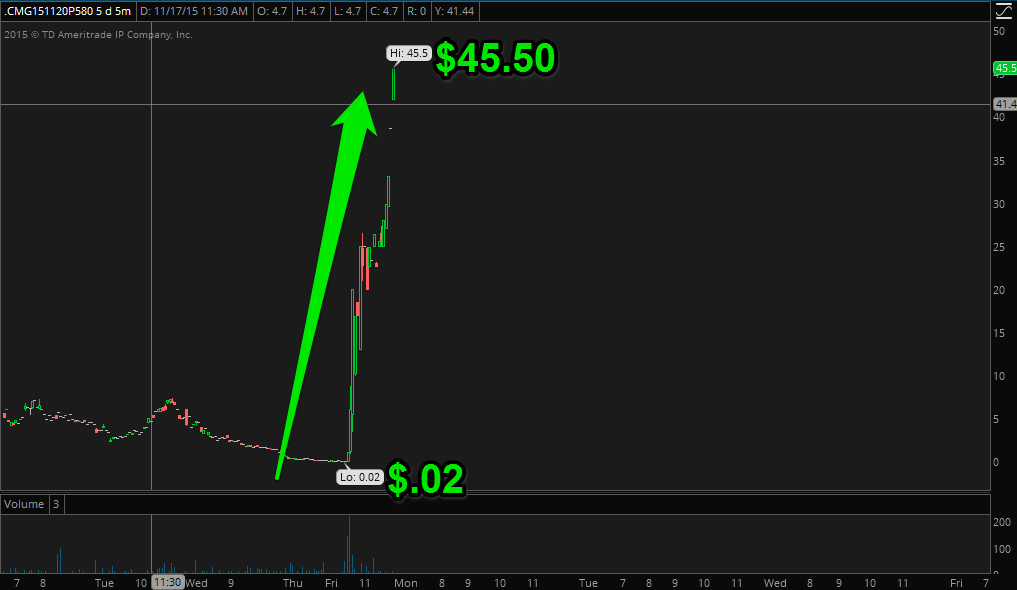 It was a fun ending to a great week, and goes to show why we love options.  Trades like this do not happen all the time, and certainly there is luck involved. But they say luck is when preparation meets opportunity and I was certainly prepared with my bearish bias towards the stock.
Any lurkers looking to see what the OptionMillionaires community is about can shoot an email to optionmillionaires@gmail.com for extended trial promotions.
Happy Trading!
-JB