Has the Market Topped?
No.
I could probably just end it there, but I won't.  I'll go on a little longer, just like I think this stock market will.  Clearly this stock market has a lot more hot air and myths left to push it higher:
This morning  anyone who has ever called the top for the stock market is wrong.
There are many who seem to embrace calling for market downside on a repeated basis and have called the top many times along the way.  At some point their calls for downside will be spot on.  But today, much like every other day since March 2009, they are still wrong.
Today the market is set to open at new, never seen before highs.  S&P500 futures just broke out of consolidation and looks poised for further upside in 2017.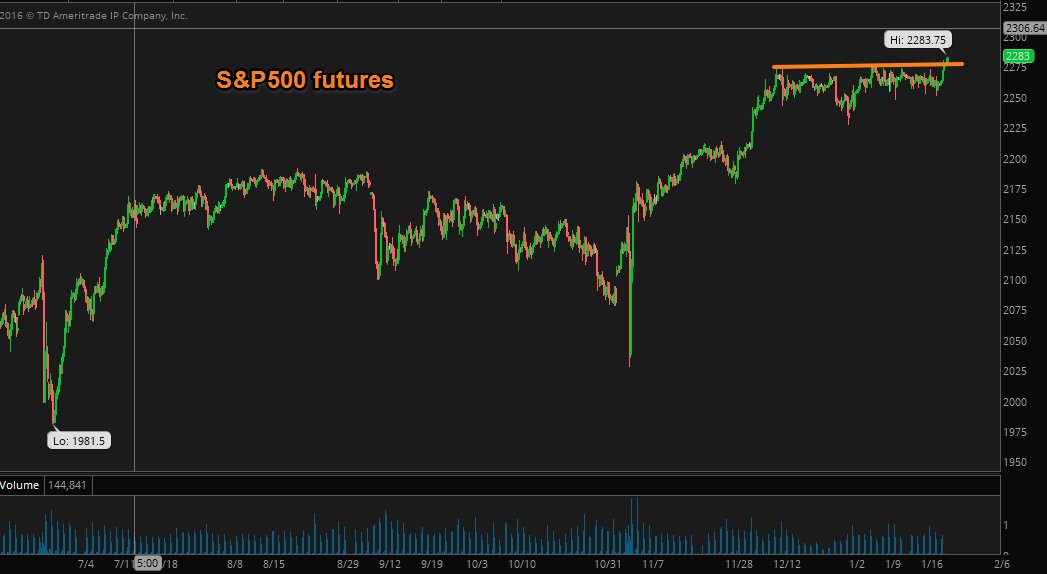 The VIX, on the other hand continues to be the only thing heading lower on a consistent basis.  It's getting closer  to that single digit reading I spoke of earlier this year.
The US Dollar strength has abated for now.
and for now that is comforting news for the market bulls.  The market continues to digest the seemingly hourly Trump headlines, most of which have been viewed as bullish for the stock market.
If inflation doesn't begin to spiral out of control and the FED can keep its snails pace on rate hikes, there is plenty of more room for upside in 2017.  And as the market continues to move higher, don't expect the stock market top calls to end anytime soon....  which is a good thing.  The move to record highs has been littered with skepticism.    When we see everyone get bullish, and the market starts falling for no named reason....
But until that day comes, The Utopia has moved from Coach to First Class in 2017.