The market continues  to soar after the Presidential election.   Such a large swift move usually comes with many traders calling for a top, or at least a pull back.  And if we've learned anything since the March 2009 lows, it's that any rally can go far further than expectations, and that while a pull back may come at some point, trying to time it is usually a failed endevour.  I don't think it will be any different this time around.
There were many who called for the market to pull back if Trump won the election.   You can count me in that group.  Trump was calling this market a bubble many moons ago.  And as the results started pointing to a Trump win on election night  S&P 500 futures  collapsed to limit down, falling over 5%.  When Hillary finally gave in, futures started to rebound.  The next day the market surged higher, and the market hasn't looked back.
Why?
The Baton is being passed from the FED to Trumponomics and a changing dynamic is helping to send stock prices much higher.
Almost eight years ago the Central Banks embarked upon the biggest financial experiment the world has ever seen.  Buying government bonds?  Manipulating currencies?  Buying Corporate Bonds?  Negative Interest rates?  Buying ETF's?   The list goes on, and on, and on.. and here we sit 8 years later with Central Banks still doling out unprecedented support to the financial system.
But why? Stock markets around the globe are trading at or near pre-financial crisis levels.  Many are trading at new all time record highs.  Surely this means the Global Economy is doing fantastic... right?  And if that's the case, why is the ECB still buying  bonds?  Why is the FED funds rate still under 1%?
Inflation my friend.
Inflation has given Central Banks all the ammo they need to maintain their easy money policies.  And easy money policy they did.   With low inflation, low growth, high unemployment, and ever present headwinds, the Central Banks had the green light to do whatever they wanted.  As such Central Bank balance sheets have grown quicker than that of a publicly  traded  Pizza corporation.
If anyone living through the financial crisis in 2008/2009 could fast forward to today, they would probably wonder what the heck the Central Banks are doing.  Didn't low interest rates contribute to the financial crisis?  Cheap money creates distortions in the market.  Cheap money + unprecedented Central Bank action for 8+ year.... wouldn't that create even more distortions?  We will find out soon enough.  But for now low inflation keeps the green light on.  And at this stage, even a modest uptick in inflation wouldn't scare away the Central Banks.  They would rather be a little late cooling inflation than sending the Global Economy back into a Recession.
Which brings me to the U.S. This past summer I mused that the Central Banks are operating in a Utopia.  Low inflation and consequently low interest rates have kept them in front of the '8 ball'.  They could talk a good game, but didn't have to play.
Is  the time coming where the whistle will blow and the FED will finally have to follow through on their rate hike promises.  Will one .25% hike in 2017 be enough?
The talk now is 3 hikes in 2017. Didn't they say the same thing last year?
For what its worth Interest rates haven't trended higher in over 40 years!  You could make the case that interest rates  have bottomed earlier this year after a 65+ year decline.   65 years!!!
The current Utopia,  built on the back of low inflation and low interest rates,  is getting an upgrade under Trumponomics.  The baton is already starting to get handed off from the FED to Trump.
The stronger US Dollar, while a big headwind for Emerging markets, will help keep inflation at bay.  Imagine that.  Without rampant inflation the FED will again be in no hurry to raise rates.   The US Dollar has rallied to 14+ year highs after Trump's election.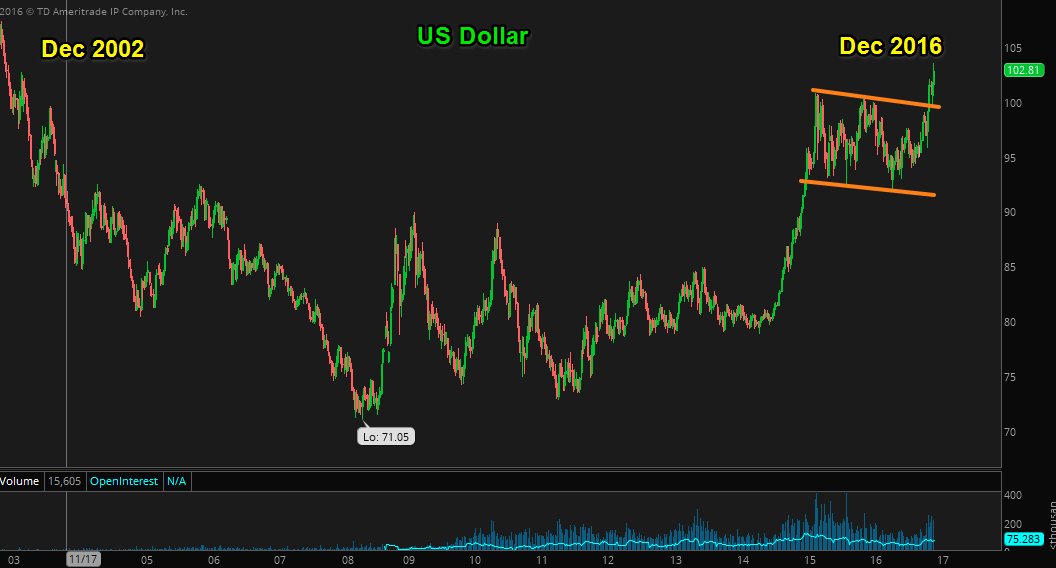 Trump bringing back 'Made in the USA' will bring wage inflation, which in turn will make consumer debt easier to pay off.  Consumer debt/income percentage is lower than its been in over 35 years.  That figure should continue to fall as wages rise.
The FED will continue to say hike hike hike, but the ball will only get snapped once or twice in 2017.  Meaning interest rates will remain subdued.  Corporations will push out their debt obligations even further while they still can.  Meaning the music continues to play.
Continued instability in Europe will also provide another excuse to stall interest rate hikes.  We've seen countless headwinds globally, and each one has turned out to be a great buying opportunity for the market.  That will not change in 2017.  If anything we are just a few headwinds away from just one rate hike in 2017 from the FED and that's bullish for the market.
While Trumponomcs will likely move wages higher, a stronger US Dollar will keep overall inflation in check.  That's an almost perfect combination.  With inflation in check and continued global economic uncertainty (Brexit, Italy, China, Syria, Turkey, Europe) the FED won't be in any rush to raise the FED Funds Rate. Meaning the debt bubble will remain intact under this scenario.  The  Coach Class Utopia gets a Free Upgrade to First Class.
While we may see another 2016 'esque pull back to start 2017, as investors lock in profits under Trumps new tax plan, that dip will likely be met with the similar buying vigor that we saw in 2016.  And the march to continuous record highs likely will continue unabated in 2017.