It's a heck of a lot easier to see things after they happen.  You know.... hind sight is always 20-20.  Just like this stock market, the unabated rise of Biotech was met every step of the way with the Bubble talk.
The Federal Reserve was even talking about it last year at prices much lower than it closed at on Friday - as I noted earlier this past week on twitter.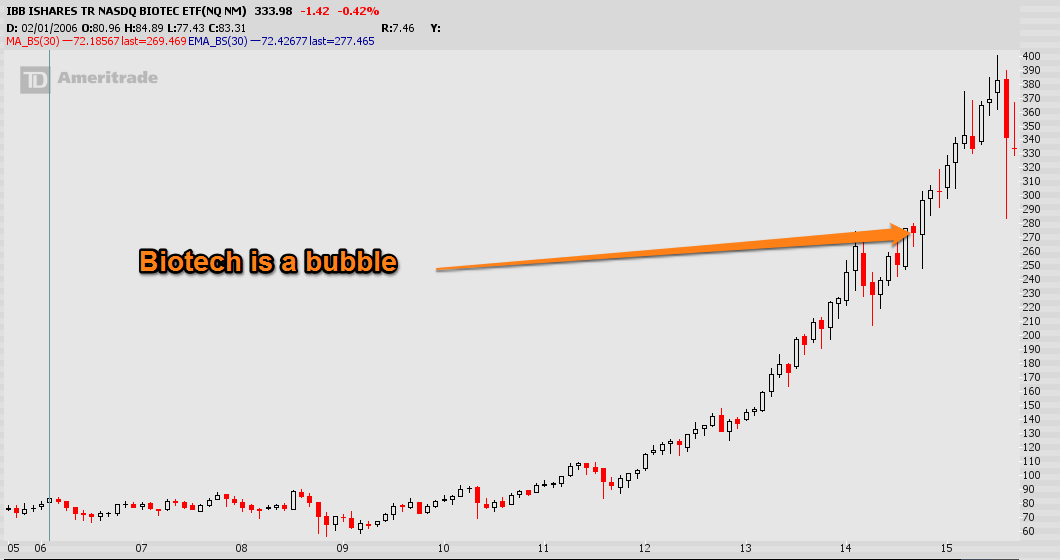 A top can be very hard to call in this market... at least it used to be.  How many top calls have we had since the lows in March 2009?  I've been saying it for years... don't fight the trend.  Well guess what?  Trends are breaking left and right.  And the trend breaking topping patterns are working like a charm.
I love it when the plan comes together
$INTC and $HPQ in the spring sported some wonderful topping patterns and... presto they topped and rolled over.... and in spectacular fashion.  From a few months ago:
Both were great trades for downside.  Both dropped some 30% from the levels the topped at.
Just a month ago I noted a wonderful topping pattern for $IBB, the Biotech ETF.  One that had seen numerous failed top calls over the last few years.
I also entered some $IBB puts to trade for downside:
These puts hit $15 a few days later from $1.
$IBB broke that key $360 level and collapsed to under $300 in just a several trading sessions.  A dramatic decline that gave every indication that the top for $IBB just may be in for now.
But prices weren't done going higher just yet.  Those shorting the crash lows were found covering those shorts as the recovery too hold.
$IBB found support and rallied back to that key $360 level that I noted on the first breakdown.  It came up to it last week to give it one last kiss goodbye.  How sweet....  It was then I penned the Biotech Boogie.  The Death Dance of the Biotech Index.
and $360 it came... it came to $360 just the same.  Weak.
the Clinton fed  collapse this "weak" - you could argue the writing is on the wall.  How smart are charts to know that Hilary Clinton is going to take a stand on Biotech?  Amazing.  Charts do Matter.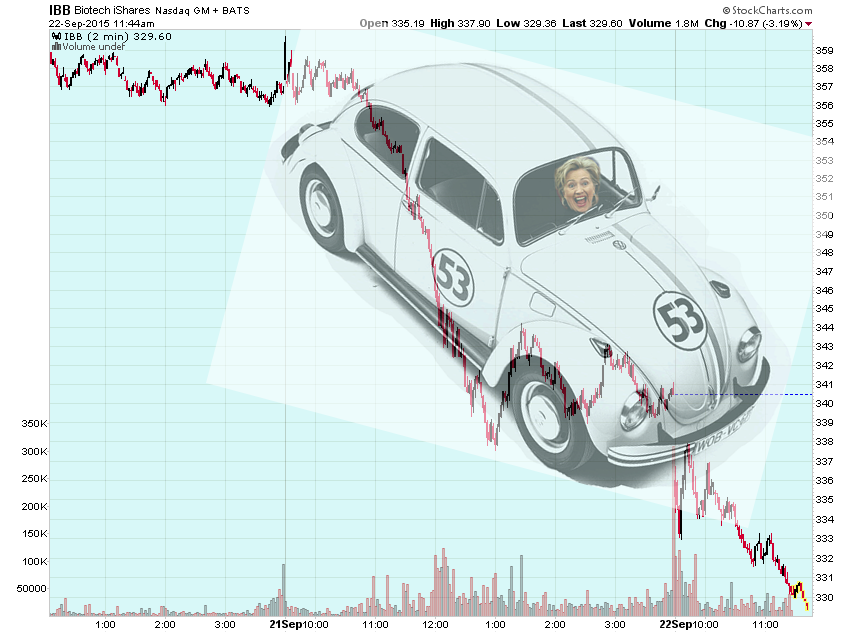 $IBB closed right at the $310 support I highlighted back in August:
The great part about this decline the past week was... getting in for the ride lower.
One of the worst 40 baggers you will ever see is the one when you sell 40 bags too early.
JB bought the $IBB $310 puts on Friday morning for $.05 and closed them out t $4.00 instead of almost $10... but he had the $340 puts from earlier in the week that went to near $40 from $2.15 entry.
So where does Biotech go from here?
From my perspective... it was a lot more obvious where it was going about $80 of downside ago.  Some of the main components of $IBB held support on Friday.  I think a bounce would make a tremendous sell the rip opportunity, as I think that's the type of market we are in for the next few weeks.  I think Biotech is heading much lower, but I also think this support will be the area that gets revisited for one last kiss goodbye, just as $360 did.
After we get that retest -  we can resume our Biotech Decline.  I've seen a lot of talk about Biotech the last few days and believe you me, there are many who still think Biotech is a great value here and at much higher prices.  The next move to the downside will not be easy to time,  but if its anything like the previous two down legs.... it will offer a tremendous profit opportunity.