Wednesday Morning News, Reads, Charts, Options
Reads:
News:
Futures:
 Open Interest Changes:
Charts:
Unusual Option Action 
Earnings This Week: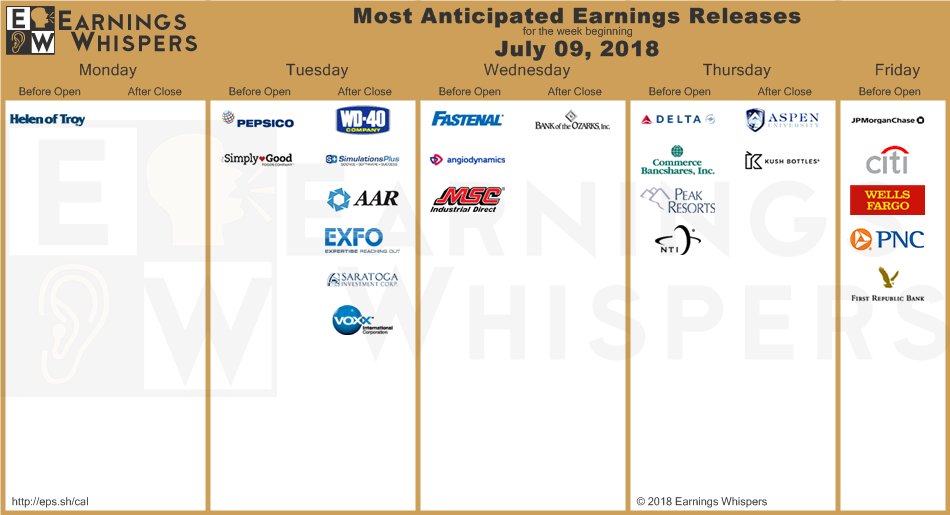 Seekingalpha:
It's another down day for stocks across the globe after the Trump administration raised the stakes in its trade war with China, saying it would slap 10% tariffs on an extra $200B worth of Chinese imports. The new list appears to target Beijing's important manufacturing export industries, going after electronics, textiles, metal components and auto parts. Food and personal sectors are also set to be affected, as well as beauty goods and makeup products.
Economy
Calling the actions "completely unacceptable," China's commerce ministry said it was "shocked" by the latest U.S. trade action and would complain to the WTO. It also vowed to retaliate with a "combination of quantitative and qualitative measures." Beijing imported $130B of U.S. goods last year, less than a third of the value of American imports from China, meaning in an all-out trade war, it would not be able to match tariffs dollar by dollar.
Repercussions? Shanghai is accelerating efforts to "cancel restrictions on foreign investment in the auto manufacturing sector," said Huang Ou, deputy director of the local Commission of Economy and Information Technology. The comments come a day after Tesla (NASDAQ:TSLA) said it would build a wholly owned auto plant in the city, set to be Shanghai's largest foreign-invested project.
President Trump launched a sharp public attack on Germany at the NATO summit in Brussels, criticizing Berlin for "getting 60-70% of their energy from Russia" via a Baltic Sea gas pipeline deal. "So we're supposed to protect you against Russia and you pay billions of dollars to Russia and I think that's very inappropriate." He also slammed NATO countries for not stepping up their military spending.
Defense stocks are in focus on the news. In 2014, NATO allies agreed to move towards spending 2% of GDP on defense within a decade, but only six member countries have so far met that goal: the U.S., the U.K., Greece, Estonia, Poland and Romania. The U.S., which spent $685.9B on defense in 2017, currently makes up 51.1% of NATO's combined GDP.
"In 2019, EIA forecasts that the United States will average nearly 12M barrels of crude oil production per day," said Linda Capuano, Administrator of the EIA. "If the forecast holds, that would make the U.S. the world's leading producer of crude." The estimate comes even amid transportation logjams in the country's most prolific shale play - the Permian Basin.
Stocks
Ratcheting up the stakes of an ongoing bidding war, Twenty-First Century Fox (NASDAQ:FOX) has secured a deal to buy Britain's Sky (OTCQX:SKYAY), valuing the company at $32.5B. Disney (NYSE:DIS) previously agreed to a $71B takeover of Fox's entertainment assets, which includes its 39% stake in Sky, but Comcast (NASDAQ:CMCSA) is trying insert itself into both deals and has made an all-cash offer for the Fox assets.
Facebook has been hit with a fine in Britain over the Cambridge Analytica scandal, in what amounts to the social network's first financial penalty since the data leak was revealed. £500K represents a tiny sum for Facebook (NASDAQ:FB), which brings in billions of dollars in revenue every year, but it's the largest fine that can be levied by the British Information Commissioner's Office.
The EU's antitrust watchdog could issue a multibillion-euro fine against Google (GOOG, GOOGL) for abusing its Android OS dominance, according to the WSJ. That amount could even come in higher than the $2.82B fine the EU gave Google last year for prioritizing its own shopping service. A third formal probe into Google's AdSense for Search is still underway.
Doubling its valuation ahead of an expected IPO, JD.com's (NASDAQ:JD) finance arm has raised at least 13B yuan ($1.96B) in fresh equity from Chinese investors, Reuters reports. The round follows that of Ant Financial, the affiliate of archrival Alibaba (NYSE:BABA), which was valued at $150B last month when it raised $14B in the world's largest-ever single fundraising by a private company.
Goldman Sachs almost tripled the volume of "credit portfolio trades" this year - whereby it buys or sells large scale blocks of securities through ETFs - to around $20B globally from $7B in all of 2017, Bloomberg reports. It's able to do this because it acts as a so-called authorized participant, whose responsibilities include supplying the securities underpinning the funds, and Wall Street rivals now want to emulate Goldman's (NYSE:GS) strategy.
The SEC has reportedly shelved a proposed Obama-era reform that would have given shareholders more freedom to vote for their preferred candidates during contested board elections. Unlike in many countries like Canada and Australia, U.S. investors are not allowed to vote remotely for directors from a mix-and-match list, such as those provided by company management or an activist investor.
Pfizer shares fell 1.2% AH on Tuesday, upon saying it will defer recent drug price increases after CEO Ian Read spoke with President Trump and HHS Secretary Alex Azar. This will happen "as soon as technically possible," according to the company. Pfizer (NYSE:PFE) previously raised the costs on around 40 medicines, including Viagra, cholesterol drug Lipitor and arthritis treatment Xeljanz.
Previously needing $1,000 to secure a place in line, Tesla (TSLA) is now taking orders for its Model 3 throughout the U.S. and Canada - no reservations required. Customers still have to make a $2,500 deposit up front, which goes towards the overall cost of the car. More cash? Tesla ended the first quarter with a cash balance of $2.7B, but said then that it still expects to spend $3B. TSLA -1.9% premarket.
Self-driving news... Daimler (OTCPK:DDAIF) and Bosch (OTC:BSWQY) have unveiled a plan to deploy self-driving taxis in Silicon Valley next year as part of a test program designed for city driving. Meanwhile, U.S. authorities have charged former Apple (NASDAQ:AAPL) employee Xiaolang Zhang - who allegedly planned to work for a Chinese self-driving car startup - with trade secret theft related to autonomous vehicle blueprints.
American Airlines has become the latest big company to say it's axing plastic straws and stir sticks amid a broader push to abandon one-time use plastics. Its airport lounges will instead feature biodegradable straws and wooden stir sticks, while bamboo replacements will be substituted aboard its planes. American (NASDAQ:AAL) estimates the move will eliminate more than 71K pounds of plastic annually.
Just a week before the Farnborough Airshow, Boeing (NYSE:BA) said its first-half deliveries rose more than 7% to 378 commercial aircraft, and its 460 orders were more than double those of Airbus (OTCPK:EADSY). Its European rival announced a key victory, however, with JetBlue (NASDAQ:JBLU) ordering 60 of its rebranded A220 narrowbody jets, previously called the CSeries under Canadian firm Bombardier (OTCQX:BDRAF, OTCQX:BDRBF).