Heading into this coming week, earnings season kicks off.  The trade war is still in its early stages.  North Korea talks have gone sour again.  Clearly the headwinds remain for this market... which is a good thing.
Some stocks I like right here.
and let's look at $SPY, $QQQ, $IWM, $DIA.
They had a great momentum trigger heading into the Trade War.
Friday's action was clearly bullish, with an outstanding jobs report helping to push the price action higher.  And Yes $DIA joined its other bother and sisters in getting a nice positive momentum swing.
and finally $XLF.   FInancials are set to report earnings at the end of this week.   $JPM comes Friday morning.  $C, $PNC, $WFC also report Friday morning.  It's going to be an important day for financials and the market.   Trade war per share numbers are most certainly going to rise.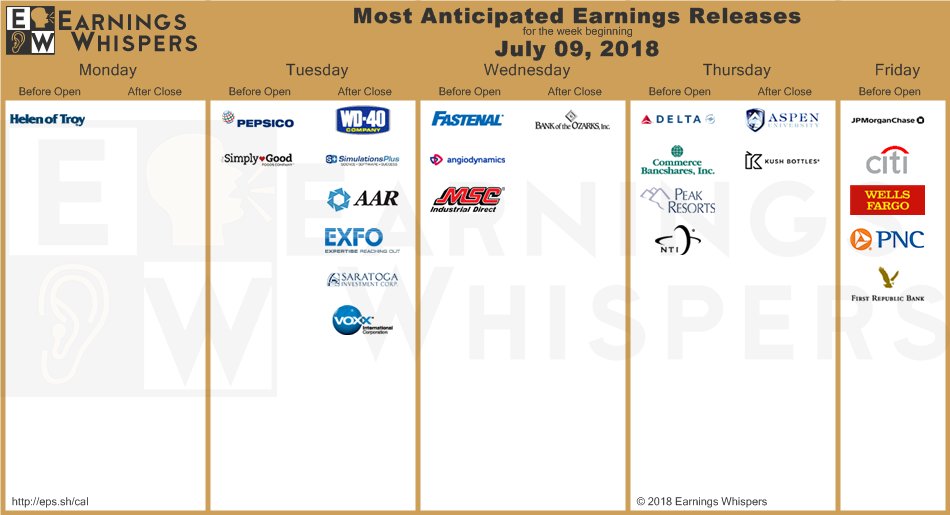 Are we going to see a sharp move higher out of this wedge?  Or will support break?
Momentum is on the cusp of a turn.  A move higher in financials would only add more fuel to the upside move for this market.    My bias remains for upside and I think the next move for financials is higher.
Have a great rest of the weekend