$VXX fell over $121,000 the last 9 years, a relentless move to the downside that continued unabated until last week.  Yesterday after falling a mere $10 $VXX was halted.   Go figure.
It is pretty ironic.  Even more ironic is that $VXX is supposed to give traders exposure to volatility, yet with volatility at a premium yesterday $VXX was halted.  Does that make any sense?  About as much sense as halting $VXX during the last $10 of a $121,000 price collapse.  I've covered $VXX countless times before.  I've even mused 6 years ago that the $VXX and volatility are being killed by the powers that be, to create a market calm designed to re-inflate asset prices.  And that plan worked to perfection... until this week.
Curious paints of the VIX have paved the way to higher asset prices and a market calm the world has never seen before.
And perhaps our previous FED chairs painting skills have not been passed down to our new FED chair.  Which is why the VIX has been flying higher.  The low VIX memo must not have made the rounds quite yet.
VIX manipulation is up for debate.  Interest rates have been manipulated by the Central Banks.  Bonds have been manipulated by the Central Banks.  Currencies have been manipulated by the Central Banks.   The VIX?  why not.  If the VIX is viewed as a pre-cursor to lower stock prices, keeping the VIX low would indeed keep with the Central Banks outlook.
VIX manipulation you say?
What we found out this week, is that crushing market volatility for 8+ years had risk moving to products that they thoughts couldn't lose.  And they were winning for a long time.  But all it takes is one massive move to wipe it all away.  The VIX disaster this week is a microcosm of the stock market.  8+ years of carefully crafted equity gains can all be wiped out in a short period of time.
This week has been a slap in the face: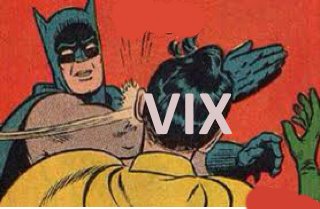 A wake up call.  When the can't lose trade goes wrong, it will go wrong in an extraordinary fashion.