Tuesday Morning Reads
Reads:
News:
 Futures:
Yesterdays UOA:
Charts: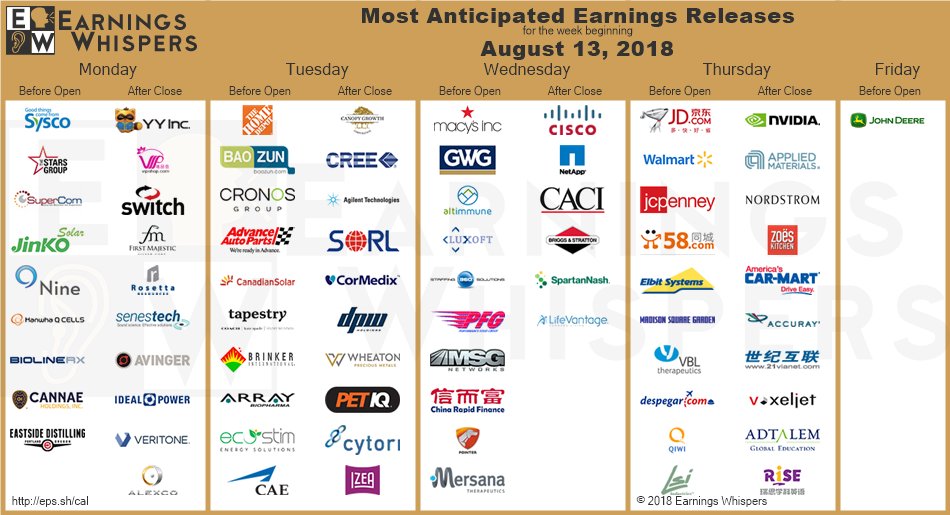 SeekingAlpha:
The S&P 500 Index has a fighting chance to avoid recording its fifth straight decline as global markets shake off Turkish currency jitters. In Asia, the Nikkei carved out a 1.2% gain after a lower yen set the stage for buying action. The Shanghai Composite in China finished the day 0.1% higher and South Korea's Kospi index edged up 0.2%. Australia's ASX 200, Taiwan's Taiex and New Zealand's NZX-50 were all in positive territory as well, while Hong Kong's Hang Seng shed 0.4%. It's a positive session at midday in Europe as well, with the Stoxx 600 up 0.3%. Germany's DAX is 0.5% higher to lead the way, while U.K.'s FTSE is up 0.3%. Dow futures point 0.3% higher and S&P 500 futures are up 0.5%.
Economy
Economists received an early indication on the impact of dueling tariffs in China earlier today with the arrival of a couple of key reports. The National Bureau of Statistics of China reported that retail sales rose 8.8% in July vs. 9.0% consensus and 9.0% prior. Retail sales growth in China hasn't been in double-digits since April. Industrial production rose 6.0% during the month to miss the consensus expectation for a 6.3% gain and the 6.0% pace recorded in June. A national urban survey unemployment rate rose to 5.1% in July from the 4.8% mark in June.
Industrial production in Japan was revised up to a drop of 1.8% in June after the initial release showed a decline of 2.1%. The improved reading was tied to a lift from pharmaceutical and aircraft-related parts production. The measure of factory and mines output was down 0.9% on a year-over-year view. The two-month stretch of falling production marks the worst stretch for Japanese factories since 2016.
Crude oil prices are slightly higher after import data is released out of China and Libya. Along with the strong U.S. dollar, developments with Iran are still seen as the crucial factor in the oil patch. "If 1 million barrels per day or more of Iranian exports go AWOL, the current fragile supply-demand balance will be upended — potentially sending oil prices above the May peak," noted research firm PVM Oil Associates. WTI crude oil futures +0.68% to $67.66/bbl at last check. Brent crude +0.62% to $73.06/bbl.
Unemployment in the U.K. is at the lowest level in 43 years even as wage growth remains subdued. The Office for National Statistics reported that the jobless rate in June fell to 4.0% to fall under the 4.2% mark anticipated by economists. The market-implied probability of another Bank of England rate hike in May 2019 edged up to about 45%, according to Bloomberg.
NASA Administrator Jim Bridenstine expressed full support Monday for President Donald Trump's proposed Space Force concept in comments made to reporters. Bridenstine sees the Space Force having a separate role than the space exploration and research conducted by NASA. Some military leaders have expressed doubts over the need for the extra costs and bureaucracy of another service branch.
Look for more fallout from Argentina's move to boost its 7-day Leliq rate by 500 basis points to 45%. The central bank vowed to keep the key interest rate at that level until at least October. Late Monday, Argentina's peso erased its loss sustained earlier in the day. The government also canceled its daily dollar auction and said it will gradually eliminate its holdings of short-term notes.
Stocks
A top exec with Coca-Cola (NYSE:KO) has confirmed that the company is acquiring a minority stake in BodyArmor in a deal that could allow for full ownership down the road. Financial terms are expected to depend upon the level of BodyArmor sales and other performance measures. Coca-Cola North America President Jim Dinkins told The Wall Street Journal that Coca-Cola will position BodyArmor as a premium drink above Powerade. The BodyArmor deal also positions Coca-Cola to turn up the competitive heat on PepsiCo (NYSE:PEP) property Gatorade. Also in the mix, Keurig Dr Pepper (NYSE:KDP) has a minority stake and distribution deal with BodyArmor.
With two key proxy advisory firms putting their weight behind Cigna's (NYSE:CI) $54B takeover of Express Scripts (NASDAQ:ESRX), Carl Icahn has dropped his campaign against the deal and won't solicit Cigna proxies against it. He faced an uphill battle after expressing public opposition only following the record date, and with just a small Cigna stake and a short position in Express Scripts.
Sources indicate that buyout group Carlyle (NASDAQ:CG) is prepping for a stock market listing of German speciality chemicals group Atotech. The former Total (NYSE:TOT) unit was picked up by Carlyle about two years for $3.2B. Atotech specializes in making chemicals and equipment for printed circuit boards and semiconductors.
Chinese electric vehicle company NIO (NIO) filed for a confidential IPO on the New York Stock Exchange. The Shanghai-based company used a placeholder amount of $1.8B in the offering filing. NIO is aiming for high-performance, premium segment in what's rapidly becoming a crowded EV market in China. NIO mentioned (NASDAQ:TSLA) several times in its SEC filing F-1 as a major competitor.
Speaking of Tesla: Actively-managed funds would need to secure client approvals to hold Tesla (TSLA) if the company were to go private. "Our inclination is that if we could go private with him, we would, but it's complicated," said one large Tesla investor. The fund wildcard also adds to the difficulty in gauging how much funding would be needed by Elon Musk to buy out current Tesla holders. In a related development, major Tesla holder Fidelity cut its stake during Q2 by 21% to just under 11.2M shares
Just a tad more on Tesla: Elon Musk tweeted that he is working with Silver Lake and Goldman Sachs (NYSE:GS) as financial advisors in his bid to take Tesla (TSLA) private. He also indicated that Wachtell, Lipton, Rosen & Katz and Munger, Tolles & Olson are signed up as legal advisors on the deal. Following the tweet, Silver Lake told Reuters that it is working in an unofficial capacity on the go-private Tesla deal.
The Patent Trial and Appeal Board ruled that BlackBerry (NYSE:BB) patents on an industrywide technology standard won't face a challenge from Nokia (NYSE:NOK) as part of their dispute. The PTAB says Nokia hasn't shown reasonable likelihood that it could prevail in an inter partes review of two BlackBerry patents tied to a federal case where BlackBerry is seeking royalties on Nokia's mobile networking products.
Are higher wages a risk to the market as consumers get squeezed by price inflation? Consumer Edge Research checked in on consumer prices after last week's CPI report showed the strongest pace since February of 2012. Analyst David Schick noted that appliances and auto parts showed the most inflation in the last several years, while some firming up of inflation was seen with sports goods, household furnishings, and pet food/products. Looking for deflation? Toys remain in a high single-digit downward price spiral in a negative trend for Hasbro (NASDAQ:HAS), Mattel (NASDAQ:MAT) and JAKKS Pacific (NASDAQ:JAKK). Expect Walmart (NYSE:WMT) this week and Target (NYSE:TGT) next week to have plenty to say on the delicate balance between consumer prices and wage growth.
In a quarterly review of its flagship global equity index, MSCI has added 18 securities to the ACWI Index, 14 of which are Chinese A shares. The only addition in the MSCI World index is Showa Denko KK (OTCPK:SHWDY). In key stock movers from the changes, Page Industries jumped in India on being added, while Vankanjee tumbled. ZTE (OTCPK:ZTCOY, OTCPK:ZTCOF) gained more than 5% in Hong Kong on its addition. And AKR Corporindo (OTCPK:PKCPY, OTC:PKCPF) slid in Jakarta on being cut.
Corporate stuff: There are several events on the calendar that could be actionable for investors. An investor open house is being hosted by Camping World (NYSE:CWH) and there are roadshows planned for Electronic Arts (NASDAQ:EA), Pandora (NYSE:P), SiriusXM (NASDAQ:SIRI) and Workiva (NYSE:WK). Also, Susquehanna is hosting an energy conference in New York that includes presentations by execs from Schlumberger (NYSE:SLB), Range Resources (NYSE:RRC), California Resources Corporation (NYSEMKT:CRC) and MRC Global (NYSE:MRC).
Monday's Key Earnings
YY Inc. (NASDAQ:
YY
) 
-7%
 AH on weak Q3 guidance.
Vipshop (NYSE:
VIPS
) 
-9%
 AH on earnings miss.
Huya Broadcasting (NYSE:
HUYA
) 
-3%
 AH on light revenue guidance.
Tidewater (NYSE:
TDW
) 
+3.9%
 AH on Q2 earnings.
Switch (NYSE:
SWCH
) 
-17.7%
 AH on Q2 miss, trimmed guidance.
Veritone (NASDAQ:
VERI
) 
-25%
 AH on earnings miss.
Today's Markets 
In Asia
, Japan 
+2.28%
. Hong Kong 
-0.66%
. China 
-0.18%
. India 
+0.66%
.
In Europe
, at midday, London 
-0.03%
. Paris 
+0.15%
. Frankfurt 
+0.25%
.
Futures at 6:20
, Dow 
+0.34%
. S&P 
+0.35%
. Nasdaq 
+0.49%
. Crude 
+1%
to $67.88. Gold 
+0.24%
 to $1,201.80. Bitcoin 
-6.75%
 to $6,033.50.
Ten-year Treasury Yield
 +2.2 bps to 2.899%.
Today's Economic Calendar
6:00 NFIB Small Business Optimism Index
8:30 Import/Export Prices
8:55 Redbook Chain Store Sales