S&P500 futures have rallied off late Friday's lows - but the market is not out of the woods yet.  Stocks started last week off with a nasty sell-off the brought back memories of a few months ago when the market looked on the precipice of a collapse to multi-year lows.
A terrible jobs number and continued ugly economic data sent stocks soaring as market participants took these as clues that easy money will never die.  The rate hike for 2015 was off the table.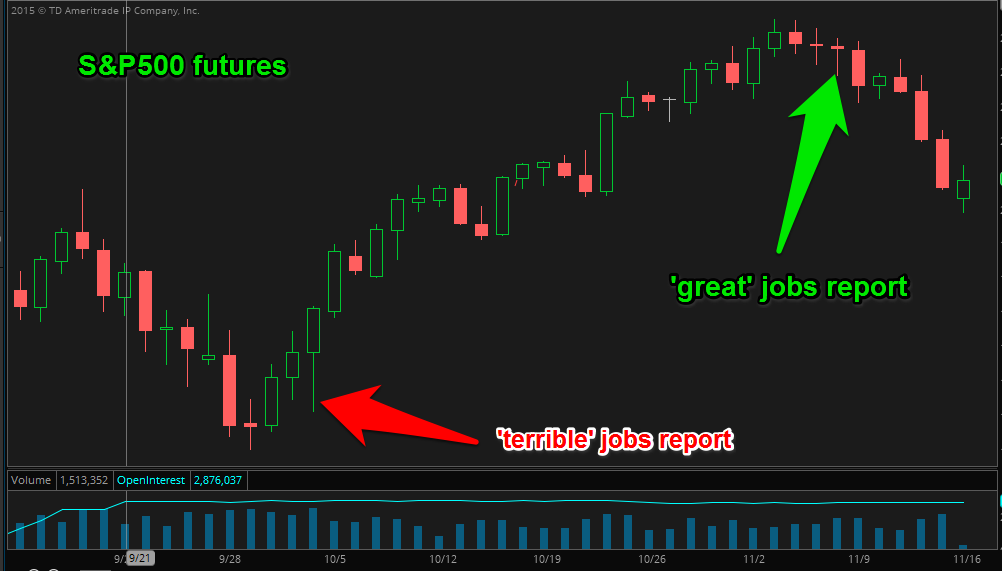 The great jobs report two Friday's ago had economists putting a rate hike back on the table for December with 93% of those economists now thinking a hike is coming before 2016.
Cmon!  I still maintain he same view I've had for many years... and I am not alone.  The proverbial rock and a hard place.  6+ years of unprecedented Central Bank action has reached the point of damned if you do damned if you don't.  The stuck between a rock and a hard place.
The further stock prices fall, the more a delay of a rate hike will be accepted.   I don't think the FED can or want s to raise rates.  But they must also keep the market thinking that they have the ability to raise rates.  Which is why stocks will fall until the idea  that a 2015 rate hike is coming is removed from the equation.
I said this last Monday before the market opened.
And here we are.  Stocks are once again losing momentum.  Is a mvoe back to the late September lows enough to take a rate hike off the table?  The August crash lows?  Or something even more diabolical?
The economic data continues to disappoint.  This morning the NY FED pointed to continued weakness.  Business conditions have now decline for a four consecutive months.  Not exactly the foundation for higher interest rates.
The November 2015 Empire State Manufacturing Survey indicates that business activity declined for a fourth consecutive month for New York manufacturers. The headline general business conditions index was little changed at -10.7. New orders and shipments also declined, although at a slower pace than last month. Price indexes suggested that input prices increased slightly, while selling prices were slightly lower. Labor market conditions continued to deteriorate, with survey indicators pointing to a decline in both employment levels and hours worked. Indexes for the six-month outlook were little changed from last month, and suggested that optimism about future conditions remained tepid, even though employment is expected to increase.
Also note selling prices were slightly lower.  The theme remains one of deflation, not inflation.  Deflation is not something the FED wants or needs.  The FED will do anything in its power to fight deflation.  Which is why I think we remain closer to Negative interest rates than any type of interest rate hike from the FED.
This week we have the FED minutes.
The FED minutes in August incited a brief spike higher, a middle finger, before the market headed lower and found itself  three trading sessions later in a virtual flash crash.
The Fed minutes in September also stoked some fear into the market.
What about this time around?
If this week is anything like last week, its going to offer some tremendous trade opportunities.
On Friday $AMZN $660 puts bought near the open at $1.11 hit $12 and then almost $19 before the closing bell.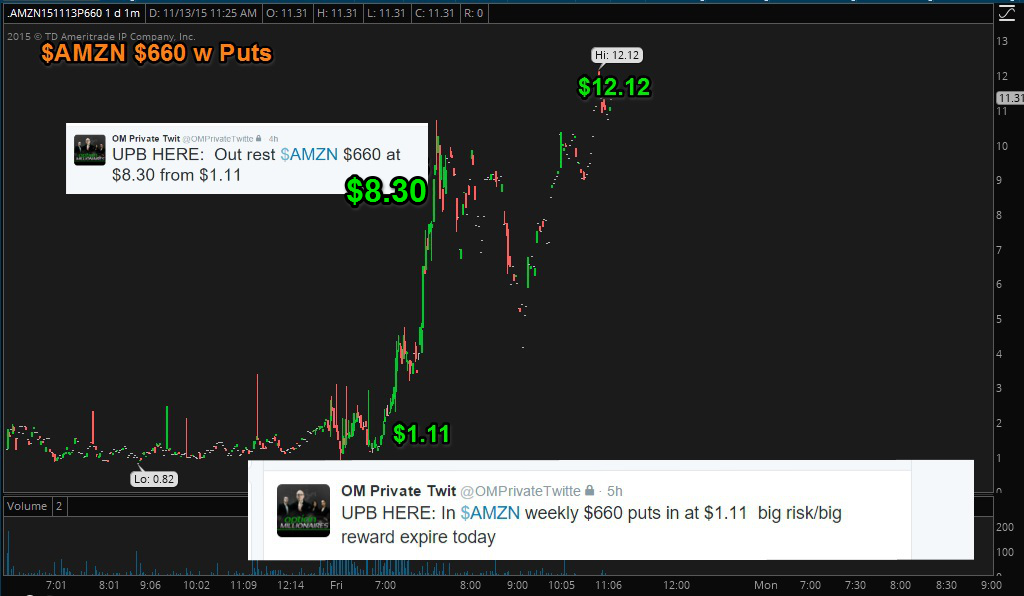 $PCLN puts went from $1 to $5 near the close.
Puts of all shapes and varieties were soaring on Friday.  And when the market bounces we are likely going to see a similar move to the upside.
It is monthly options expiration.  A time where the market makes some big moves.
It was late on a Friday in November - 7 years ago - a Monthly OPEX  no less - in 2008 when Tim Giethner was announced as the next Treasure Secretary.   The DJIA rallied 500 points in 2 hours.  Another Friday of historic option moves.
After the break lower last week and the strong jobs report, I am biased toward downside until we reach a level where economists take their rate hike expectations off the table.
Is it the September lows?  The August lows?  I think its at a lower level than here.  And while we may still get that 'Santa Clause' Rally.  I think its going to start at lower prices first.