Today, unlike the previous two sessions, stocks failed to close exactly where they started the day.  However the action was strikingly similar.  This market will not give it up.  And perhaps its because many think it will.
Yesterdays session ended with a Pope candle.  The Pope is visiting the Northeastern United States this week.  The powers that be welcomed him with a candle looking much like a cross.  Perhaps their good deeds yesterday of manipulating prices to a cross will get them a nice house when their days in this world are done... and perhaps they'll still get what they have coming to them.
2015 has seen the Pope candle action far too frequently.  Today's session looked to be setting up for a similar outcome.  Perhaps after hours action will again spike higher.  There is no China PMI number to stand in the way this evening.
Last night, as I brought up in the recap, China's PMI smacked stock futures 1% lower.  This morning, those losses turned into gains.  Stocks miraculously opened higher.
With every Central Bank in the world trying to game their stock prices higher, as dumb as you were for buying the dip, your an idiot shorting this market.  Right?
Guess what.  In spite of the support we are seeing for many names,  there are quite a few giving it up.  And while the money is flowing from one stock to another these days, I think eventually that flow is going to stop and everything is going to start falling.    The wedge is broken and prices are poised to head lower.
The market remains one trading on borrowed time.  Today stocks should have resolved lower.  A wonderful bear flag intra-day ended up sending stocks higher, not lower.  The market was not able to close at session lows.
That will change.
I was a slobbering bull almost to a fault the last 4+ years.  I laughed in the face of those uber bears.  The trend was up.  Stocks were rallying on every news piece, good, bad, ugly... it didn't matter.
But times are changing.
Unprecendented central bank action can only do so much.  It's almost 7 years of zero percent interest rate policy.  7 YEARS.  And with the unemployment rate lower than its ever been in recent memory, the FED still won't raise the Funds rate.
It's akin to the Goldman Sachs analyst who downgraded $AXP to a conviction sell in March 2009 when the stock was at $10 with a price target of $7.50.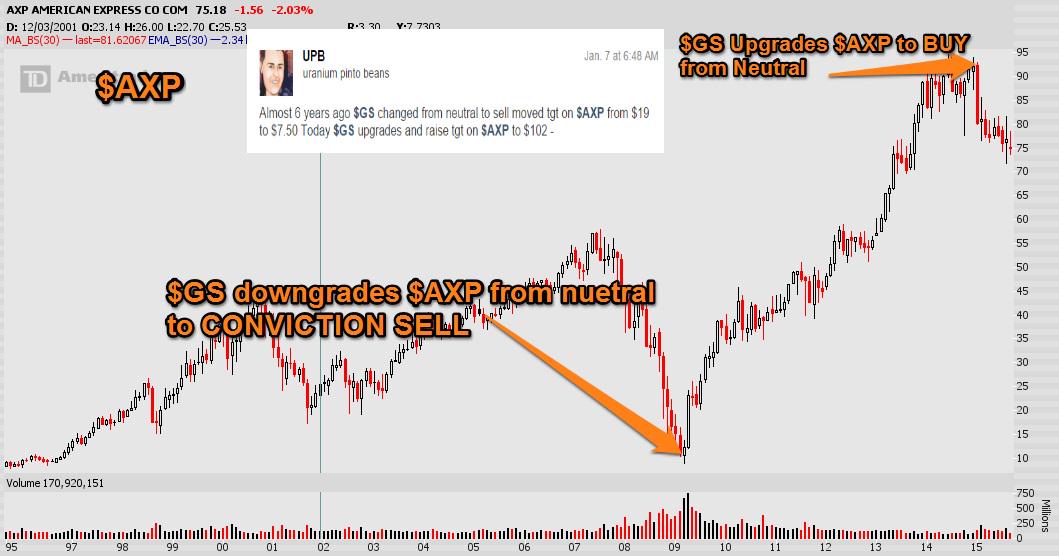 At the start of this year Goldman changed its tune an upgraded $AXP to a buy and $102 target with the stock over $90 a share.
The talking heads in the market place are good at saying one thing, and doing another.  The FED has been saying they will raise rates every year since 2009.  It's coming.... but here we are in 2015 no closer to a rate hike.  I'd argue we are closer to negative interest rates than a rate hike.  Others would argue more QE is coming, not a rate hike.  And the stock market is telling you all is not good with the global economy.
ACTIONS SPEAK LOUDER THAN WORDS.
When/IF the FED ever raises rates... the mere act of raising rates will signal to the market that the FED thinks the economy is almost ready to stand on its own.  The fact that the FED says everything is ok, but does nothing with their action???? That's all we need to know.
In the face of these unexplained market spikes, I remain short via PUTs a few names.
$FB, $PCLN, and $EXPE.
$EXPE was especially kind today, much like $FB was kind yesterday.  I expect $PCLN to continue to be kind into weeks end.
It's a sell the rip type market here.  Any rip is getting sold.  Today's positive open was sold.  Any late day spike was sold.  And I expect this to continue until we have met up with the August market lows.