JB is clubbing the ball senseless this week.    The hits just keep coming... in a good way.   How about that $AMED.
I said can I get an $AMED!  Can I get an $AMED!
Thank you.
Before I get to $AMED, and we will be saying $AMED quite a lot in this recap, let's look at some other trades today that had the folks in the chat room and private twitter feed saying $AMED to.
Those $AMZN calls at $.26 hit $3.70
Those $Z calls at $.25 went to $1.78
Those $CMG $.20 calls went to $3.13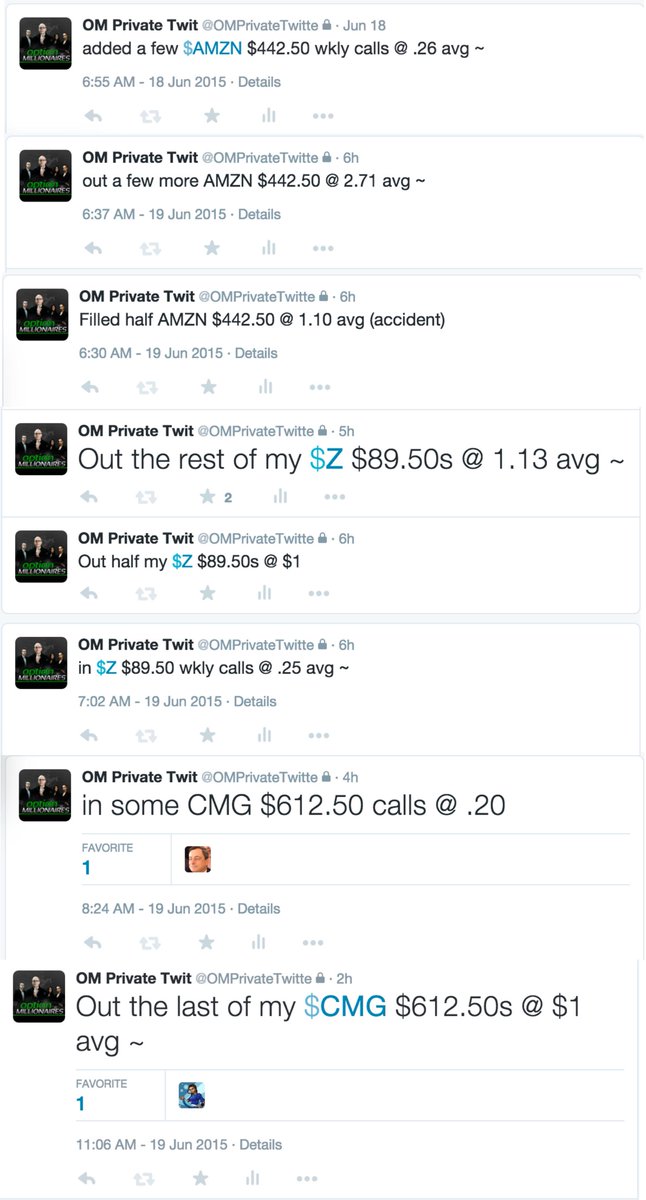 Now back to $AMED.  No good recap ends without a solid $AMED.
$AMED has been under close supervision heading into 2015.  It was a stock JB was looking to trade for a rapid move to the upside.
$AMED is in the midst of one of those rallies that you wish you saw coming.  JB saw it before the year started.  It's been an amazing run... $AMED.
Those June $33 calls at $.15 and $.19 ended up expiring at $9.35.  Can I get and $AMED!  I said... can I get an $AMED!
Now have a wonderful weekend and see you in the chat room on Monday.
A special $AMED trial is underway.  Email optionmillionaires@gmail.com with $AMED in the header for a link to the special chat room trial AND access to all premium features.
$AMED
WSJ Recap
U.S. stocks ended lower Friday, but the Dow industrials and S&P 500 notched a second straight week of gains.
The week's gains were fueled by a fresh signal from the Federal Reserve that investors needn't fear a sharp rise in interest rates. The message reassured stock investors, who have enjoyed six years of a bull market in a low-rate environment. San Francisco Fed President John Williams said Friday the central bank should raise interest rates twice this year.
U.S. economic reports this past week also gave credence to that view, suggesting the economy is improving but not fast enough to force the Fed to raise rates quickly. Upbeat reports included a lower-than-expected level of jobless claims.
Meanwhile, worries over Greece sent investors piling into ultrasafe Treasury bonds on Friday, and the bond market capped its biggest one-week price rally in three months.
"For the most part, we still are in an environment where there are these large, thematic risk-on versus risk-off debates when you see interest-rate concerns or macroeconomic issues like Greece," said Rob Bernstone, managing director of equity trading at Credit Suisse.
The Dow Jones Industrial Average fell 99.89 points, or 0.6%, Friday to 18015.95. The S&P 500 declined 11.25 points, or 0.5%, to 2109.99, and the Nasdaq Composite Index lost 15.95 points, or 0.3%, to 5117.00.
For the week, the Dow rose 0.7% and the S&P 500 added 0.8%. The Nasdaq gained 1.3% in the same period, marking its first weekly gain in a month. A surge in biotechnology shares on Thursday propelled the Nasdaq to a record close, its first since late May.
The bond market is stabilizing after a weekslong selloff driven by signs of an improving economic outlook in the U.S. and eurozone and valuation concerns. The Fed's latest signal Wednesday that it would be slow to raise interest rates also drew money managers to buy Treasury bonds. These investors believe the central bank's gradual approach will keep a lid on bond yields.
"Greece is the fear factor, and investors are hedging their bets," said Thomas J. Marthaler, portfolio manager at Neuberger Berman, which has $251 billion of assets under management.
The yield on the benchmark 10-year Treasury note fell to 2.268% Friday, from 2.352% Thursday. The 10-year yield has pulled back after touching 2.5% in the previous week, an eight-month peak on an intraday basis. Bond prices rise as yields fall.
Shares of financial companies in the S&P 500 were among the worst performers Friday, falling 1%. Those stocks tend to be sensitive to the interest-rate outlook, as banks can make more money from loans in a higher interest-rate environment.
"There's a better definition of expectations now around a more moderate pace of Fed rate hikes," said Mike Ryan, chief investment strategist for UBS Wealth Management Americas. The Fed could raise rates and then pause to see how the economy reacts, he said. "That's going to be better for the real economy and better for financial markets," Mr. Ryan added.
The Russell 2000 fell less than one point to 1284.66. The benchmark for small-company shares closed at a record Thursday and has gained 6.6% this year, outpacing the Dow's 1.1% advance.
Mr. Ryan of UBS Wealth Management said he preferred shares of smaller companies to their larger peers. "They're better geared to growth prospects in the U.S. and less vulnerable to volatility in the dollar," he said.
News about Greece continued to grab investors' attention. The European Central Bank on Friday raised emergency lending for Greek banks, reacting to a quickening pace of deposit withdrawals as bailout talks stall.
Anwiti Bahuguna, senior portfolio manager for Columbia Threadneedle Investments, said she pulled some money out of her European stockholdings about a month ago and used it to buy U.S. stocks. "It's just the uncertainty" about Greece, she said. With the changes, she now has a neutral weighting on both European and U.S. stocks.
European stocks rose Friday, with the Stoxx Europe 600 up 0.4%. But the index dropped 1% for the week.
In commodity markets, gold futures were flat at $1,201.50 an ounce. Crude-oil futures lost 1.4% to $59.61 a barrel.
In corporate news, Hershey lowered its sales and earnings targets for the year and announced plans to cut about 300 jobs. Its shares slipped $3.22, or 3.5%, to $89.04.
Jana Partners on Thursday disclosed a nearly 7.2% stake in ConAgra Foods and said it was seeking to change the company's board of directors. ConAgra shares rose 4.25, or 11%, to 43.37.
Min Zeng contributed to this article.
Write to Saumya Vaishampayan at saumya.vaishampayan@wsj.com