This past week, right after the FED at 2pm, the VIX hit a new all time low, plunging under 9 to 8.84.  The VIX swiftly moved back over 9, but the 'damage' was already done.
Over the last 8 years, these odd paints of the VIX and even the $SPY, end up being hit again and surpassed.
The $SPY in December 2014 saw odd price action far above the current trading price for no reason.  Prices ended up passing that level months later.
The 'VIX" has been in for quite some time.  I wrote about over five years ago in  March 2012:
So what are we to make of the odd action in the VIX?
It is almost as if this price action is more or less setting the stage for what lies ahead.  Almost like a bulldozer clearing the forest before a massive condo complex gets built.
In this case the VIX paint is paving the way for more record highs for the market.
Earlier this year we saw a similar paint -  it also happened right after the FED.   Coincidence?  I think not.
February 2017 VIX Paint: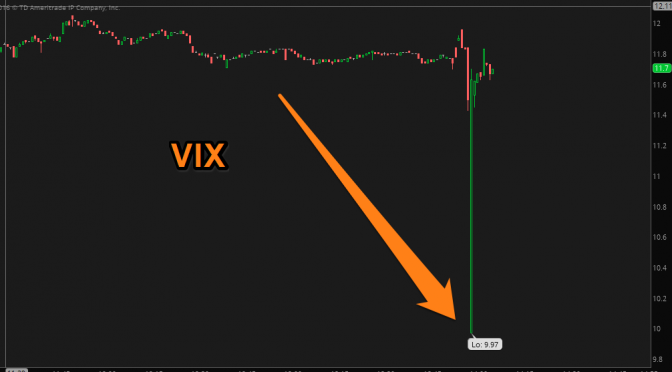 It took several months for that sub 10 February print to get surpassed... but it happened.  And stock prices traded to their highest levels on record.
Speaking of records, the VIX  hit a record low after staying under the 10 level for 10 consecutive days, which is another record for the VIX, in a year where records are breaking on a daily basis.
The $VIX ended its streak of consecutive days closing under 10 today. Ironically the streak ended at 10 days consecutive days under 10. pic.twitter.com/aHo42wh9Aw

— Michael Golembesky (@MikeGolembesky) July 28, 2017
If last weeks 8.84 print is telling us anything, its saying prepare for even more record breaking VIX action.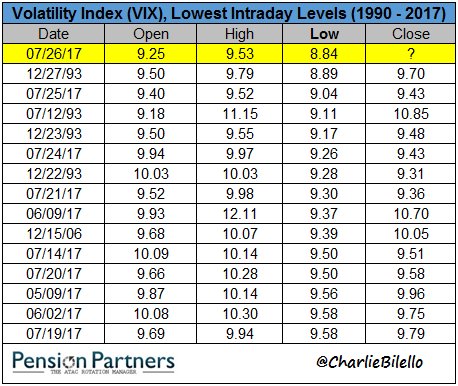 8.84 on the VIX will more than likely be hit again.  It may take some time to get there.... The February paint took 3 months to reclaim.  The VIX even traded sharply higher on occasion over that time.  But ultimately the price action on Feb 2nd paved the way for a VIX at record lows.  A few months from now I will likely be remarking on how that 8.84 paint back in July was setting up the market for more gains later in the year.