It's  Day two of this four day holiday shortened trading week.   It will be a good Friday no matter how you cut it, as the market is closed.  But until Friday comes, we have a rather calm market on the surface, but some strong currents below.
The VIX.
The strong current below the market's surface is the VIX.  Yesterdays strong surge for the VIX and VXX despite a resilient stock market, could be the harbinger of things to come.
Is the market setting up for a sharp move to the downside?   Or perhaps it will trade sideways while the 'fear indices' move up.
For the VIX that 15 level is where the rubber meets the road.  If the VIX breaks and holds over that level, I think we could see a 1-2% move lower for the S&P500.   These days 1-2% lower is a correction.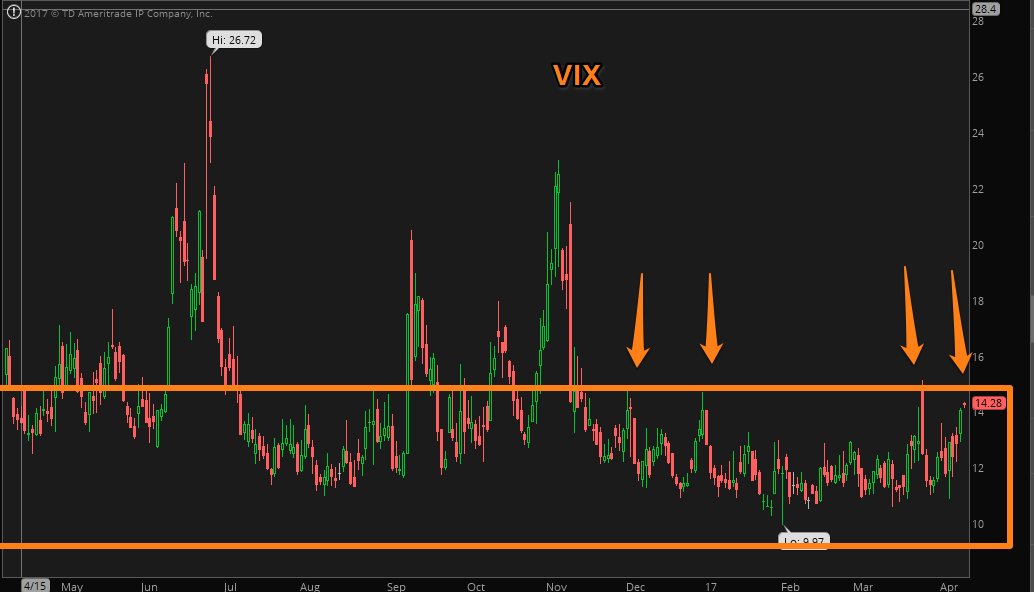 The S&P500 ETF $SPY is coming together for a sharp move.
The trend remains up and  the more likely resolution of this pattern  is a move to new record highs, which will happen despite the unusual uncertainty.  Yes this market has been through its share of negative headlines.  And I still think this bull market will end when the headlines end.  When the market starts falling for absolutely no reason, good or bad, we will have seen the top.
With that being said I am still trading for more upside in $ASPS.  The chart looks strong, and the possible short squeeze is throwing a few more logs on the fire.
I am still long April $40 calls.
The VXX also was strong all day yesterday.  I've pointed this out through the years as a great intra-day and short term indicator.  When the market and VXX are red the market usually heads higher and vice versa.  Yesterday  VXX and VIX were solid green all session.  The market closed lower, but not sharply.  However another day of this type of action will confirm that that strong currents beneath this calm market are not going away.
Which means we could be in store for some downside.  While I do own some calls,  yesterday I entered some $PCLN puts for some possible market weakness.  Until we get some resolution from the current pattern I am unwilling to commit either way to the overall market.  But that could change very quickly.
See you in the chat room!