Monday Morning Reads
Reads:
News:
Premium:
Todays Top Open Interest Changes: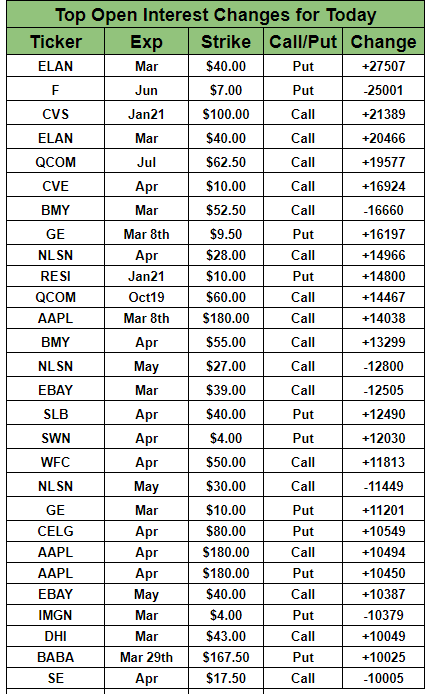 Morning Charts:
SP500:
From The Weekend:
SeekingAlpha:
Trade sentiment is again boosting equities, with Shanghai closing up 1.1%and U.S. futures pointing to gains, as the WSJ reported that China and the U.S. are in the final stage of completing a trade deal. In addition to stepping up purchases of U.S. products, Beijing has offered to lower tariffs and other restrictions on American farm, chemical, auto and other goods, while Washington is considering removing most, if not all, sanctions levied against Chinese imports since last year. Talks have progressed to the extent that a formal agreement could be reached at a summit between President Trump and Xi Jinping, probably around March 27.
Economy
China is also planning to cut the value-added tax rate that covers the manufacturing sector by 3 percentage points as part of measures to support the slowing economy, Bloomberg reports. The decision could deliver a boost worth up to 600B yuan ($90B) or 0.6% of GDP, according to Morgan Stanley. Officials have increasingly turned to tax policy to support growth as debt-fueled spending and monetary policy become increasingly constrained.
The U.S. economy is doing well in spite of the actions of the central bank, President Trump said during a wide-ranging speech at CPAC 2019. "We have a gentleman that likes raising interest rates in the Fed, we have a gentleman that loves quantitative tightening in the Fed, we have a gentlemen that likes a very strong dollar in the Fed." "I want a strong dollar, but I want a dollar that's great for our country not a dollar that is so strong that it is prohibitive for us to be dealing with other nations."
Theresa May will set out plans today for £1.6B in funding to help boost economic growth to poorer areas of the U.K. Buying votes? Critics describe the move as a handout to Labour lawmakers elected in these so-called "left behind" regions, encouraging them to get behind her Brexit deal when it comes back to parliament some time before March 12. Finance Minister Philip Hammond will also be able to offer an enhanced "deal dividend" of extra public spending in his spring budget statement set for March 13.
Russia is ready to take part in bilateral talks with the U.S. over the issue of Venezuela, Foreign Minister Sergei Lavrov told Secretary of State Mike Pompeo. The U.S. has led a host of nations in recognizing national assembly leader Juan Guaidó as the legitimate leader of Venezuela, ratcheting up pressure on Nicolas Maduro to step aside amid an ongoing economic crisis in the country.
Investors are scooping up Greek assets after Moody's disclosed a two-notch upgrade (to B1 from B3) on the country's sovereign debt rating. The nation's reform program is now "firmly established and is likely to be sustained," according to the agency, as "most of the fiscal improvement is due to structural measures." Greek 10-year bond yields fell to their lowest level since early 2006, down 3.3 bps to 3.609%.
A three percent tax on the French revenue of large internet companies could yield €500M per year, according to French Finance Minister Bruno Le Maire. Google (GOOG, GOOGL), Amazon (NASDAQ:AMZN), Facebook (NASDAQ:FB) and Apple (NASDAQ:AAPL) were listed as targets, as well as Uber (UBER), Airbnb (AIRB), Booking (NASDAQ:BKNG) and Criteo (NASDAQ:CRTO). "A taxation system for the 21st century has to be built on what has value today, and that is data," he added, saying the firms now pay some 14 percentage points less tax than European small- and medium-sized companies.
Stocks
Vale CEO Fabio Schvartsman and several other senior executives resigned Saturday in what the company described as a temporary move, after its Corrego do Feijao mining dam burst in January, killing more than 180 people. State and federal prosecutors had recommended their removal after documents emerged in recent weeks showing that Vale knew it had an elevated risk of rupture at the site and that inspectors felt they were under pressure to certify the structure as safe. VALE-4% premarket.
China's Huawei is preparing to file a lawsuit in the Eastern District of Texas to sue the U.S. government for banning federal agencies from using the company's products, NYT reports. The suit is likely to argue that the provision is a "bill of attainder," or a legislative act that singles out a person or group for punishment without trial. Related: NOK, ERIC
After filing for bankruptcy protection in January, children's apparel retailer Gymboree is offloading its brands. Children's Place (NASDAQ:PLCE) will pay $76M for the rights associated with both Gymboree and its Crazy 8 label, while Gap (NYSE:GPS) will acquire the bankrupt retailer's high-end children's clothing line Janie and Jack for $35M. Both transactions must be approved by the bankruptcy court.
More shakeups are reverberating through the Time Warner empire as AT&T (NYSE:T) cleared the last legal hurdle to acquire WarnerMedia businesses for $85.4B. After Richard Plepler, the CEO of HBO, stepped down from his post last week, CNN is now in for a makeover. According to WSJ, the cable news network plans to revamp its digital operation, which "isn't reaching its potential and requires more investment in product development and data analytics."
In a setback to Lockheed Martin (NYSE:LMT), the Pentagon will request 78 F-35 jets for fiscal 2020, six fewer than previously planned, in the upcoming budget expected to be sent to Congress. The move comes amid a push to buy eight new, upgraded F-15s from rival Boeing (NYSE:BA). They would be the first F-15s the Pentagon bought since 2001.
Humans have entered SpaceX's (SPACE) Crew Dragon while in orbit for the first time, just hours after the commercial spacecraft docked at the International Space Station. The voyage also marks the first time since 2011, when NASA retired its space shuttle fleet, that a spacecraft designed and built in the U.S. to carry people has been blasted into orbit.
Tesla will unveil its newest vehicle on March 14 at an event in LA Design Studio. "Model Y, being an SUV, is about 10% bigger than Model 3, so will cost about 10% more & have slightly less range for same battery," Elon Musk wrote on Twitter. It's not yet clear where the auto will be built or how much assembly preparations will cost, but Tesla (TSLA) decreased capex throughout 2018 and plans for only a modest increase this year.
Meanwhile, the NHTSA and NTSB are sending teams to investigate a fatal Tesla (NASDAQ:TSLA) crash in Florida, although it is not yet known if Autopilot was active at the time of the incident. According to the preliminary report, a semi truck was making a left turn when the Model 3 crashed into it from the side. The car passed under the trailer, shearing off the top of the vehicle and traveled for an additional 0.3 miles before coming to a stop.
Today's Markets 
In Asia
, Japan 
+1%
. Hong Kong 
+0.5%
. China 
+1.1%
. India 
+0.6%
.
In Europe
, at midday, London 
+0.7%
. Paris 
+0.6%
. Frankfurt 
+0.2%
.
Futures at 6:20
, Dow 
+0.3%
. S&P 
+0.3%
. Nasdaq 
+0.5%
. Crude 
+0.7%
 to $56.16. Gold 
-0.8%
 to $1288.40. Bitcoin 
-2.6%
 to $3708.
Ten-year Treasury Yield
 flat at 2.75%
Today's Economic Calendar
10:00Construction Spending
12:30 PMTD Ameritrade IMX