What a 'weak'.  If you haven't read any of this weeks recaps - here they are.
After nearly 9 months of consolidation the market finally gave birth to a massive decline.
As the action quickened to the downside - sell orders were coming fast and furious.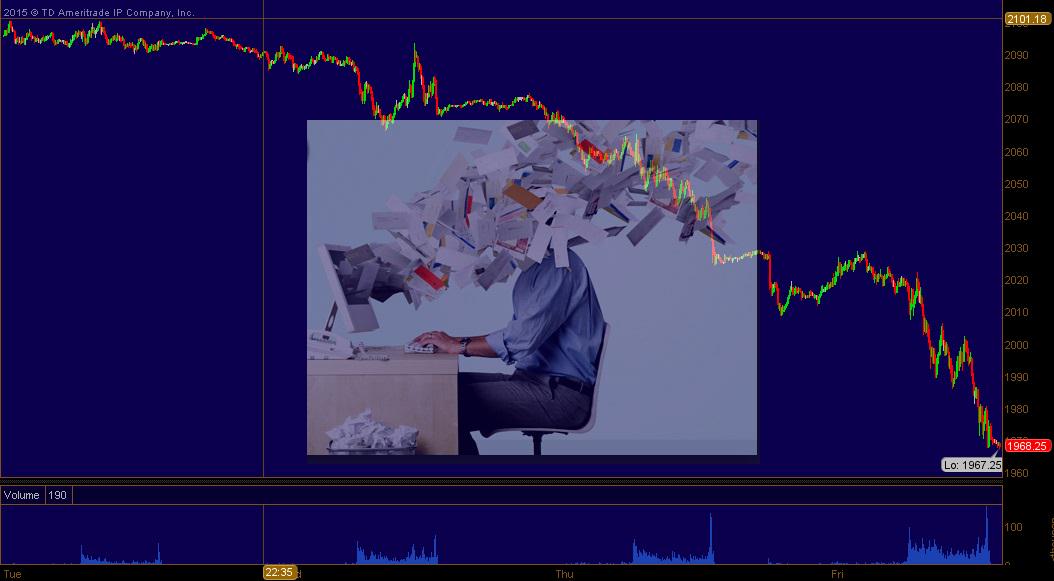 I was already positioned for downside at the start of the week.   I was bearish on $IBB and $XLE this week.  Bearish on anything save the VIX  ended up being the right trade this week.   That head and shoulders pattern I pointed out on Monday for $IBB was spot on.  A nice $25 decline for the week.
Monday:
Thursday
Friday:
$XLE worked out well also.
Monday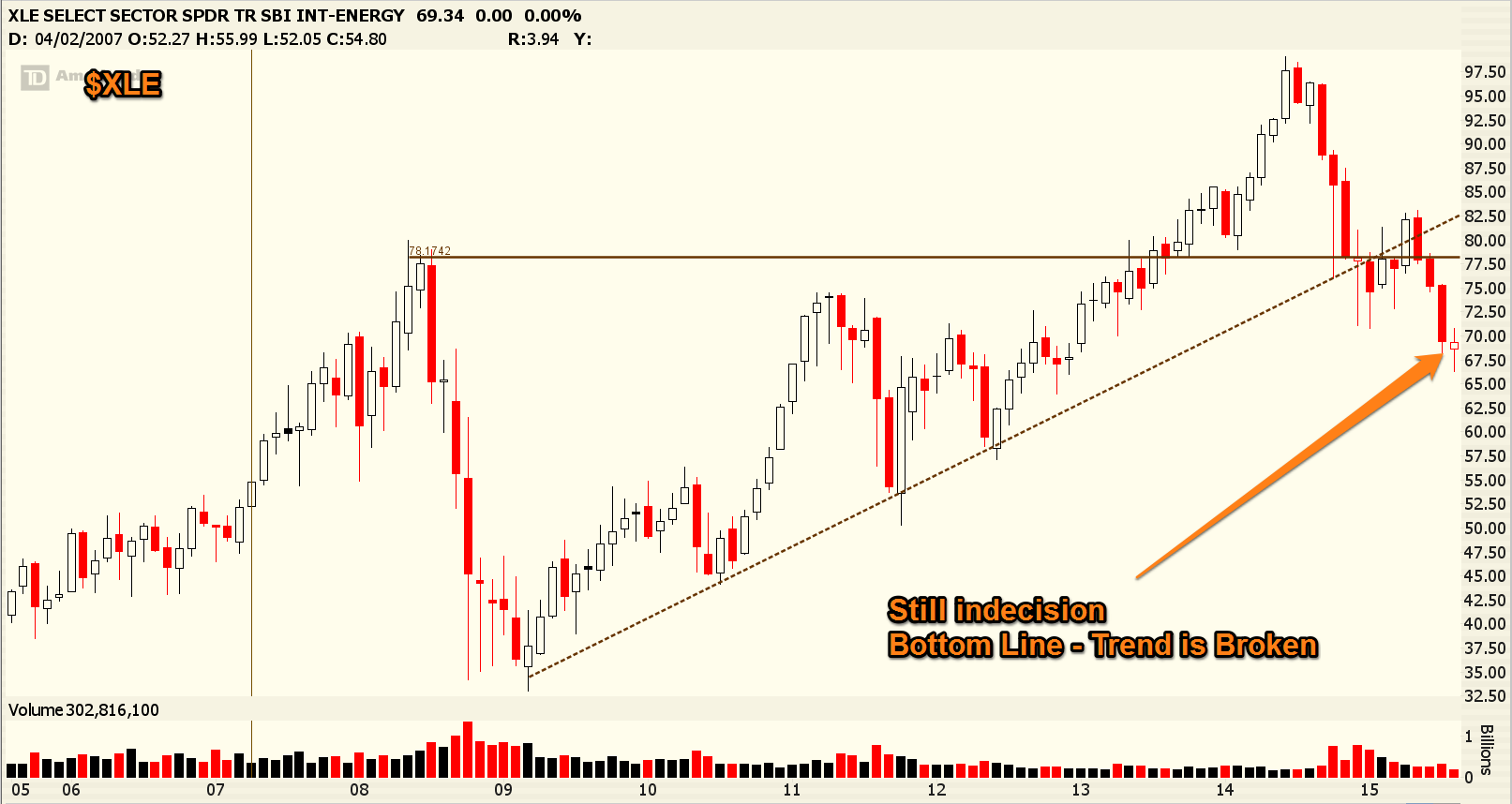 Tuesday
Those trades worked out very nicely.  In 2015, for a change, bearish chart formations are having a much better success rate than in the past.  $IWM was clearly breaking down, putting in lower highs and lower lows, but the support at $120 was holding.   And until we got separation mid-week I was not confident going 300% short like all the uber bears out there have been since 2009.  Let's face it.  If you've trade this market to fall any time since the financial crisis lows, you know the reversals to the upside have been quick and painful.
I'd much rather follow a trend, than fight it.  The trend for XLE was broken so I was comfortable owning puts.  $IBB looked to be putting in a wonderful topping pattern, so I bought puts.
Amid the carnage this week I was also anticipating a bounce, a spike higher. a stick save.  We got a quick one after the FED minutes on Wednesday.
It turned out to be a massive middle finger.
$SPY kissed $210 for the last time.  Yes $210.  Can you believe the $SPY was at $210 only two days ago?
What a nasty candle this week.  Will the blood bath continue next week?
Despite the wreckage, I was still trading for a bounce in some names -
$GPRO, which I had traded from higher prices successfully last week and looked at support.  FAIL
$AMZN - which was strong early on Thursday but collapsed under $500 today FAIL
Buy the dip went out the window this week.  The selling was constant, palpable, and unrelenting.
I was watching the tape late today waiting for that last 30 minute ramp-a-thon  where prices post a massive spike into the closing bell - recovering a lot of the days losses.  NO SPIKE
It was a drubbing - a rout - a collapse.  One I wish I was involved in 100%.  If this was 2008/2009/2010  you betcha.  I'd have been short everything.  But I was not 100% certain the market was going to collapse and I traded what I felt would fall regardless of what the market did.
I posted this chart on Wednesday of my beloved $IWM.  It was breaking down.  I thought a move to $116 or less was coming.  But I still wasn't 100% comfortable entering the position.  It didn't help that the market was gapping lower to start the trading days.
I wish I was more aggressive.  After 6+ years of relentless buy the dip and mysterious spikes to the upside I remain cautious and in a way that is a good thing.
If this is indeed the end of the rally, the historic bull market, there will be plenty of time to trade the downside.  This week could be the start of a glorious PUT trading opportunity, or just another head fake for those uber bears.   I pointed it out last week on Twitter.  I welcomed a pull back.  I think this pull back is great for the market.  But the bear chest pounding that comes with it....  its almost too much to bear.  When this trend changes I'll be more than happy to join the bear crowd.  If we've learned anything the last 6+ years its don't over estimate the power of the central banks.  This massive asset price inflation scheme will not end easily.  More on that in another post.
Relax and enjoy your weekend.  It's been a wild week.
and come join us in the chat room on Monday as this wild market action resumes.  Will the market plunge to new depths or rocket higher... as if last week never occurred?
Send an email to optionmillionaires@gmail.com with 'wild trial' for a free trial.  Chat room and private twitter access - as well as all the other premium level features.