The day started with General Chaos calling the market to attention with a .5% early decline.  The "As You Were" command was given soon thereafter and stocks enjoyed a strong rally to close at session highs.
Support was well respected as prices broke through short term resistance.
Resilient. Resilient.  I've used that term frequently the last few years.   How many of these dips have we seen get reversed within the first hour of trade?  Last Monday stocks gapped out of the gate and roared higher.  Today the upside was not as obvious.  It took the utilization of the time tested buy the dip mentality to catch today's rally.
$IWM, my bellwether for this 2015 market continues to walk the $120 tight rope.  Today it started the session under it, but ended up closing $1.60 over it.  The last two months have seen small caps pull back.  The question remains - Is this just a healthy pullback that will resolve at fresh record highs?  Or is the top in for $IWM?  I am looking for separation and from the looks of today's action we may just get that in the next few days.
The continued meltdown of oil is something to keep a close eye on.  While it is bullish for airlines and consumers, it isn't exactly a bullish scenario for big and small oil companies.  All their financial wizardry worked great when oil was over $100 a barrel.  They were spinning off MLP's (SEE $LNCO $LINE) , raising dividends, issuing debt.  But when the product they base most of their revenue upon plunges some 65%... its not good.   The bottom line is, watch the price of oil.  It has broken key support levels and looks poised for further downside.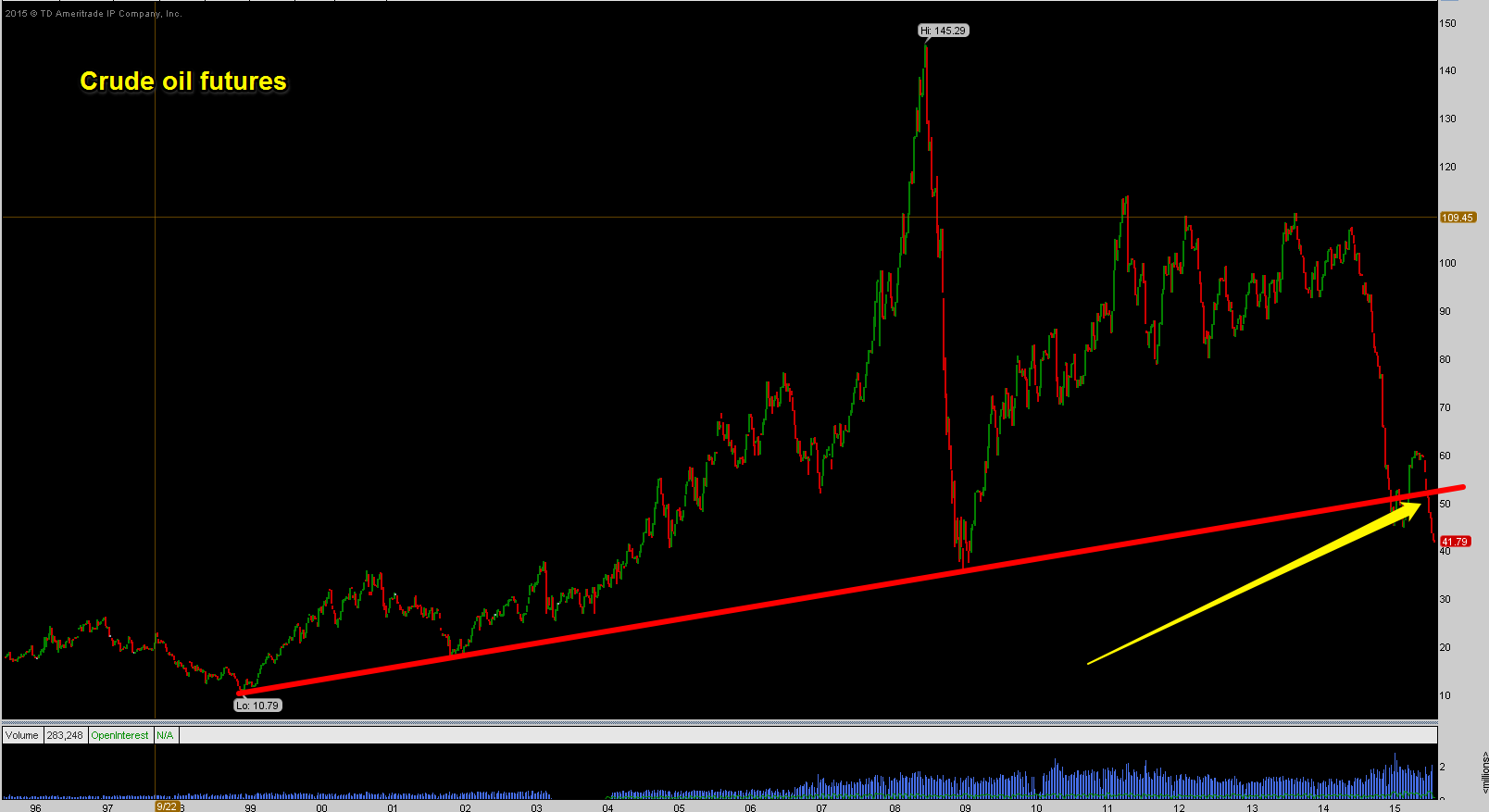 Which brings me to $XLE.  I see many have already called a bottom, which many did for crude oil in March and we know crude oil has continued to fall.  I think $XLE will continue to fall as well.  It's had a nice bounce.  Unlike the $SPY chart - which remains in an uptrend, $XLE has broken down and while I like buying broken down charts for a bounce as relief spikes higher frequently populate a chart trading lower - following a trend more often than not will provide a better probability for a profit.  I bought some $XLE puts for downside for a resumption in the decline.
The VIX  caught something today.  Another beatdown, which followed a gap higher to start the week.  It  was still up +1% and over 13 at the close, but was sold throughout the session.
2015 has been a tough year for those positioned for the steady grind higher that we saw in previous years.   2015 has been great for the stock picker.  The Dow Jones Industrial Average has traded in its tightest percentage range for the longest time ever.
The market remains in consolidation mode.  The dips aren't too deep, the rips down't head to high.  The question is - when will the market break the record breaking tight range and rip higher or lower.  Is 2015 going to end as a year like its been trading for the first eight months?  In a tight range?  Poised for a breakout - breakdown - that never occurs?
$LNKD looks like a good candidate for CALLs as it holds onto long term support: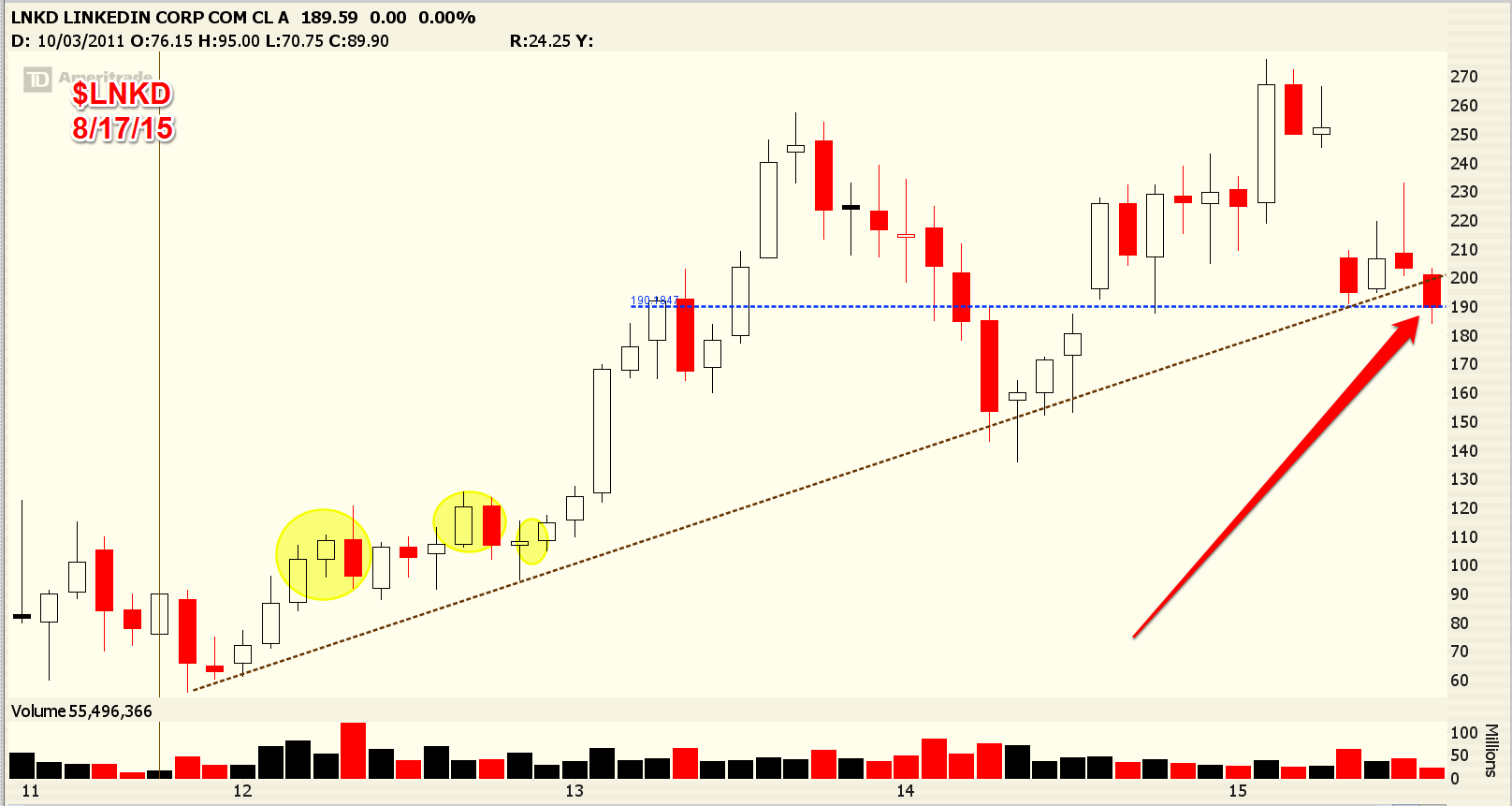 $IBB I bought a few puts this morning.  After it's tremendous rally, this is the first decent topping pattern.  Of course it rallied 2% today in the face of it.  It's not going to be an easy move lower, but if it comes we could see $320 pretty quickly for $IBB.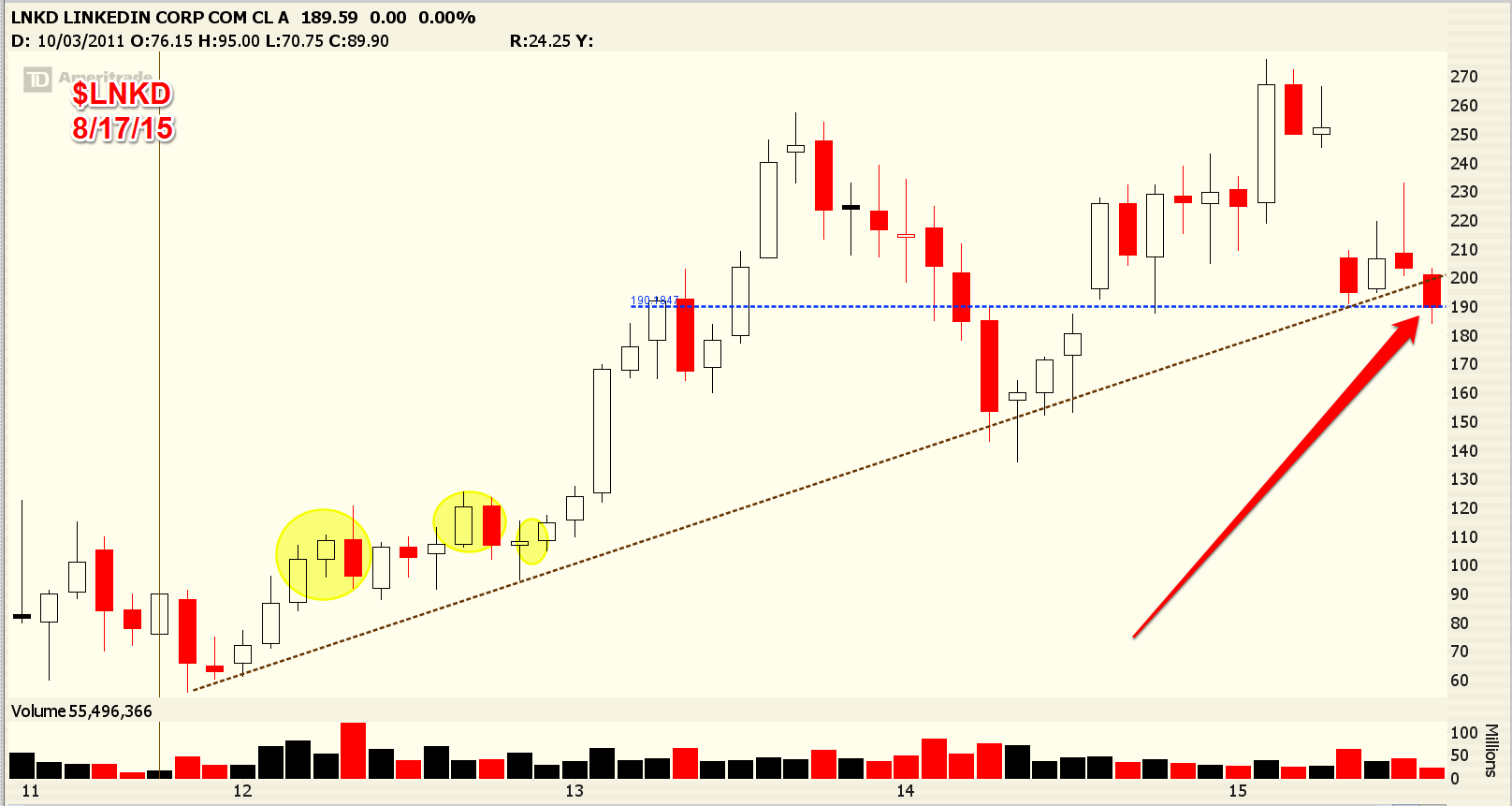 so we
Last Monday the market started off with a strong rally.  The next day it gave it all back.  2015 has been a trendless year, but at some point I think its going to break to new record highs.  Was today the start of that?  Or will prices fade back to support and provide more questions than answers about the market?
As I said on Friday, let's get some separation.  Until that happens it will remain a stock pickers market, which in reality isn't such a bad thing if your good at picking stocks.
Have a good night - stay tuned for the option recap later this evening.