Yesterdays late day spike to $210 on the $SPY was a farewell of sorts.  A short kiss goodbye to a level that was reached for the first time in human history this year.  Perhaps we get a tearful reunion later this year, but for now the Captain Obvious side is saying more downside lies ahead.
Key support was broken late in the session today.  The sharp spike lower into the close left nothing to debate.  I like that.
The ambiguity of weeks past has finally resolved.  You could feel it last night and if you read my recap you know how I felt heading into today.  
$XLE.... its the Ketchup commercial.  On Monday I bought $XLE $68.50 puts, today the ketchup is flowing all over the juicy burger.  It took longer than I wanted it to.   The chart told the story and all that Patience is paying off.
The $XLE puts are almost $3.00 in the money from $.50.  Looks like the bottom wasn't in after all.  🙂
Just a thing of beauty today.  It's tough to stick with a trade when its not going your way.  But when you stick with it, and it finally goes exactly how you envisioned it..... its a great feeling and not bad for your trading account either.
$IBB the same holds true here.  The head and shoulders pattern is resolving, and oh boy, buyers of PUT's are very happy today.  It was a rough week to hold them, even today that $360 level was a tough nut to crack.  But it broke... and oh boy did it break closing at $350.  Wow.
I added to my $IBB position this morning via $355 puts.  Those were up over 500% today alone.
On the flip side today I wasn't just looking for downside.  There have been stocks that have dodged the market weakness in 2015.  One stock in particular I've had success this year with is $GPRO.  In March I pretty much nailed the bottom, and just last week I nailed the top.  Today it came down to support and based upon that I bought some calls for a bounce.  Bounce it did, for about 15 minutes, and then it resumed its decline.
I still hold $GPRO calls, and let's not rule out a relief rally just yet.  That could set $GPRO up for a move back to the topside of the channel.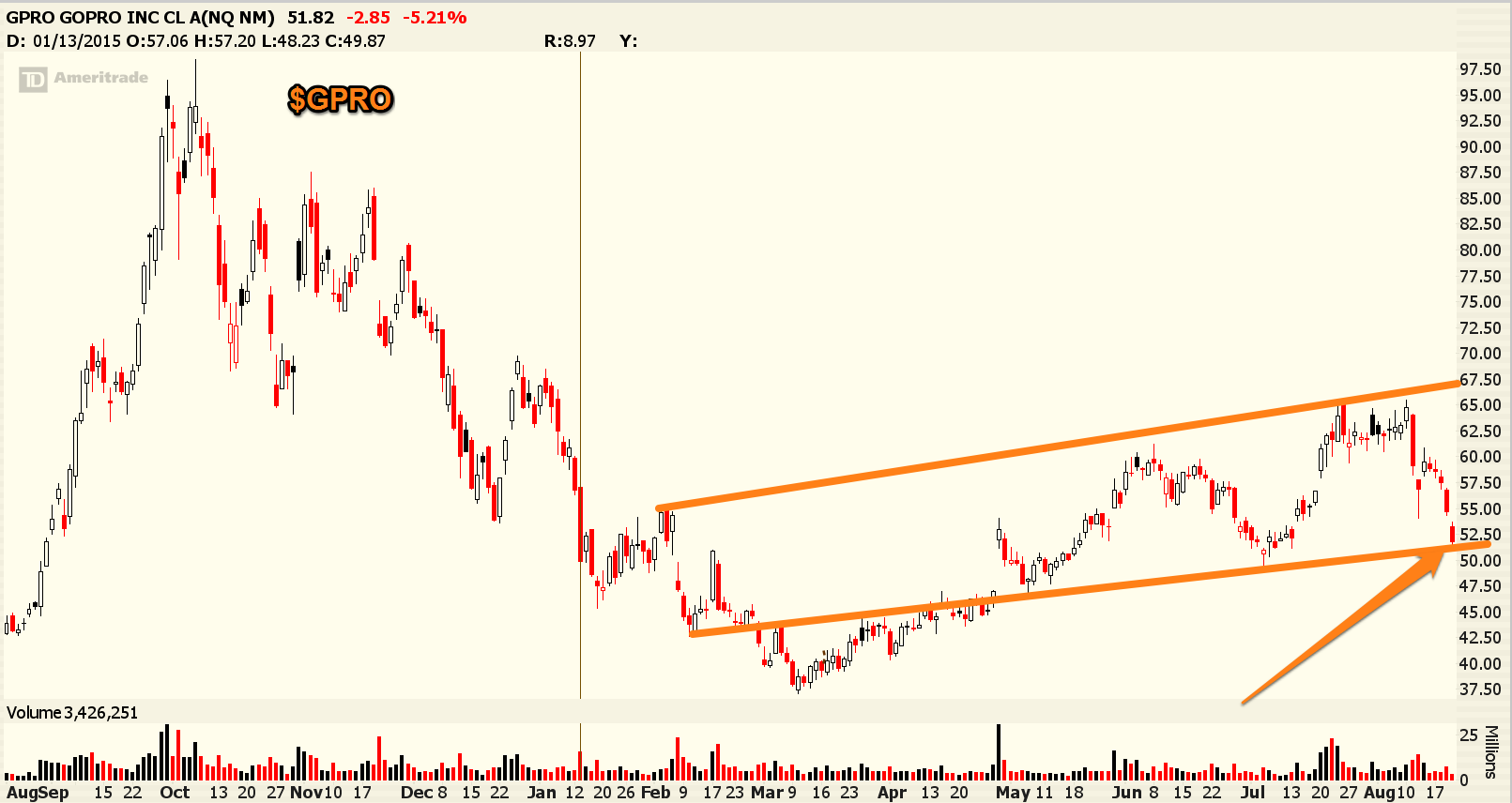 Also $AMZN started the day off rather strong, despite the massive pull back.  I grabbed a few calls mid-day for a bounce - that did not work as well.  My rationale in both cases was that we could see the ritualistic rip higher for no reason at some point today.  I was still bearish on $XLE and $IBB into weeks end, but I also thought a modest bounce would arrive later today.  It did not.  I am not the perfect trader.  I wish I was, but then again being perfect isn't that fun isnt't it?   You want perfection?   Head over to those perfect bearish traders who have been nailing this market day in and day out by shorting stocks during a historic bull market.  Now that's perfection!
and finally $IWM.  The frequent attacks at $120 finally broke the wall of support.  Last night I spoke of this, and also how it opens up the door to $116.  Today.... not even 24 hours later, $IWM is in the $116's.   Wild.
Last night's chart and comments from last nights recap:
Today's IWM chart:
$120 is now strong resistance.  Like $SPY $210, it may be a while before we come back to these levels.
How about them bonds.  I thought it was going to head lower toward the end of this year, but the exact opposite has happened.  Support held at $115 and its been a massive rally ever since, as its sliced through series of resistance.  Bonds look incredibly strong, especially against the backdrop of a global equity rout.
$AAPL - I've been bullish since the lows in May 2013, with some trades for downside in between.  In December 2014 I bought puts just minutes before the stock flash crashed.  We've seen $AAPL plumment and spike higher the last few weeks.   It came back to $119.99 before failing.  From a trendline perspective the line in the sand in $110.  I see many calling for even lower than that.  And it may come to pass.  But I see less and less bulls on $AAPL as 2015 progresses.  We know of one bull.  $AAPL itself.  It's buying back billions and billions of dollars worth of its own stock.  Today it held up for most of the session.  It was over $113 for the later half.   I think it's going to bounce tomorrow, and will remain looking for upside as long as it stays above trendline support.
However this chart is pretty clear.  Previous highs have been put in.  We have some sort of possible topping pattern forming.  An elongated headed pattern with two tilted shoulders  🙂    I'd like to see it break back over $115 before getting excited with some calls.
The VIX.  It finally took a stand today.  A huge 25% move to the upside has it sitting ever so close to the well defended 20 level.
I think we could see it spike briefly over 20 tomorrow, but get solidly rejected into the close.  One of those in your face, fall to the ground, drool coming out of the mouth rejections.
What does that mean for tomorrow?
It was a nasty late day slide.  No doubt about it.  The talking heads are talking it up like the market has already slid into bear market territory.  We've had some nasty reversals over the last few weeks.  Don't forget even in the midst of the financial crisis we had 700 point DJIA up days and that was when the 700 points was an almost 10% gain.  CPI remains low.  Interest rates aren't going up any time soon.  Look at the bond market.  Investors aren't bidding up the bond market because they think inflation is coming any time soon.  Which means the FED and every other central bank around the globe will remain the givers of all that is good for the equity market.  The Chinese government will end up owning 75% of its own stock market, if it means stopping the market correction.  Corporations remains buyers of their own stock.  Pull backs means more bang for the corporate buyback buck.  Think $AAPL $HD and the other buyback machines.
Despite today's move lower, we still remain within striking distance of new record highs.  And while many charts remain broken and/or breaking down  aka XLE, IWM  nothing goes straight down, or straight up.
The $SPY still is in consolidation mode.  Until that changes the trend is up, even amid short term weakness.
Today was the first real good session in terms of just doing it.  There were no sharp out of no where 1% spikes.  It was a steady drubbing for stocks all day and a close at session lows, followed by continued weakness after the bell.  It was ugly.
But guess what?  That sell switch can just as easily be flipped to buy tomorrow.  We've seen it countless times since the market bottomed in March 2009.  While I am happy to still be an owner of $IBB and $XLE into tomorrows session - I wouldn't be at all surprised if we get a relief rally to turn the headlines around for a day.    Either way buckle up and have a good night.
See you in the chat room tomorrow morning.
and a clip from the chat room today.  Indeed it got ugly.