Tuesday Morning Reads, Options, News
Reads:
News:
Futures:
 The VIX:
Hits key 12.00 level this morning
 Open Interest Changes:
Charts:
Unusual Option Action 
Earnings This Week: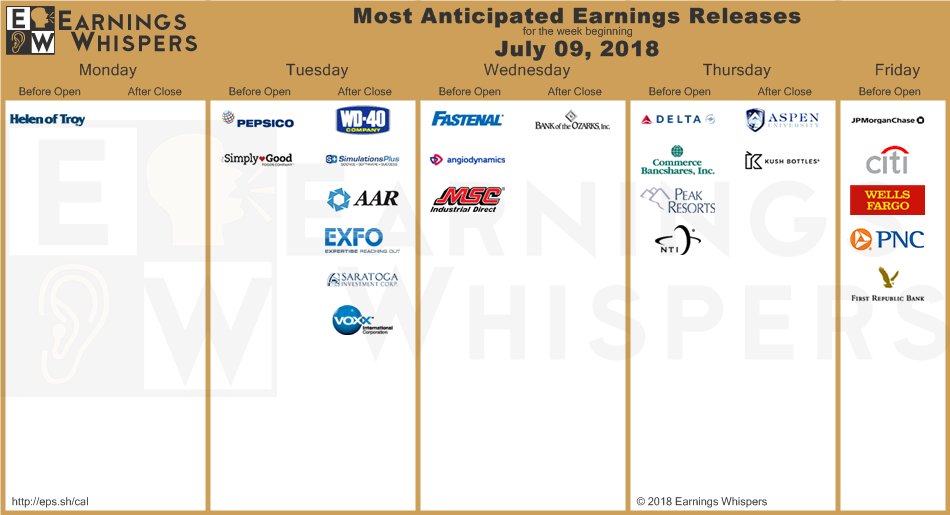 Brett Kavanaugh has been nominated for the U.S. Supreme Court, although a tough confirmation fight lies ahead in the Senate. As an ideological conservative he's expected to push the court to the right on a number of issues, including business regulation. Kavanaugh has been critical of the expanding powers of federal agencies, including on measures like labor rights, credit-card fees and "payday" loans, and has also cast doubt on the constitutionality of the Consumer Financial Protection Bureau.
Economy
Escalating concerns over potential supply shortages had oil on the rise overnight. Workers on Norway's oil and gas offshore rigs have gone on strike after rejecting a proposed wage deal, shutting down production at Royal Dutch Shell's (RDS.A, RDS.B) Knarr field in the North Sea. Separately, OPEC President Suhail al-Mazrouei defended the oil group against President Trump's recent demands for higher oil output, saying OPEC does not shoulder the blame.
Germany and China have reiterated their commitment to the multilateral rules that govern free trade at a meeting in Berlin as trade tariffs from the U.S. pushes the countries closer together. The nations signed €20B in deals that included companies like BASF (OTCQX:BASFY), BMW (OTCPK:BMWYY), Volkswagen (OTCPK:VLKAY), Daimler (OTCPK:DMLRY) and Siemens (OTCPK:SIEGY), underlining the close economic ties between the world's two largest exporters of goods.
Jeremy Hunt, a champion of a so-called "soft" Brexit, has been appointed as U.K. foreign secretary following the resignation of Boris Johnson. His departure was in protest against Theresa May's latest Brexit plan, which he said would effectively render Britain "a colony." A Conservative party leadership contest might be on the horizon, but many are afraid that could set in motion events that would lead to a general election.
Turkey's Recep Tayyip Erdogan has named his son-in-law Berat Albayrak as treasury and finance minister, adding to investor unease about where the country's economic policy is going. The lira fell 3.8% against the U.S. dollar on the news, extending one of the biggest slides across emerging markets this year. Albayrak replaces Mehmet Simsek, a former Merrill Lynch banker.
Stocks
Trade war... China's commerce ministry will raise "anti-dumping tariff rates" tomorrow on some optical fiber products originating from the U.S., increasing the levy range to between 33.3% to 78.2%, compared with 4.7% to 18.6% as set in 2011. U.S. companies, including Corning (NYSE:GLW), OFS Fitel (OTCPK:FUWAY) and Draka Communications Americas, are among the firms affected by the change.
Shrugging off investor concerns, the head of Fuji Xerox said there would be no breakup of the joint venture despite an escalating dispute between the two companies. Xerox (NYSE:XRX) threatened last month that it may not renew its technology agreement with Fuji Xerox after being sued by Fujifilm (OTCPK:FUJIY) for calling off their proposed $6.1B merger.
Two Swiss banks - Falcon Private Bank and BSI (OTC:EFGIF) - are suspected of involvement in Malaysia's 1MDB scandal, according to Switzerland's attorney general, who found that up to $7B of funds flowed through the state fund. A former Goldman Sachs (NYSE:GS) banker is also in plea talks with U.S. prosecutors over an alleged scheme to steal billions of dollars from 1MDB, bringing the probe closer to the Wall Street firm.
Paris is increasing its post-Brexit appeal. BlackRock (NYSE:BLK) has increased its staff in the French capital and is seeking to set up an alternative investment management business there. It follows similar moves by JPMorgan (NYSE:JPM), Bank of America (NYSE:BAC) and others, and comes less than nine months before Britain's departure from the EU in March 2019.
"Pfizer & others should be ashamed that they have raised drug prices... at the same time giving bargain basement prices to other countries in Europe & elsewhere. We will respond!" President Trump wrote on Twitter. While Pfizer (NYSE:PFE) reissued a statement from a week ago, saying it upped the list prices on just 10% of its portfolio, it is among just four drug companies that upped prices on their medicines a second time this year.
Clearing a major hurdle, Takeda Pharmaceutical (OTCPK:TKPYY) has received unconditional clearance from the U.S. Federal Trade Commission for its $62B deal to buy London-listed Shire (NASDAQ:SHPG). The transaction that would propel the Japanese company into the global ranks of drugmakers, but it's still awaiting other regulatory clearances and approval by shareholders.
M&A news roundup: In the latest three-way major media machinations, Fox (NASDAQ:FOXA) is reportedly preparing a new offer for the rest of U.K. broadcaster Sky (OTCQX:SKYAY) in an attempt to thwart a bid by Comcast (NASDAQ:CMCSA). J.M. Smucker (NYSE:SJM) is also selling its U.S. baking business, which includes brands such as Pillsbury, to private equity firm Brynwood Partners for $375M.
Three-way deal... SoftBank (OTCPK:SFTBY) is tightening its grip on Yahoo Japan (OTCPK:YAHOY) via a $2B deal with Altaba (NASDAQ:AABA), formerly Yahoo, deepening its ties with the internet heavyweight ahead of an IPO of its telecoms unit. Under the deal, SoftBank will acquire ¥221B of Yahoo Japan shares from Altaba, whereupon Yahoo Japan will buy back ¥220B of stock from SoftBank.
Following a disappointing debut, Xiaomi (BATS:XI) surged 14% in its second day of trade in Hong Kong as investors began to pile into the world's third-largest listed smartphone maker. Shares topped HK$19.14 in early afternoon trading, well above its HK$17 IPO price, as the Chinese company announced it would join the Hang Seng Composite Index on July 23.
Microsoft is getting back into the cheaper tablet game today with the Surface Go, the newest addition to its family of Surface-branded computers and laptops. The device features a 10-inch screen, integrated kickstand, Windows 10 (NASDAQ:MSFT), and a similar design to the Surface Pro, but starts at $399. It's now available for pre-order and will ship in August.
The bike sharing economy... UBER and Alphabet (GOOG, GOOGL) are among the investors in the latest funding round for bike sharing service Lime, which raised a total of $335M and valued the startup at $1.1B. Uber will work with Lime as a strategic partner in the electric scooter space, with the companies working to co-brand Lime's scooters and make the service available on the Uber app.