Tuesday Morning Reads
Reads:
News:
Charts:
Premium:
Futures:
 Unusual Option Action:
Earnings: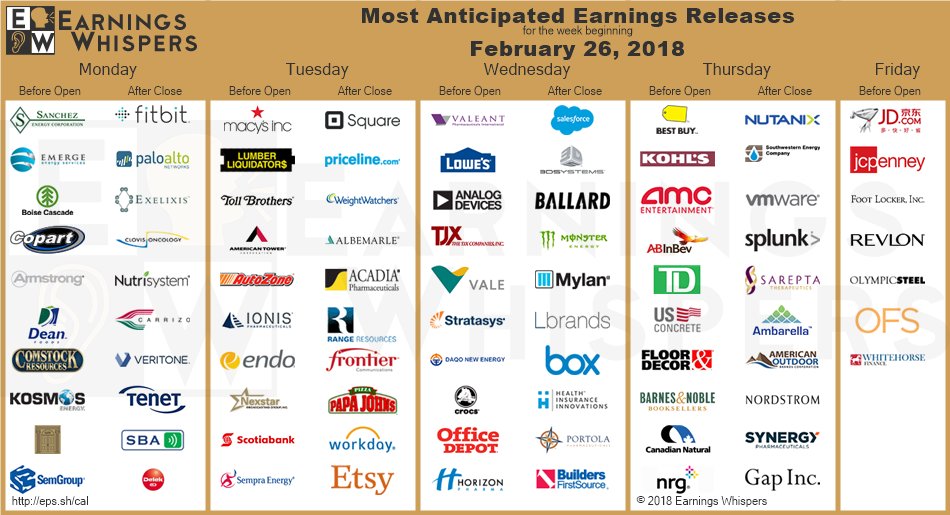 Seekingalpha:
The spotlight is on Fed Chair Jerome Powell this morning as he delivers his semi-annual monetary policy testimony before the House Financial Services Committee. Investors hope to get a read on how he views the economy, market volatility, and the impacts of recent fiscal policy and tax reform. Though the U.S. environment seemed benign on Janet Yellen's exit, a stock market selloff and recent uptick in inflation concerns have raised the stakes for his first months in office.
Economy
Economic confidence in the eurozone eased in February but remained at "historically elevated" levels, according to the European Commission. Its overall economic sentiment indicator came in at 114.1, down from 114.9 the previous month, but slightly better than economists had predicted. A boost from the services sector? Despite expectations of a fall, the sub-measure for services jumped from 16.8 to 17.5.
The head of Britain's Treasury Committee has criticized the government for advising companies to prepare for Brexit without first telling them what to expect when the country quits the EU. "Firms can hardly begin to understand change until they know what it consists of. Brexit uncertainty for businesses still looms large, said Nicky Morgan, calling the advice "extraordinary."
In a series of late-night decrees, Saudi Arabia's King Salman replaced top military leaders and assigned new younger officials in economic and security roles. A woman, Tamadur bint Youssef al-Ramah, was also named deputy minister of labor. The new appointments were seen by some analysts as an effort toward Crown Prince Mohammed bin Salman's Vision 2030, aimed at transforming the kingdom to make it less dependent on oil.
Stocks
Comcast is making a cash offer to buy European pay-TV group Sky (OTCQX:SKYAY) for £22.1B, topping an existing offer from 21st Century Fox (NASDAQ:FOXA) with a 16% premium. "We think that Sky would be very valuable to us as we look to expand our presence internationally," Comcast (NASDAQ:CMCSA) CEO Brian Roberts declared. "We would like to own the whole of Sky and will be looking to acquire over 50% of the Sky shares."
Amid a wave of semiconductor consolidation, Microchip Technology (NASDAQ:MCHP) is in advanced talks to buy Microsemi (NASDAQ:MSCC), sources told WSJ. The transaction would likely value Microsemi in the mid-$60s a share, not much above the company's current stock price (which ran up on reports of a possible sale). While a deal could be struck this week, the two sides still have significant issues to work out.
A national security panel that has the power to stop mergers has begun looking at a plan by Singapore-based chipmaker Broadcom (NASDAQ:AVGO) to take over rival Qualcomm (NASDAQ:QCOM), sources told Reuters. CFIUS is said to be in touch with at least one of the firms in the proposed transaction, and met last month to discuss the potential merger of the two big semiconductor companies.
Cryptocurrencies "should only be considered by those who can stomach potentially complete losses," according to the world's largest asset manager. "We don't see them becoming part of mainstream investment portfolios soon," said Richard Turnill, BlackRock's (NYSE:BLK) global chief investment strategist, but added that cryptos could potentially become "more widely used in the future as the markets mature."
Continuing to invest in physical and digital enhancements, Bank of America (NYSE:BAC) plans to open more than 500 new branches across the U.S. over the next four years. Apart from the new branches, more than 1,500 existing locations will be redesigned with new technology, furnishings and layouts. BofA plans to hire more than 5,400 workers as part of the expansion.
A long-awaited win for Silicon Valley lobbyists. California has approved new rules that don't require human operators to sit behind the wheel of driverless cars, with the state's DMV issuing such permits from April 2. As the technology is developed the vehicles will still require constant supervision from "remote" drivers, or technicians who monitor car functions from a remote location.
Three months after opening in Australia, Amazon (NASDAQ:AMZN) has begun selling its in-house delivery service to third-party vendors, taking on a major logistical challenge in the continent that invented the expression "tyranny of distance." That means merchants will be able to pay to pack and ship their products through the Fulfillment by Amazon program. Prime is said to follow by the middle of 2018.
The U.S. Supreme Court is set to hear arguments today in a high-stakes email privacy case that, when decided, will have international repercussions. The suit pits Microsoft (NASDAQ:MSFT) against the DOJ in a battle over whether cloud computing companies must turn over information stored on their overseas servers in response to warrants issued in the U.S.
Despite missing a deadline for putting forth directors, Darwin Deason is looking to nominate a full slate to Xerox's board (NYSE:XRX). The activist investor argues that it has a right since the current board made a series of significant decisions and disclosures material to stockholders following the deadline. Deason and Carl Icahn, who own 15% of Xerox, are trying to stop a $6.1B takeover from Fujifilm (OTCPK:FUJIY).
Politics is meeting business once again in the debate over gun reform. Georgia Lieutenant Governor Casey Cagle said he will "kill" the tax break of Atlanta-based Delta (NYSE:DAL) unless it reinstates its relationship with the NRA, tweeting "Corporations cannot attack conservatives and expect us not to fight back." The airline had severed ties following the high school massacre in Parkland, Florida.
While releasing its Q4 results this morning, SeaWorld Entertainment (NYSE:SEAS) announced that CEO Joel Manby has resigned and named John Reilly as its interim CEO. A search will begin for a permanent replacement. "The board agreed that this transition plan is the right approach to advance the company's progress and create value for all our important stakeholders," SeaWorld said in a press release.
Over the next few months, Coca-Cola (NYSE:KO) will cut up to 350 management positions, most of them in its Atlanta headquarters, as part of ongoing changes in shaping its business. About a year ago, the company announced plans to slash 1,200 positions from its corporate divisions, and that trimming is largely complete. The new cuts are not part of that previous announcement.
Martin Shkreli's hopes for a light prison sentence have been dealt a blow as Judge Kiyo Matsumoto ruled that his crimes caused a loss of $10.4M. "By the time Mr. Shkreli began to funnel money from Retrophin (NASDAQ:RTRX) to his MSMB Capital investors, many of those investors, as well as the SEC, had detected the fraud." A final ruling will come on March 9, with the probability of up to a decade or more in prison.
Apple is launching a group of medical clinics called AC Wellness to deliver the "world's best healthcare experience" to its employees and their families, CNBC reports. A quietly published website, acwellness.com, said the Apple (NASDAQ:AAPL) initiative will begin this spring. The news comes as Amazon announced an effort with Berkshire Hathaway (BRK.A, BRK.B) and JPMorgan (NYSE:JPM) to improve the healthcare of their employees.
Things are getting bigger... Apple (AAPL) is also preparing to release three new smartphones later this year, including the largest iPhone ever. The report from Bloomberg said the screen could be as large as 6.5 inches - nearly an inch bigger than the iPhone 8 Plus. The other two models would include a lower-cost version of the iPhone X, and a budget-friendly option that doesn't skimp on features.