Tuesday Morning Reads
Reads:
News:
Charts:
Premium:
Futures:
Earnings: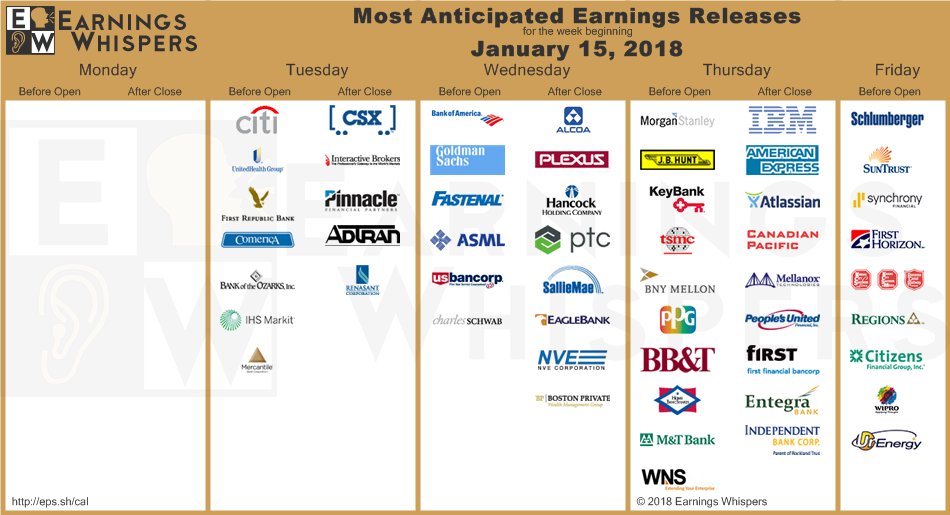 Unusual Option Action:
Seekingalpha:
Continuing on their path of record-breaking runs, stocks are set to roar back from an extended holiday weekend, with Dow futures up 243 points in early trade. The broader move higher comes on the back of dollar weakness and robust corporate earnings reports. Investors are also on the lookout for a funding bill that would avoid a government shutdown on Friday as lawmakers seem to move farther apart on a DACA deal.
Economy
The EU has stepped up its demands for concessions that the U.K. must make during the transition period that follows Brexit, pushing back the cut-off date for the acquisition of rights for EU citizens. It comes as U.K. inflation eased slightly for the first time in six months in December, falling to 3% from 3.1%, thanks to the cost of airfares, games and toys. Sterling -0.3% to $1.3752.
With growing worries over future trade in the bloc, Ireland said it can help U.K. companies that are concerned about losing the right to sell products in the EU after Brexit comes into effect. "We're saying to people, if there are difficulties, Ireland can be part of the solution for passporting," declared Michael D'Arcy, minister of state at Ireland's Department of Finance.
Foreign ministers from around 20 nations will gather for a meeting in Vancouver today, co-hosted by the U.S. and Canada, to discuss how to curb North Korea's nuclear ambitions. But China, seen as a key player in any long-term solution, will be absent. "Holding this kind of meeting that doesn't include important parties... cannot help in advancing an appropriate resolution to the issue," foreign ministry spokesman Lu Kang told a regular briefing.
Eying the end of eight years full of bailout programs, Greek lawmakers approved more austerity measures late Monday amid strikes and mass protests that brought much of Athens to a standstill. The reforms include tougher conditions for unions to call strikes, speedier property foreclosures and cuts to family benefits, but were demanded by lenders for Greece to receive its next bailout tranche worth around €6B-€7B.
Iran's foreign ministry on Saturday said it would not agree to any changes to the nuclear deal as President Trump demanded, and vowed a "serious response" to new U.S. sanctions that targeted 14 Iranian individuals and entities. "It's been one year since Trump has been trying to kill JCPOA and hasn't been successful," President Rouhani declared. "The deal is a long-lasting victory for Iran."
Stocks
The Detroit Auto Show officially opened Saturday, giving industry experts and the media a chance to preview new cars before they hit the streets. While it's still too early to count the turnout, more than 800,000 people attended the expo last year. The show will open to the public on Jan. 20 and run until Jan. 28 (see recent news below).
Ford will significantly increase its planned investments in EVs to $11B by 2022 and have 40 hybrid and fully electric vehicles in its model lineup. "We're taking our mainstream vehicles, our most iconic vehicles, and we're electrifying them," Chairman Bill Ford told reporters. Ford (NYSE:F) also showed off its 2019 Ranger, after pulling the midsize pickup off the market in North America eight years ago.
Fiat Chrysler CEO Sergio Marchionne has no intention of breaking up the company or selling individual brands to China, adding that the group was counting on its Jeep brand to drive future profits. Fiat's (NYSE:FCAU) share price has already jumped 30% YTD on a bullish outlook for the auto sector and speculation that Marchionne's final year at the helm could prompt spinoffs, technology alliances or disposals.
U.S. regulators will "carefully and responsibly" review General Motors' (NYSE:GM) request to test an autonomous car without a steering wheel, Transportation Secretary Elaine Chao said on the sidelines of the Detroit Auto Show. "This request is now a reality. The technology is there, the question is how do we regulate it, how do we continue to promote innovation but also safeguard safety."
Frantic selling in the closing weeks of 2017 saw Airbus (OTCPK:EADSY) overhaul Boeing's (NYSE:BA) recent lead in the global jet market to win their annual order contest for the fifth year running. The French planemaker's net orders rose 52% to 1,109 aircraft last year, ahead of its U.S. rival's 912. Boeing still came out on top in terms of production, delivering 763 planes vs. Airbus's 718.
It's not a good day for cryptocurrencies, with South Korea stating a ban on trading was now "a live option" and China reportedly raising the bar on its cryptocurrency crackdown. Bitcoin dropped more than 10% within an hour, eventually tumbling 17% to under $12,000 for the first time since Dec. 6, while ethereum and Ripple posted losses of more than 20%.
The head of Singapore's central bank further hopes the technologies underpinning cryptocurrencies such as blockchain will not be undermined by an eventual "crash" in the digital money. Ravi Menon added that he would not rule out the possibility of the MAS issuing a cryptocurrency directly to the public but he's still not sure if it's a good idea.
Nine large banks, including six from Canada, have been accused in a lawsuit of conspiring to rig the Canadian Dealer Offered Rate from Aug. 9, 2007, to June 30, 2014. The institutions hoped to reduce interest they would owe investors on CDOR-based derivatives transactions in the U.S. and generate potentially billions of dollars of improper profits. Related tickers: RY, TD, BNS, BMO, CM, BAC, DB, HSBC, OTCPK:NTIOF
As part of its annual pay process this year, Citigroup (NYSE:C) will increase compensation for women, minorities and other individuals to bridge pay gaps in the U.S., the U.K. and Germany. The move means Citi will become the first big U.S. bank to respond to a shareholder push to analyze and disclose its gender pay gap. It also pledged to continuously evaluate market conditions.
Britain's Carillion collapsed on Monday after its banks lost faith in the construction and services company, which has debt and liabilities of £1.5B. The struggle poses a conundrum for Prime Minister Theresa May over whether to use public money to assist Carillion (OTCPK:CIOIY), which employs 43,000 people, or allow it to founder, putting public services and infrastructure projects nationwide in danger.
Adidas wants to increase its U.S. market share to around 15%-20%, CFO Hans Ohlmeyer told Boersen Zeitung, adding that the company would build out its American logistics capacity this year to clear supply bottlenecks. Market researchers estimate Adidas' (OTCQX:ADDYY) share of the U.S. market at about 10%, implying a goal to almost double it. Related tickers: NKE, UAA, SKX
With a dwindling footprint in the Middle East, Shell (RDS.A, RDS.B), is upping its energy portfolio abroad. The company is giving up on its last oil fields in Iraq, selling a stake in the West Qurna 1 oil field for an undisclosed amount. It also announced plans to acquire 43.8% of U.S.-based Silicon Ranch for up to $217M in cash and cleared its first North Sea project in six years.
Writedowns and charges: BP -2% premarket after announcing it would take a post-tax non-operating charge of around $1.7B in its Q4 results as part of the 2010 Deepwater Horizon disaster. Meanwhile, Ericsson (NASDAQ:ERIC) said it would take writedowns of $1.8B following the impairment testing of its businesses, as well as suffering a $125M non-cash charge due to recent U.S. tax reform. ERIC -0.4% premarket.
The entire continental U.S. is experiencing widespread flu right now, the first time in the 13 years of the current tracking system that this has happened, according to the CDC. The rate of flu hospitalizations nearly doubled last week to 22.7 per 100,000 people compared with the previous seven days. Federal authorities also disclosed that 20 children have died from the virus and 7% of senior deaths last month were to blame on this year's virulent strain. Flu vaccine manufacturers: SNY, GSK
CVS Health will ban photo manipulation in its makeup marketing and promotional displays by 2020. Failure to comply will result in an alert label being slapped on brands' images. The decision reflects an acknowledgment that "unrealistic body images" are "a significant driver of health issues," especially among women, who make up 80% of the chain's customers, said CVS Pharmacy President Helena Foulkes.
The AI revolution... Alibaba's (NYSE:BABA) deep neural network and an AI software developed by Microsoft (NASDAQ:MSFT) have outscored humans on a Stanford University reading comprehension test, which demanded answers to more than 100,000 questions. The win has broader implications for how companies deploy machine learning to replace customer service jobs that have so far relied on call-center employees to handle inquiries.
Privately-owned Lego is partnering with Tencent (OTCPK:TCEHY) to jointly develop online games and potentially a social network aimed at children in China. The Danish toymaker has seen a slowdown in sales growth in recent years, but the Chinese market - where it competes with Mattel (NASDAQ:MAT) and Hasbro (NASDAQ:HAS) - has been a bright spot with sales growing 25%-30% in 2016.
Xiaomi has picked Citic Securities, Goldman Sachs and Morgan Stanley as joint sponsors for its proposed IPO, which will most likely be in Hong Kong, according to IFR. Bankers have told Xiaomi (Private:XI) - valued at $46B in a 2014 funding round before a slump and subsequent turnaround - that a $100B valuation is possible.
SoftBank climbed almost 6% in Tokyo yesterday on reports that the company may list roughly 30% of its Japanese cellphone operator, raising nearly $18B. The cash would go towards investments in growth, such as buying into foreign information-technology companies, completing SoftBank's (OTCPK:SFTBY) transformation into one of the world's biggest tech investors.
Due to national security concerns, U.S. lawmakers are urging AT&T (NYSE:T) to cut all commercial ties to Chinese phone maker Huawei and oppose plans by China Mobile (NYSE:CHL) to enter the U.S. market, congressional aides told Reuters. The lawmakers are also advising U.S. companies that if they have ties to Huawei or China Mobile - like partnering on 5G or selling handsets - it could hamper their ability to do business with the U.S. government.
The Pentagon is planning to develop more "low-yield" nuclear warheads and a sea-based nuclear cruise missile, according to a leaked draft of the 2018 Nuclear Posture Review. It follows reports that Russia has developed an unmanned underwater nuclear drone that has a range of 10,000 kilometers and can carry a 100-megaton nuclear warhead. Related tickers: BW, HON, ACM, JEC, SAIC, OA, COL, LMT, BA, NOC, GD, AJRD, HII
Amid fears of "car hackings" and other cybersecurity worries, BlackBerry (NYSE:BB) has launched new software, called Jarvis, which identifies vulnerabilities in programs used in self-driving cars. The product has already been tested with Tata Motors' (NYSE:TTM) Jaguar Land Rover unit, whose chief executive said it reduced the time needed to assess code from 30 days to seven minutes. BB +3.2% premarket.
Today's Markets 
In Asia
, Japan 
+1%
. Hong Kong 
+1.8%
. China 
+0.8%
. India 
-0.2%
.
In Europe
, at midday, London 
-0.1%
. Paris 
+0.2%
. Frankfurt 
+0.9%
.
Futures at 6:20
, Dow 
+1%
. S&P 
+0.5%
. Nasdaq 
+0.6%
. Crude 
-0.7%
 to $63.88. Gold flat at $1335.40. Bitcoin 
-9.1%
 to $12343.
Ten-year Treasury Yield
 -2 bps to 2.53%
Today's Economic Calendar
8:30 Empire State Mfg Survey