Thursday Morning Reads
News:
Reads:
Various groups want FTC to breakup Facebook (FB). WSJ Report
PG&E (PCG) believes it could cost $150 ban this year for fire safety proposal. Bloomberg Report
Alibaba (BABA) plans to reduce stake in Easy Home. Bloomberg Report
Microsoft (MSFT) Bing has been blocked in China. Bloomberg Report
Several U.S. universities will no longer use telecom equipment made by Huawei Technologies (ZTCOF, SMH, ACIA, FNSR, LITE, IPH).Reuters Report
Apple (AAPL) eliminated 200 jobs from its self driving car project. CNBC Report
House will look at ties that Deutsche Bank (DB) has to President Trump. Reuters Report
China has approved two new Tencent (TCEHY) games. FT Report
Tencent (TCEHY) and others considering bid for gaming company Nexon. Bloomberg Report
Futures:
Premium:
Open Interest Changes: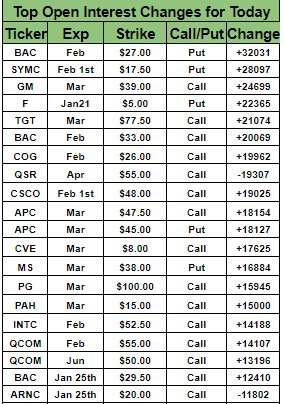 Charts:
Earnings:
With no new actions expected at the European Central Bank's policy meeting today, investors will focus on Mario Draghi's post-meeting news conference and whether the central bank admits that risks to the Eurozone economic outlook are skewing to the downside. That would set the stage for future actions to boost financial conditions. The central bank has already announced that rates won't be raised until at least the end of the summer. It has also committed to maintaining the size of its bulked up balance sheet by reinvesting proceeds of maturing bonds.
Economy
China added gold to its foreign reserves last month for the first time in two years, a sign that (combined with a continued paring in U.S. Treasurys) points to continuing work to cut dependence on the dollar. Gold held by China increased by about 10 tons to 1,852 tons, even as Treasury holdings dropped for the fifth straight month.
China and the U.S. will have in-depth talks on economic and trade issues when Chinese Vice Premier Liu He visits the U.S. next week, Reuters reports, citing the Chinese commerce ministry. Reports that the U.S. canceled preparatory meetings with China are untrue, a commerce ministry spokesman told reporters. On Wednesday, White House economic adviser Kevin Hassett said he believes a trade deal could be reached by March 1.
President Donald Trump says he'll wait until the government is re-opened before he gives his State of the Union Address to Congress and added that he's not looking for an alternate site for the annual speech since no venue can compete with the importance of the House Chamber. The partial government shutdown is now in its 34th day. The Senate plans to take up two measures this afternoon--one supported by Trump and the other supported by Democrats--but neither is expected to advance.
Stocks
Project Titan -- the stealthy self-driving car initiative at Apple (NASDAQ:AAPL) -- has again shed workers, CNBC reports. The group dismissed just over 200 employees this week, in a move the company described as restructuring after former Apple and Tesla exec Doug Field returned to help lead Project Titan in August. The company says it's still committed to autonomous systems and that it's working on the most ambitious machine learning project ever.
Carlos Ghosn has told Renault (OTCPK:RNLSY) that he'll resign as its chairman and CEO, Nikkei reports, after a denial of bail in Japan has ruled out a quick return to France. The French government was already taking steps to remove Ghosn and looking to integrate Renault and Nissan (OTCPK:NSANY) under a single holding company. Renault is expected to accept Ghosn's resignation at today's board meeting, according to the report, and name interim chief Thierry Bollore its next CEO, with Michelin CEO Jean-Dominique Senard set to become chairman.
It was a mixed bag for Ford's (NYSE:F) Q4 results, which included a special charge of $1.8B. Automotive revenue of $38.7B was ahead of estimates, while EPS was 2 cents short. Company adjusted earnings before interest and tax of $1.5B was driven by North America. Ford management also cited mix and pricing as positive factors during the quarter.
China has blocked the Bing search engine (NASDAQ:MSFT) by government order, according to the Financial Times. Microsoft confirmed it was inaccessible behind the "Great Firewall," and China Unicom confirmed that was due to the government's direction. Bing was the only major foreign search engine available in China, considering that Google (GOOG, GOOGL) has been out of the country since 2010.
In a federal court filing, PG&E (NYSE:PCG) says it would need to hire 650,000 full-time employees and it would cost as much as $150B to remove all the dead trees in its territory by June 21. The estimate was included in PG&E's response to a call by U.S. District Judge William Alsup for the utility to trim tree branches and inspect and repair thousands of miles of power lines or cut local electricity supply to prevent wildfires.
Wednesday's Key Earnings
Ford (
F
) 
-1%
 AH after a mixed Q4.
Texas Instruments (NYSE:
TXN
) 
+1%
 AH on mixed Q4.
Las Vegas Sands (NYSE:
LVS
) 
-2.3%
 AH after earnings disappoint.
Lam Resarch (NASDAQ:
LRCX
) 
+7%
 on Q2 beats, $5B buyback.
Xilinx (NASDAQ:
XLNX
) 
+10.1%
 AH on Q3 beats, upside guide.
Crown Castle (NYSE:
CCI
) 
+2.3%
 AH on beat-and-raise in Q4.
F5 Networks (NASDAQ:
FFIV
) 
-1.1%
 AH on profit beat, light guidance.
United Rentals (NYSE:
URI
) 
+4.3%
 AH after earnings.
Canadian Pacific Railway (NYSE:
CP
) 
+1.3%
 AH on Q4 earnings beat.
Citrix Systems (NASDAQ:
CTXS
) 
-5.5%
 AH on Q4 beats with downside guide.
Teradyne (NYSE:
TER
) 
+4%
 AH on Q4 beats, in-line guide.
PTC (NASDAQ:
PTC
) 
-6%
 AH on downside Q2 guidance.
Varian Medical Systems (NYSE:
VAR
) 
+2.2%
 AH on Q1 revenue beat.