Thursday Morning Reads
Reads:
News:
Futures:
Premium:
Open Interest Changes:
 Earnings: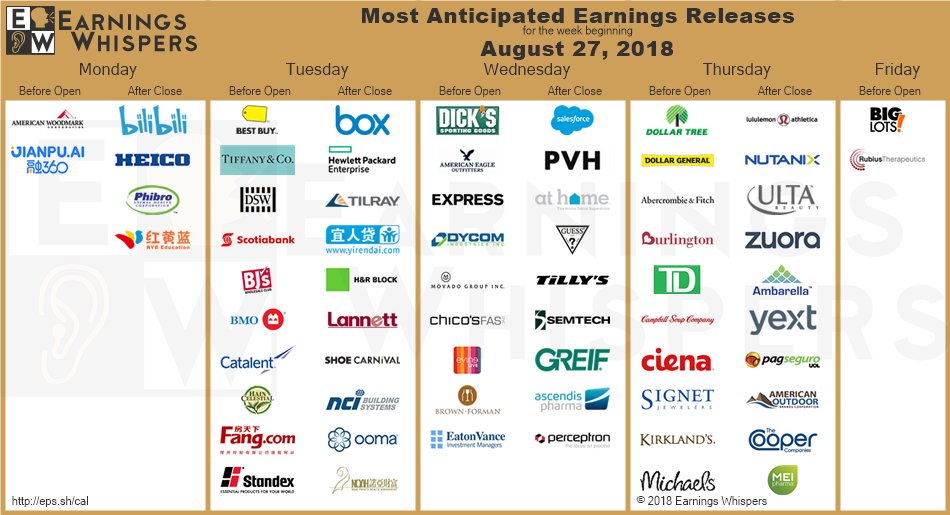 Charts:
SeekingAlpha:
Argentina's peso tanked 7.5% against the dollar on Wednesday, bringing losses to nearly 50% over the past year, after President Macri asked the IMF to speed up delivery of a $50B bailout package. It was the largest one-day decline since the currency was allowed to float in 2015, prompting central bank interventions and investor concern that the third-largest Latin American economy may not meet its debt obligations.
Economy
In response to the suffering peso, other fragile emerging market currencies sold off sharply overnight, with Turkey's lira and the South African rand feeling heat, and India's rupee slumping to a new record low. The tumult highlights a heavy international dependence on the dollar. Some 48% of the world's $30T in cross-border loans are priced in the U.S. currency, up from 40% a decade ago.
"Canada very much wants to make the deal," President Trump said at the White House, adding that a pact would be "very good" for Ottawa and talks are "probably on track" to conclude by Friday. However, it was unclear if progress was made on two contentious issues: Canada's effort to preserve NAFTA's existing dispute-resolution system and the Trump administration's goal to gain more access to Canada's dairy market.
Corporate profit boom... The Commerce Department's broadest measure of after-tax earnings across the U.S. rose 16.1% in Q2 from a year earlier, the largest Y/Y gain in six years. Strong economic growth also played a role. Gross domestic product growth was revised up to an annual rate of 4.2% on Wednesday from an earlier estimate of 4.1%.
President Trump has signed proclamations permitting targeted relief from steel and aluminum quotas from some countries, including South Korea, Brazil and Argentina. "Companies can apply for product exclusions based on insufficient quantity or quality available from U.S. steel or aluminum producers," a statement read. "In such cases, an exclusion from the quota may be granted and no tariff would be owed."
The EU must prepare for a no-deal Brexit, even if its goal was an orderly exit, according to the bloc's chief Brexit negotiator Michel Barnier. The border with Northern Ireland is "the most sensitive point" of the negotiations, he told German broadcaster Deutschlandfunk. Of a solution, he added: "I think that is possible."
With more than 1.6M Venezuelans fleeing the petrostate since 2015 - an outflow equal to the Mediterranean refugee crisis - South American governments are meeting this week to try to manage the continental disaster together. Officials from Colombia, Peru and Ecuador will discuss measures to prevent epidemics, harmonize identification requirements and share the burden of relief, as the crisis worsens amid plunging oil output and hyperinflation.
Stocks
Campbell Soup is selling its international operations and refrigerated-foods unit, two businesses that bring in $2.1B in annual revenue. The planned divestitures would cut Campbell's (NYSE:CPB) revenue by roughly 25%, but that may not be enough to appease activist Daniel Loeb and George Strawbridge Jr., a descendant of the inventor of Campbell's condensed soup, who together are urging a full sale of the company. CPB -4.3% premarket.
Looking to reduce the drink's high sugar levels, Starbucks (NASDAQ:SBUX) is putting the Frappuccino on a diet (but mimicking the taste resulted in the coffee giant testing 20 types of cream and 70 vanilla flavorings). In fiscal 2015, sales of blended Fraps rose 17% and represented 14% of revenue at Starbucks U.S. company-operated cafes. This year through May, Frap sales have declined by 3%, and the beverage now accounts for just 11% of that revenue.
Board members at Papa John's (NASDAQ:PZZA) are pushing back on founder John Schnatter's efforts to regain control of the company. In addition to saying his recent statements are false, the board said Schnatter has repeatedly contradicted its advice, including when he met executives of another restaurant in July without bringing CEO Steve Ritchie along. Sources said the company was Wendy's (NYSE:WEN), but the talks didn't go anywhere.
Apple has acquired Akonia Holographics, a startup that manufactures augmented reality waveguide lenses. CEO Tim Cook has often said that he sees AR as the next big thing in computing and there have been a number of reports over the years that the company is planning to release consumer AR glasses. "Apple (NASDAQ:AAPL) buys smaller companies from time to time, and we generally don't discuss our purpose or plans," the iPhone maker said in a statement.
The world's largest electronics manufacturers are talking up the next generation of TV technology. Both Samsung (OTC:SSNLF) and LG (OTC:LGEAF) unveiled 8K devices at the IFA consumer electronics show in Berlin, claiming it was the future of the TV market. The idea is that twice the amount of pixels will make pictures clearer and sharper, particularly on larger screen sizes such as 65-inches and above.
A new lawsuit is escalating the bitter feud between Tempur-Sealy (NYSE:TPX) and Mattress Firm (OTCPK:STNHY) after the latter ended its contract last year to sell Tempur-Pedic mattresses in its more than 3,300 U.S. stores. Tempur-Sealy said in court papers that Mattress Firm has been selling a product marketed as "Therapedic," "copying the look and feel of the entire Tempur-Pedic brand and consumer experience."
Moody's has lowered Ford's (NYSE:F) credit rating to one notch above junk bond status, and warned of further downgrades if it doesn't make "clear progress" on its $11B turnaround plan. The second-largest U.S. auto manufacturer is faces weakening profit margins in North America, a retrenching business in China, and losses in South America and Europe.
Treasury Secretary Steven Mnuchin has been ordered by a federal judge to give Exxon Mobil (NYSE:XOM) more privileged files related to a $2M fine assessed against the company for violating sanctions related to Russia's 2014 invasion of Ukraine. At issue is legal documents related to Russian oil and gas projects that Exxon allegedly signed with Igor Sechin, head of Rosneft (OTCPK:RNFTF), who is on the Treasury's list of sanctioned Russian nationals.
Colorado voters in November will consider banning oil and gas drilling within 2,500 feet of homes, businesses and many green spaces, effectively prohibiting it on 85% of the state's non-federal land. The proposal comes as Colorado, the seventh largest U.S. oil and gas producer, experiences an uptick in production. In May, its crude output was 447K barrels per day, up 30% from a year ago. Related tickers: NBL, HPR, XOG, SRCI, APC, LBRT