Thursday Morning Reads
Reads
Futures:
OPTION
premium:
SeekingAlpha:
Stock index futures are on the march higher this morning following the best Fed Day session in over a year. The S&P 500 rose 1.6% on Wednesday, erasing losses from the previous two sessions, and ended two points away from an all-time high. The upward movement came despite the central bank's most hawkish policy pivot in years as it looks to put a lid on inflation (the pace of tapering will be doubled to $30B a month - with further reductions coming next year - while interest rate projections were updated to show a median forecast of three hikes in 2022).
Why are stocks going up? First of all, the market loves certainty. Knowing what to expect on the macroeconomic level next year goes a long way for investors that are closely watching their portfolios, as well as an assurance from the Fed that it is taking inflation seriously. Powell also balanced his rates outlook with a strong dose of optimism about demand and income, and confirmed that "we're making rapid progress toward maximum employment."
Heading into Wednesday, the 10-day average of the CBOE put-call ratio lingered near the highest level in 13 months. Even before that, total equities put volume over the past 50 days was already at an all-time high, meaning the market was ready for a bounce if sentiment shifted in that direction. Once equities found a floor, traders who bought into bearish options started to unwind them, propelling stocks in a late-day rally.
Analyst commentary: "We believe the initial positive equity market reaction is due to investors gaining confidence in the Fed's willingness and ability to fight inflation. As a result, they are decreasing the odds of stagflation and policy error," said Chris Harvey, head of equity strategy at Wells Fargo. "It seemed like there was some hedging demand into the event, perhaps relief that the event has happened, regardless of outcome," added Danny Kirsch, head of options at Cornerstone Macro. "The event is gone, sell your hedge and move on."
StartEngine's Current Funding Round Ends 12/19/2021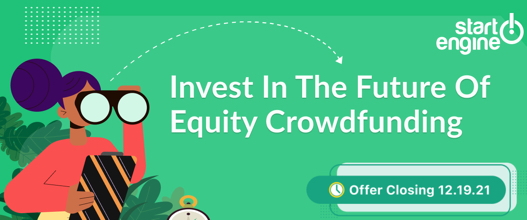 With a goal to help raise $10 billion by 2029, StartEngine has big plans... and they're already gaining momentum:
146% revenue growth YoY in the first half of 2021.

500,000 prospective investors on the platform

Led by Howard Marks, co-founder of Activision (NASDAQ:ATVI).

Launched a first-of-its-kind trading platform

$400M raised for more than 500 companies.

Moving into wine collections, real estate, and more
Until December 19th, you can join over 30,000 other people and invest in StartEngine itself.
WallStreetBets goes to Wall Street
Online message board Reddit (REDDIT) has confidentially filed to go public, submitting a draft registration statement with the SEC. Not too many other details were disclosed, like how many shares would be offered or the price range for the proposed listing. As for the timing, Reddit said the IPO is "expected to occur after the SEC completes its review process, subject to market and other conditions."
Backdrop: Reddit was created in 2005 and Conde Nast Publications acquired the platform in 2006. It remained a part of the mass media company until it was made an independent subsidiary in 2011, and since then, Reddit has raised a series of funding rounds from venture capital firms. The most recent one came in August, when it raised $700M at a valuation of more than $10B (up from the $6B valuation recorded six months prior).
The shift to public markets will be interesting as Reddit looks to build on the attention it gained at the start of the year when the platform became a force on Wall Street. Its r/WallStreetBets forum transformed into a hot spot for retail traders who rallied around GameStop (GME), and coordinating their buying to drive up the prices of other stocks. The meme trading frenzy brought in millions of new users, as well as new advertisers, the source of the bulk of the company's revenue. In fact, Reddit reached $100M in advertising revenue during Q2 of 2021, up 192% from the previous year.
Go deeper: Over 900 companies have gone public in 2021, raising nearly $300B in 2021, including high-profile names like Affirm (AFRM), Robinhood (HOOD) and Rivian Automotive (RIVN). Reddit's IPO will come at the tail end of the banner year and CEO Steve Huffman hopes a lot of retail investors will participate in the listing. The message board platform, known for its "anything goes" ethos, had roughly 52M daily active users and over 100K communities, or "sub-reddits," as of October 2020.
Democrats had been hoping to wrap up their roughly $2T social spending bill by the end of the year, but those efforts are faltering. The so-called "human infrastructure" package would cover areas like education, healthcare and climate change, and would need the support of all 50 members of the Senate Democratic caucus to pass. However, Sen. Joe Manchin (D., W.Va.) is still not on board with the bill, saying "budget gimmicks hide the true cost" and it would temporarily fund programs that Democrats intend to later make permanent.
Bigger picture: Manchin's stance is somewhat in line with the latest estimate from the Congressional Budget Office, which found that a 10-year "permanent Build Back Better" would increase the budget deficit by $2.75T. That finding, released last Friday, evaluated the effect of the spending plan on the deficit if - at the time when provisions would otherwise expire - Congress were to extend them for the remainder of the 10-year period. Political wrangling immediately ensued and lawmakers retreated back to party lines.
"What we're talking about here is a fake CBO score that is not based on the actual bill that anybody is voting on," White House Press Secretary Jen Psaki said at a briefing. "This was an ask - request by Senator Graham to score a bill that is not currently being debated."
Outlook: President Biden has spoken with Manchin at least twice this week, though the two are still at loggerheads over the expanded child tax credit and other issues. Democrats also haven't solidified their opinion on the state and local tax deduction, and failure to pass the plan could have other long-term implications. The enhanced child tax credit will expire at the end of the year unless Congress extends it, while the developments could influence next year's midterm elections.
A booster is your best chance to fight Omricon, according to White House chief medical advisor Dr. Anthony Fauci, adding that "at this point, there is no need for a variant-specific booster." "So the message remains clear," he continued. "If you are unvaccinated get vaccinated, and particularly in the arena of Omicron if you are fully vaccinated, get your booster shot." Companies ranging from Pfizer (PFE) to Moderna (MRNA) were already researching shots that could be tailored specifically for Omicron and some had even forecast a delivery date in early 2022 if they were needed.
Statistics: The unvaccinated are 8x more likely to end up in the hospital and 14x more likely to die compared with people who are fully vaccinated, according to data from the U.S. Centers for Disease Control and Prevention. Director Rochelle Walensky also said that 36 states have detected Omicron so far, and the variant makes up about 3% of COVID-19 cases nationwide (and up 13% in New York and New Jersey).
Meanwhile, COVID-19 infections are soaring across the country and are starting to upend daily life in some places. NYU and Princeton just joined Cornell as the latest universities to cancel year-end events and move finals online (a major spike in infections has been seen at the schools despite them requiring vaccines). Lines at testing sights are also getting backed up, while Philadelphia's Health Commissioner even urged households to cancel their upcoming holiday plans.
Grim milestone: The U.S. just passed 800,000 COVID deaths since the start of the pandemic and many hospitals across the nation are now close to capacity. "We expected this to be a three- to six-month crisis and then we expected it to be over - instead it's 20 months," noted Dr. John Goldman, an infectious disease expert at UPMC Harrisburg. "We have been very busy since essentially March of 2020. It is very hard for people to continue that level of intensity."