Thursday Morning Market Prepper
Reads:
News:
Premium:
Charts:
Earnings this week: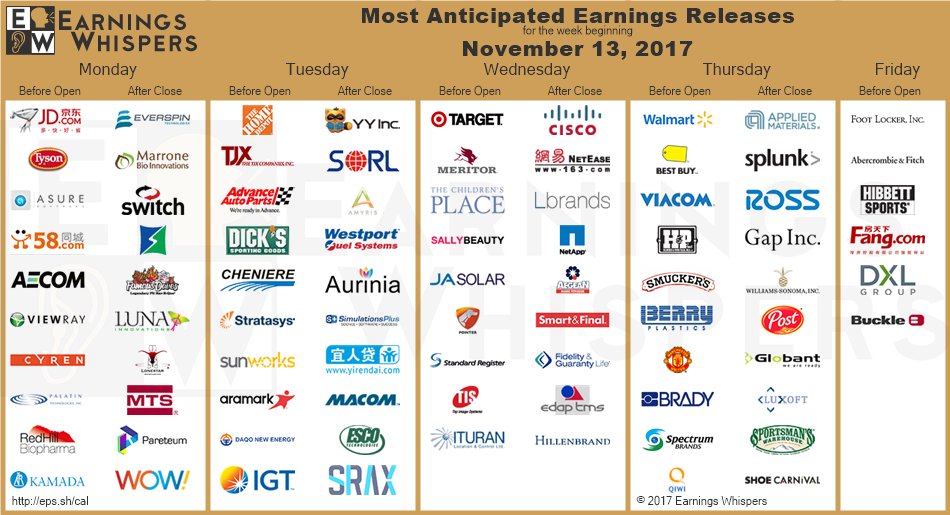 Option Data:
Seekingalpha
Months after teasing the big rig, Tesla (NASDAQ:TSLA) will take the lid off its electric truck at 8 p.m. PT tonight at its Design Studio in Hawthorne, CA. While it's not the only company with plans to push forward with semis, many are eyeing Elon Musk and his efforts to kill the diesel engine. In the works for two years, the vehicle is aimed squarely at cleaning up the freight industry. TSLA +0.9% premarket.
Economy
Becoming the first GOP voice of dissent, Sen. Ron Johnson said he's opposed to the revised Senate Republican tax plan because it unfairly benefits corporations more than other types of businesses. It comes as the House prepares to vote today on its own version of the tax bill, which would cut taxes by more than $1.4T over a decade and broadly rewrite the business tax code.
"Trade abuses harm the U.S. and its workers, but no more," President Trump said at the White House after returning from his nearly two-week trip to Asia. "The 21 APEC leaders, for the first time ever, recognized the importance of fair and reciprocal trade, recognized the need to address unfair trade practices, and acknowledged that the [World Trade Organization] is in strong need of reform."
Greece has launched a €30B debt swap in a bid to shore up confidence and boost market liquidity ahead of a hoped-for exit from its current bailout program next August. The country's Public Debt Management Agency invited private bondholders to swap 20 small-size issues for five new ones with longer maturities of between five and 25 years.
Inflation in the eurozone slipped in October, as Eurostat's second estimate was confirmed at +1.4%. That's down from +1.5% in September and well below the ECB's target of just below +2%. The central bank is still preparing to start winding down its bond-buying program, attributing the figures to a rebound in oil prices that has skewed year on year calculations.
President Robert Mugabe's refusal to publicly resign is stalling plans by the military to swiftly install a transitional government in Zimbabwe. It wants to claim the action isn't a coup to head off tension with the Southern African Development Community, which includes Zimbabwe and South Africa, Bloomberg reports. The group previously intervened when the army took over in Lesotho.
Stocks
The FCC is set to unveil plans next week for a final vote in December to reverse a landmark 2015 net neutrality order, which reclassified internet service providers as if they were utilities. The move will reignite a years-long debate that has seen Republicans and broadband providers seeking to eliminate the rules, while Democrats and technology companies support them.
With U.S. carriers looking to the next-generation of mobile networks, T-Mobile (NASDAQ:TMUS) has given a timeline for when it will get on board. "We are committed to roll out 5G across the nation by 2020," Chief Technology Officer Neville Ray said at the Morgan Stanley European Technology, Media and Telecoms Conference in Barcelona.
Starting in September 2018, S&P Dow Jones Indices (SPGI, CME, NWS) will combine telecom, media and entertainment company shares into a single sector. The move reflects a wave of M&A and "an evolution in the way we communicate and access entertainment content." It's a long-anticipated overhaul of the company's stock market indexes, including the benchmark S&P 500.
Mexico has shot down a proposal by the U.S. to include provisions in the NAFTA that would benefit AT&T (NYSE:T). "You cannot have an agreement... that gives a tailor's cut, a perfect handiwork, to a specific company," said Economy Minister Ildefonso Guajardo. AT&T entered the Mexican market in 2014, spending $4.4B to buy the No.3 and No.4 wireless carriers, but a recent supreme court ruling upended Mexico's telecom reform.
The battle for AI-enabled smart speakers is also being waged in China, with Baidu (NASDAQ:BIDU) introducing its Raven H, which will go on sale in December. At 1,699 yuan ($256), it's pricier than devices from JD.com (NASDAQ:JD) or Alibaba (NYSE:BABA), but it includes a voice-powered remote control for smart home devices. The speaker was designed by Raven Tech, a startup that Baidu acquired in February.
Square's latest venture into the world of bitcoin is less of a validation of the cryptocurrency than it is a testament to innovation, CFO Sarah Friar told CNBC. "We're a payment innovator. So this isn't sellers asking to accept bitcoin, this is individuals using Square Cash (NYSE:SQ) to make payments." Bitcoin briefly gained over 11% yesterday on the news.
While talks between the two fizzled earlier this year, Time (NYSE:TIME) is in discussions to sell itself to Meredith (NYSE:MDP), sources told the NYT. The deal is being backed by the billionaire Koch brothers and a $500M equity injection. Both sides hope to move quickly enough to be able to announce a transaction soon after Thanksgiving.
Following a preliminary vote recount, Nelson Peltz has claimed victory in his proxy fight to win a seat on Procter & Gamble's (NYSE:PG) board, but the company refused to concede and said it wants to see a certified result before declaring a winner. Shares of P&G rose more than 3% in AH trading, indicating some investors welcomed Trian's effort to shake up management and improve financial results.
The number of people diagnosed with Legionnaires' disease after spending time in Anaheim or Disneyland (NYSE:DIS) increased to 15, according to Orange County health officials. While two of patients have died, neither of them visited Disneyland. Legionnaires' disease is a form of atypical pneumonia that is usually spread by breathing in mist that contains Legionella bacteria.
Mattel has rebuffed Hasbro's (NASDAQ:HAS) latest takeover approach, casting uncertainty over a potential merger of the world's two largest toy companies, Reuters reports. Mattel (NASDAQ:MAT) believes the proposal undervalues the company and does not take sufficiently into account the potential for regulators to reject the deal based on antitrust concerns.
Seeking to comply with upcoming stringent rules, Volkswagen (OTCPK:VLKAY) plans to spend €10B by 2025 to develop and manufacture all-electric and plug-in hybrid cars in China. VW intends to launch 15 of the so-called new energy vehicle models over the next two to three years, and an additional 25 after 2025, China chief Jochem Heizmann told Reuters.
The EU is backing Bombardier (OTCQX:BDRAF, OTCQX:BDRBF) and the U.K. in a trade dispute with Boeing (NYSE:BA), arguing that the U.S. investigation into the CSeries program "shows significant shortcomings." Boeing claims Bombardier launched "an aggressive campaign" to dump the CSeries in the U.S. and offered the new jet to Delta (NYSE:DAL) at "absurdly low" prices.