Another Friday with stock futures in positive territory.  Last Friday Google and Amazon earnings sparked a massive buying frenzy.  This morning Apple is doing the heavy lifting, bringing more positive energy into the market.
Last Fridays session felt like buyers were fearing the rest of the earnings season is going to be strong meaning even higher stock prices.  As such Facebook rallied some 4% last Friday ahead of its earnings report this week.
You could say some of Facebooks post earnings move actually came pre-earnings as it ran up to fresh record highs ahead of the report.
$BABA also ran into earnings, and yesterday, despite a strong report, saw price action actually dip into negative territory for some of the session.   A sell the 'great earnings' type reaction.
The overall price action of the market remains strong.  Dips continue to be starting points for fresh record highs.  Yesterday was just another example of dip buying.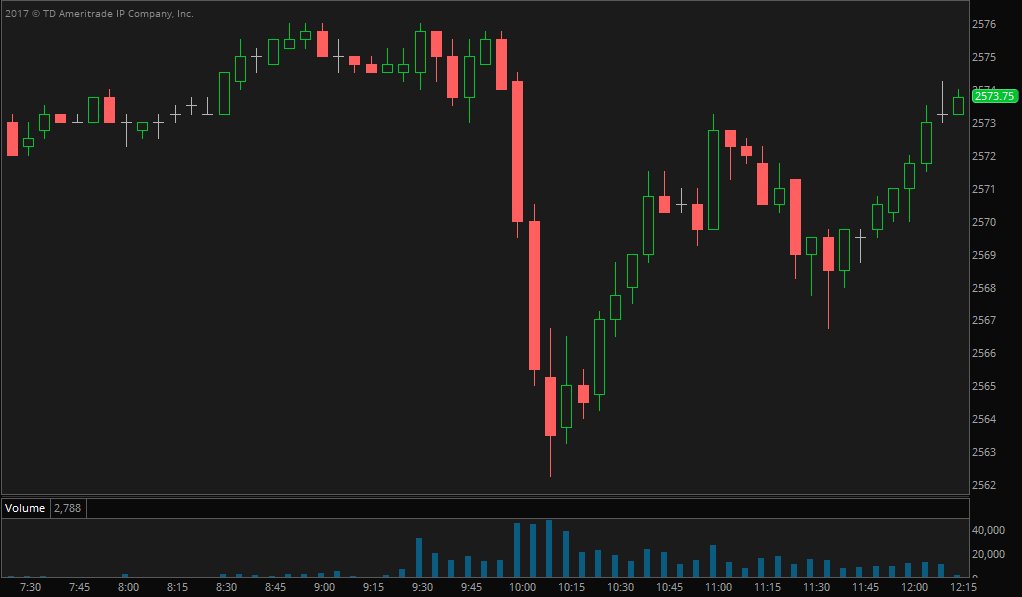 Each morning sell-off has the feel that it just may,  possibly, stick.  That prices just may correct.... and then the market turns around and by mid-afternoon the morning sell-off ends much the same as every other pull back since the lows in 2009 - at fresh record highs.
The Pavlov's Dog has long been trained in the art of dip buying, but the dog has grown ever more hungry.  The dips are shorter lived, the pull backs are lasting mere hours.  Rarely does any one day sell-off morph into anything more serious.
The fear of the next market crash, you know... the one that's been coming every year since 2009... is turning into the fear of missing out on higher prices.  FOMO!  The fear of missing out.  In 2000 seemingly everybody was involved with the stock market.  You could even fund your broker account with a credit card.  Yet here we are in the midst of the best bull market of out lifetime and the latest Gallup poll shows that Mom and Pop and average folks are less invested in the stock market today than at any other time in the last 20+ years!  Really?  What are they waiting for?
We are reaching the stage in this bull market where people are starting to believe.  There wasn't a consensus of belief in Amazon when it was at $200 a share many years ago.  Here it sits at $1,100 and the talk of how overvalued it is -   it's far less today than it was at $200.   Imagine that?
The 'everything bubble'  term was being pushed around recently.
Low interest rates have fueled a rally in assets.  As long as interest rates remain low, everything will become even more bubbly, if it's even a bubble at all.   The post-financial crisis rally in assets could very well be the new normal in a world that's more efficient.  Who is to say for certain?  The everything bubble could very well be the new normal, meaning its not a bubble at all.
For now, as market participants, following the price action is the only answer we have to our questions and price action remains strong.  Dips continue to get bought.  Earnings continue to impress.  Job numbers remain robust.  And.... Central Banks remain accomodative and on the ready should a crack form in the 'everything bubble'
Even Marketwatch, the spewer of constant bearish commentary, agree that it's: It's FOMO time
It eight plus years after the financial crisis and we draw  closer to the next market collapse by the day.   But what if that next collapse is still many years away?  As this market continues to ascent those under invested with fear of another market crash may see their fear turn into that of missing out, which could just be another factor helping to fuel higher prices.