As we try and navigate this mess of a market in 2015, I think its important to look at some charts of former market leaders.  You would hope when one falls, another steps up to takes its place.  And that has been the case for some of 2015.  But I am seeing more and more charts succumb to this market correction, which I believe means lower prices lie ahead.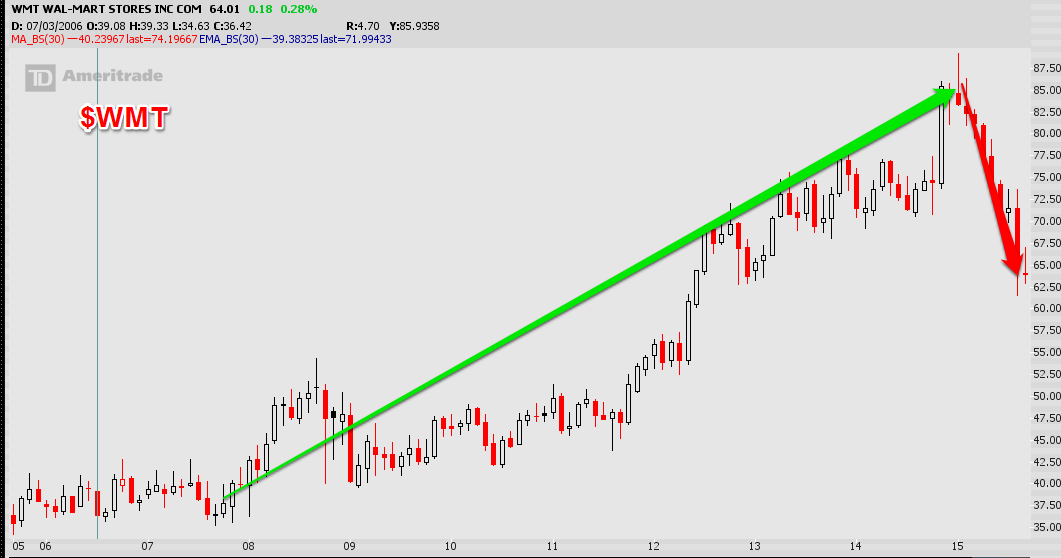 I could run through many more charts in breakdown mode.  These are not stocks being accumulated, this is distribution.
Walmart?  The epitome of the cost conscience poor and middle class.  What does this say about them?  Or perhaps Walmart is just a poorly run company.  But its not just the cheap retailers.
Coach, Whole Foods..... the list goes on and on.... and seemingly more are getting added to that list every day.
Perhaps this is a great buying opportunity for all these names.  And I don't doubt at some point in the future we may look at these current prices with they "Wow, why wasn't I buying there?" commentary.  But until we see the selling abate, there is no sense trying to catch the falling knife.  On the contrary, these weak names are likely to become even weaker when the rest of the market rolls over.