Monday's Market Prepper
Reads:
News:
Premium:
Charts:
Earnings: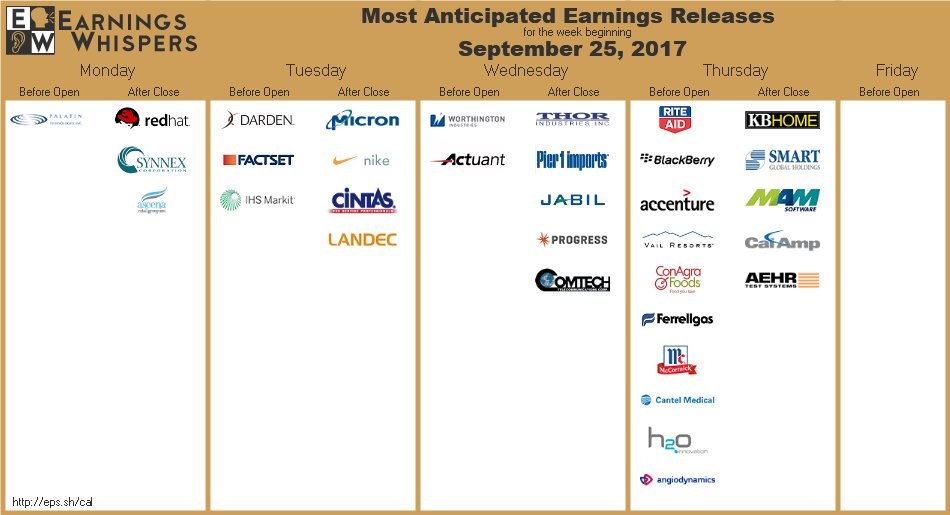 Friday's Unusual Option Action:
Seekingalpha:
Markets are showing signs of volatility after German Chancellor Angela Merkel won a fourth term, while her ruling Christian Democrat-led coalition took a hit in weekend elections. The alliance suffered its worst result since 1949, as the AfD won 13.5% of the vote and became the first far-right party to enter parliament in more than half a century. Investors cooled from the euro, which fell 0.6% to $1.1883, after having firmed above $1.199 late last week.
Economy
Uncertainty is also weighing on the kiwi, which posted its biggest daily drop in over four months, after New Zealand's ruling National Party failed to secure a majority in a weekend election. It leaves the upcoming coalition government in the hands of nationalist First Party leader Winston Peters, who has been likened to President Trump for his anti-immigration and protectionist policies.
Round four of Brexit negotiations will kick off today in Brussels. It follows Prime Minister Theresa May's speech in Florence on Friday, where she proposed a two-year transitional period and said the U.K. would honor its financial obligations. The last set of talks between the U.K. and EU ended in deadlock.
Voting has begun in an independence referendum organized by the Kurdistan Regional Government amid fears of further instability and violence across the Middle East. The vote, expected to deliver a comfortable "yes" for independence, is not binding, but is meant to give Massoud Barzani's KRG a mandate to negotiate secession with Baghdad and neighboring states.
Prime Minister Shinzo Abe has ordered a new ¥2T economic package by the end of the year as Japan's flash manufacturing PMI rose to a four-month high in September. Alongside the announcements are reports that Abe may be planning a snap general election. Kyodo News said he plans to dissolve the lower house of parliament at the start of an extraordinary session on Thursday.
China is calling on Pyongyang and Washington to calm their rhetoric after the latest war of words. North Korea's Foreign Minister Ri Yong Ho told the UN General Assembly on Saturday that targeting the U.S. mainland with its rockets was inevitable after the "Mr. Evil President" called Kim Jong-un a "rocket man" on a suicide mission. In response, Trump warned "they won't be around much longer!"
North Korea, Venezuela and Chad have been added to a new group of countries targeted by a U.S. travel ban due to poor security and lack of cooperation with American authorities. Sudan, one of six majority-Muslim countries on the original list, has been removed, leaving eight nations with complete or partial blocks on travel to the U.S.
The Republican Party's last-ditch effort to repeal and replace Obamacare is getting rocky after two of its senators publicly said they'll vote against the Graham-Cassidy bill. Congressional leaders have also promised to unveil a plan this week to reform the tax system, a move that was the cornerstone of President Trump's economic platform.
Stocks
Disney has threatened to pull its programming from Altice USA (NYSE:ATUS), which owns Optimum and Suddenlink, if it doesn't receive "hundreds of millions of dollars" in new fees to carry ESPN (NYSE:DIS) and ABC. Disputes between cable companies are common in the age of cord-cutting, but this is thought to be the first time that a carrier has publicly balked at charges sought for America's most popular sports network.
Not seeing an update since 2008, Google Finance (GOOG, GOOGL) is overhauling its platform in November. Users will still be able to follow individual stocks and the latest industry news, but its Portfolios feature will no longer be available. The huge move could target competitors such as Yahoo Finance (NYSE:VZ) and conversation platform StockTwits.
"We will be investing roughly $4B, next year, of capital in the Permian Basin, and we plan to grow production over the next several years to well in excess of 400K bpd," Chevron's (NYSE:CVX) Ryan Krogmeier told the S&P Global Platts APPEC conference. The company expects crude output from all Permian producers to rise by 1.4M bpd in 2020, from 2.4M bpd at present.
It's the first major portfolio change under new CEO John Flannery. General Electric (NYSE:GE) is selling its industrial solutions business to ABB for $2.6B as the latter looks to expand its reach in North American markets. ABB expects to realize $200M of annual cost synergies from the deal, which includes terms for long-term use of GE's brand.
London is kicking Uber out of the city because it is not "fit and proper," but the ride-hailing service is prepared to make concessions. "While we haven't been asked to make any changes, we'd like to know what we can do," Tom Elvidge, UBER's general manager in London, told the Sunday Times. "But that requires a dialogue we sadly haven't been able to have recently."
Lufthansa is reportedly offering to pay €200M for Air Berlin's (OTCPK:AIBEF) assets, plus €100M to meet operating costs, while the latter scored a €150M government bridge loan to keep flying for three months. Air Berlin's creditor committee has named Lufthansa (OTCQX:DLAKF) and Easyjet (OTCPK:EJTTF) as possible buyers for the insolvent carrier's assets and has given three weeks for negotiations to take place.
Expanding its personal care business, Unilever (UL, UN) has agreed to buy cosmetics firm Carver Korea from Goldman Sachs (NYSE:GS) and Bain Capital for €2.27B. Quick turnaround? The two bought their stake in Carver, whose brands include A.H.C. and Eye Cream for Face, just last year. The acquisition should strengthen Unilever's position in north Asia, the world's largest skincare market.
Nine days after Mark Zuckerberg dismissed as "crazy" the idea that fake news on Facebook (NASDAQ:FB) played a key role in the U.S. election, President Obama met with the billionaire to seriously consider the threat of disinformation. At a Nov. 19 conference in Peru, Zuck acknowledged the problem posed by fake news, but said those messages weren't widespread and that there was no easy remedy, the Washington Post reports.
The battle for the cloud has entered the Middle East. Amazon Web Services (NASDAQ:AMZN) is planning three availability zones for Bahrain by "early 2019," beating Google's Cloud Platform (GOOG, GOOGL) and Microsoft's Azure (NASDAQ:MSFT) in opening infrastructure across the region. The news comes just a few months after Amazon completed its $580M acquisition of Souq.com, which is the Middle East's biggest ecommerce site.