Monday Morning Reads, Options, News, Earnings, Charts
Reads:
News:
Futures:
 Open Interest Changes:
Charts:
Unusual Option Action 
Earnings This Week: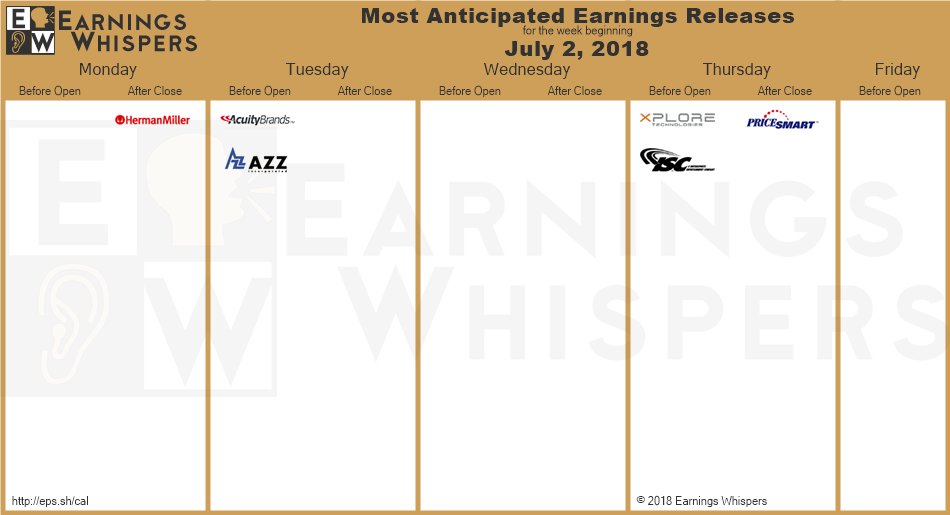 Seekingalpha:
Stocks across the globe are once again opening the week in the red as tough trade talk over the weekend weighed on investor sentiment. The EU warned of hefty reciprocal U.S. tariffs, the RCEP trade pact resurfaced and there are worries about what Mexico's new president means for NAFTA (see below). The Trump administration has also reportedly drafted a bill to unilaterally raise tariffs without congressional consent, abandoning the rulebook of the World Trade Organization.
Economy
Warning from Brussels... If the U.S. goes ahead with punitive tariffs against EU car imports, the European Commission will likely apply countermeasures worth as much as $294B - about 19% of U.S. goods exports in 2017. The measures risk plunging the global economy into a full-scale trade war, as it will harm employment in the U.S. auto sector, which accounts for more than 4M jobs.
The euro fell 0.3% to $1.1648 overnight with a German coalition dispute over migration policy reaching its endgame. Chancellor Angela Merkel was dealt a fresh blow by her interior minister, who offered to quit after rejecting as insufficient an EU plan to limit inflows. The parties were expected to hold joint talks in Berlin later today in an attempt to broker an 11th-hour compromise.
Andres Manuel Lopez Obrador decisively won Mexico's presidency on Sunday as voters bet a leftward turn could end the corruption and violence that has blighted the country economically. The peso strengthened around 1%against the dollar following the news. Popularly known as "AMLO," he has also derided plans to build a U.S. border wall and said he will demand respect from the White House.
President Trump wants to wait until after midterm elections to move forward on a new NAFTA deal with Mexico and Canada. "NAFTA, I could sign it tomorrow, but I'm not happy with it," he told the Fox Business Network in an interview. It comes as Ottawa struck back against U.S. tariffs on steel and aluminum imports, unveiling tit-for-tat duties on an estimated C$16.6B of U.S. products.
The renminbi weakened 3.3% against the dollar in June, suffering its largest ever monthly fall and raising concerns that China is prepared to use currency devaluation as a weapon in an escalating U.S. trade war. Analysts say that so far the move looks more like market forces than an act of currency war, FT reports, but they warn that continued weakness could further inflame tensions.
Growth in China's manufacturing sector slowed in June, with the official PMI falling to 51.5 from 51.9 in May, as escalating trade tensions with the U.S. fueled concerns about a slowdown in the world's second-largest economy. Separately, reports from Caixin suggest that Chinese state-owned Sinochem Group and ChemChina will merge to create the world's biggest industrial chemicals firm worth around $120B.
Multiple signs have emerged of expanding activity at North Korea's nuclear facilities. On Saturday, U.S. intelligence officials told NBC News that Pyongyang may have recently increased production of fuel for nuclear weapons at multiple secret sites. Research group 38 North also shared satellite imagery of infrastructure upgrades at the Yongbyon Nuclear Scientific Research Center.
In the face of an increasingly protectionist U.S., Japan's Shinzo Abe has called for an early conclusion of the Regional Comprehensive Economic Partnership by solving outstanding issues by the end of the year. The trade pact is an alternative to the Trans-Pacific Partnership abandoned by President Trump. RCEP includes ten members in Southeast Asia, as well as Australia, China, India, South Korea and New Zealand.
Barely a week after OPEC's decision to ramp up crude supplies, President Trump surprised oil markets on Saturday by announcing a new side agreement with the Saudis - increasing output by up to 2M bpd - to compensate for supply shortages from Iran and Venezuela. Conflicting statements? The White House said soon afterward that the Kingdom maintains a 2M bpd spare capacity "which it will prudently use if and when necessary... to respond to any eventuality."
Stocks
"I think we just became a real car company," declared Elon Musk, after Tesla (NASDAQ:TSLA) hit its production target of 5,000 Model 3s per week. 7,000 cars were produced in total when factoring in Model S and Model X vehicles. The figures follow a turbulent June that saw Tesla lay off 9% of its workforce, endure at least two fires at its Fremont plant and accuse a former employee of sabotage. TSLA +5.4% premarket.
Meanwhile, Panasonic is considering additional investment in Tesla's (TSLA) automotive battery plant in Nevada after contributing about $1.6B to the $5B "Gigafactory." The company is the exclusive battery cell supplier for Tesla's current production models, producing them in Japan as well as at the Gigafactory, which Panasonic (OTCPK:PCRFY) jointly operates.
U.S. tariffs on EU imported cars could lead BMW (OTCPK:BAMXF) to reduce its American investment and jobs due to the large number of cars it exports from its South Carolina plant. The warning comes after General Motors (NYSE:GM) cautioned on Friday that another wave of tariffs being considered by the Trump administration could force the company to scale back its business.
Nissan has scrapped a plan to sell its battery business to GSR Capital after the Chinese investment firm was unable to pay for the $1B deal. The automaker had planned to take full control of the business before the sale to GSR, but Chairman Carlos Ghosn preferred for Nissan (OTCPK:NSANY) to purchase batteries from outside the company because several suppliers compete on price and technology.
Laws permitting the sale and personal use of recreational marijuana came into force yesterday in two northeast states. In Massachusetts, adults 21 and over can now legally purchase weed from state-licensed stores, although there are not yet any dispensaries that are open. In Vermont, adults can legally possess up to 1 ounce of pot and grow six plants (two mature, four immature) at their home.
Novartis has injected itself into the planned rollout of an EpiPen competitor, obtaining the U.S. commercial rights to Adamis Pharmaceuticals' (NASDAQ:ADMP) allergy antidote Symjepi. The move by Novartis's (NYSE:NVS) Sandoz unit comes as Mylan (NASDAQ:MYL) faces growing EpiPen shortages due to manufacturing problems. It subcontracts production of the auto-injector to Meridian Medical, a division of Pfizer (NYSE:PFE).
Going public again? Dell is planning to announce an acquisition of its publicly traded tracking stock (NYSE:DVMT) that mirrors the performance of VMware (NYSE:VMW) - created to help finance its purchase of storage pioneer EMC in 2016. The decision, which would help simplify Dell's complicated ownership structure, is the culmination of a strategic review that the company has been conducting for months. DVMT +13.4% premarket.
In 747 pages of documents released to Congress, Facebook (NASDAQ:FB) revealed it gave dozens of companies special clearance to its user data six months after it said it stopped the access in 2015. The revelations contrast with the social network's previous public statements, WSJ reports. Details included name, gender, birth date, current city or hometown, photos and page likes.
More retailer automation... Target (NYSE:TGT) plans to add automatic cash-counting machines to its nearly 2,000 stores starting this summer following a similar rollout at Walmart (NYSE:WMT). Workers who previously did the job manually will be assigned other tasks. The gray machines - known as cash recyclers - count bills and coins quickly, allowing stores to digitally bank their cash and predict how much money is needed for each cashier's shift.
Activist investor Daniel Loeb is upping the pressure on Nestle (OTCPK:NSRGY), calling on the company to split into three units: beverages, nutrition and groceries. The move to "simplify" would see each division have its own CEO, regional structure and marketing heads. Just over a year ago, Loeb's hedge fund revealed its stake in Nestle, a sizable chunk of Third Point's overall portfolio.
A ban on the use of plastic straws, utensils and cocktail picks has gone into effect in Seattle, making it the first major U.S. city to enact such a directive. Local food service businesses will now have to provide customers with "compliant options," such as straws made from compostable paper or compostable plastic. If establishments do not comply, they could face a fine of $250. Related tickers: MCD, SBUX, YUM, WEN, QSR, DNKN, PZZA, DPZ, DRI, CMG, BWLD
Today's Markets 
In Asia
, Japan 
-2.2%
. Hong Kong 
+1.6%
. China 
-2.5%
. India 
-0.5%
.
In Europe
, at midday, London 
-1%
. Paris 
-1.2%
. Frankfurt 
-0.7%
.
Futures at 6:20
, Dow 
-0.7%
. S&P 
-0.6%
. Nasdaq 
-0.7%
. Crude 
-0.6%
 to $73.71. Gold 
-0.4%
 to $1249.70. Bitcoin 
-0.2%
 to $6333.
Ten-year Treasury Yield
 -2 bps to 2.83%
Today's Economic Calendar
9:45 PMI Manufacturing Index
10:00 ISM Manufacturing Index
10:00 Construction Spending