Monday Morning Reads
Reads:
News:
Premium:
Todays Top Open Interest Changes: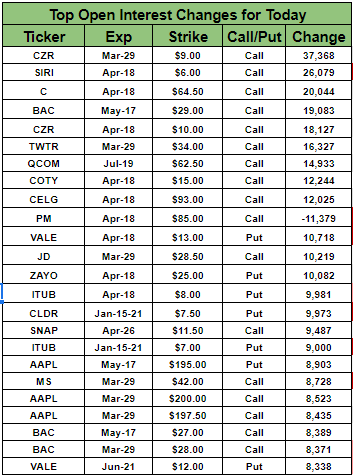 Morning Charts:
 Futures:
SP500 futures
Seekingalpha
It's another dark day for equities across the board as heavy losses in the U.S. on Friday spread to Asia overnight, with the Nikkei closing down 3% and Shanghai 2% lower. Dow and S&P futures are now off by 0.3% and the Nasdaq by 0.6% as the U.S. treasury yield curve turned positive after inverting for the first time in more than a decade. "I think we have to be a little bit nervous obviously," declared the Fed's Charles Evans as worries over the economy continued to plague investors. Stocks pared some losses, however, boosted by sentiment surrounding the Mueller report, which suggested there was no Russian collusion with the Trump campaign during the 2016 election.
YouTube exits Hollywood as Apple goes into show business
Concluding its money is better invested in music and gaming, YouTube (GOOG, GOOGL) has canceled plans for high-end dramas and comedies, pulling back from its grand ambitions for a paid service with quality shows, Bloomberg reports. The strategy change comes as Apple (NASDAQ:AAPL) today announces a streaming video platform that includes original programming. Analysts are already asking if the tech giant has the stomach for Hollywood as it seeks to find new areas of revenue growth to combat stalling iPhone sales. The press event, set to take place at 1 p.m. ET, will also see Apple revamp its News app.
Sterling slips as May faces possible 'coup'
This was supposed to be the week the U.K. left the EU, but following a Brexit extension, Britain will now have until April 12 to offer a new plan or decide to leave the bloc without a treaty. The next few days may also see MPs decide on a variety of Brexit options, including a third vote on Theresa May's Brexit deal as the prime minister faces pressure from all sides. There are new signs of disarray as May was the subject of what the Sunday Times called a weekend "coup" by senior ministers seeking to oust her. Sterling -0.3% to $1.3171.
737 MAX software patch nearing completion?
As it looks to return the 737 MAX to commercial service, Boeing (NYSE:BA) has invited more than 200 global airline pilots, technical leaders and regulators for an information session on Wednesday, in a sign that a planned software patch is nearing completion. Meanwhile, American Airlines (NASDAQ:AAL) announced it will extend 737 MAX flight cancellations, totaling 90 per day, through April 24. American is the second-largest operator of the MAX in the U.S. with 24 jets, behind Southwest Airlines (NYSE:LUV) with 34.
It's going to take some deep pockets to challenge Richard Branson-backed OneWeb and Elon Musk's SpaceX (SPACE). A group of private equity firms and pension funds have agreed to buy Inmarsat (OTCPK:IMASY) for $3.4B, launching the U.K.-based satellite operator's shares up 8.4% in London. The bidders - Apax Partners, Warburg Pincus, Canada Pension Plan Investment Board and Ontario Teachers' Pension Plan Board - were drawn to the "considerable potential for in-flight connectivity and the internet of things," they said in a statement.