It was on overnight buy fest followed by a day of selling.  Just the opposite of yesterdays session.  But still of the two faced variety.
The hours I spend yesterday evening highlighting how a sharp move was coming, and that move was likely to the downside, went up in smoke on the Japanese 2008'esqu rally over night.  Japan was up over 7%.  Today stocks were setting up for a huge rally, another gap higher to put the recent market weakness to bed for another week.  But then the selling took over and by the end of the session prices had settled perfectly... almost mockingly.  I can sense a wry smile somewhere at the perfection of today's close.  The Wedge that I thought would lead to a move lower -  it's alive.  And its ready.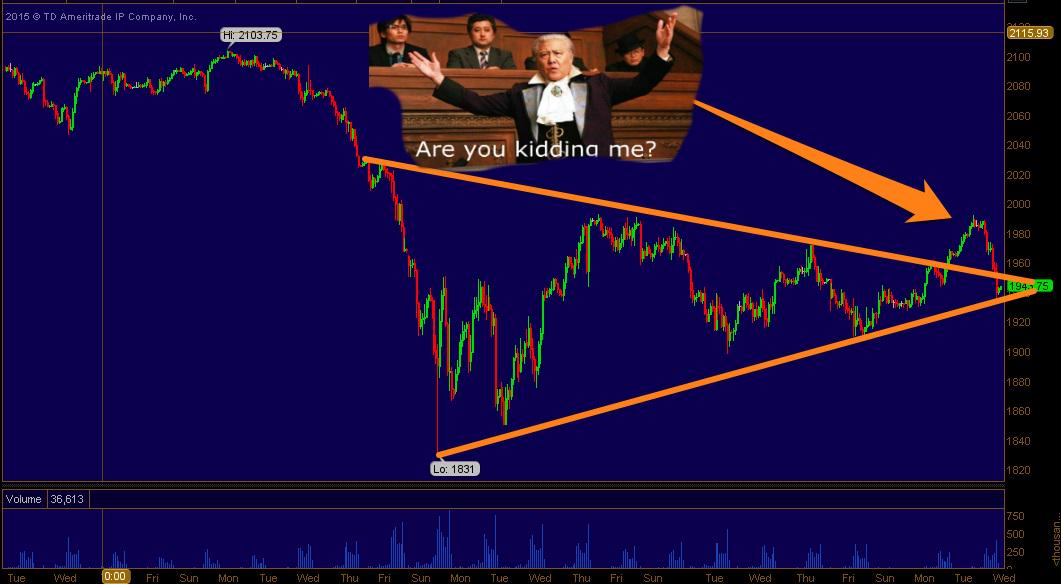 I could rewrite last nights post.  But I won't.  I feel the same today as I did yesterday.  Of course we could easily see a 1% spike higher overnight as we did last night.  Anything is possible.  But today's reversal lower and wedge return has the odds at a sharp move lower, much greater than they were yesterday at this time.
The one thing that has me concerned, from a short term bearish perspective is the VIX.  Despite today's all day carnage, the VIX held on.  And we had quite a few stocks retain their gains in the face of indiscriminate selling.
But... late session action broke a respected trendline on the VIX.... so we have that going for the bearish perspective.
Perhaps the Asian markets will rally another 10% over night.  Maybe Europe goes for the gold with a 15% rally.  Perhaps Ben Bernanke comes back as head of the FED.  Anything is possible.
Oh yeah and we had the AAPLE event today.  Selling seemed to pick up after it started... just coincidence, but curious.  The IPAD PRO.  And we have GMCR set to dispense soup like coffee.  I'll take a double mocha choca tomato soup please.
I think when all is said and done this week, stocks will pull back into weeks end, much as they did last week.  With the wedge of doom leading the way.
I'll see you in the chat room tomorrow morning.  It should be another incredibly interesting session.