Late last week stocks sold off in a deliberate and methodical fashion.  If it wasn't for a late day spike off the lows on Friday, we could have witnessed a waterfall type decline to end the week.
Just one trading session later another stock market emerged.     Those not willing to buy a weak, tired, depressed market last week could not buy quick enough today at prices 2% higher.  It's pretty amazing how that works.  A tale of two trading days.
At the end of the session S&P500 futures, despite a late day surge-a-thon, did not break above trend line resistance.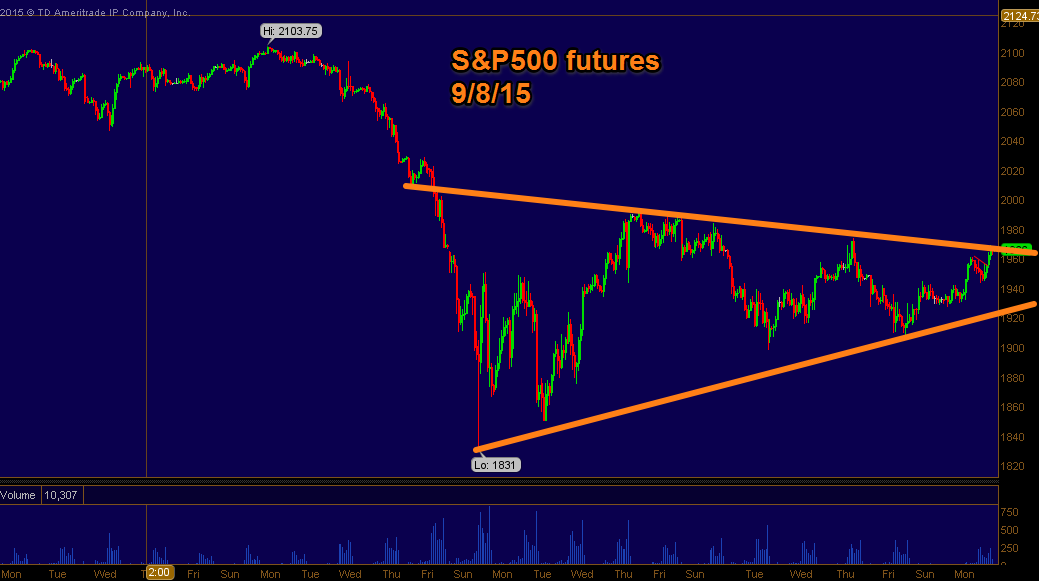 After the long labor day weekend a lot of money was being put to work.  Let's face it, we've seen some incredibly wild price action as of late.  The massive move higher today could very easily turn into a massive move lower tomorrow.  The only thing certain is that prices will move and judging from  the compression of the current wedge I think the move is going to be something as big, if not bigger than today's move.
It may not resolve in one 2% move, I'm thinking more of a 3-4 day type rally or decline.  The last 3 weeks I've been trading light, not willing to commit to a move higher or lower.  Since the crash a few Monday's ago this market has been a head spinner.  But finally - I think we are heading toward a resolution.
The wedge.
This will determine where the market is headed in the short to medium term.
Scenario 1: Breakdown
We continue today's tremendous buying frenzy.  Stock futures gap up another 1% tomorrow before the opening bell.  $SPY surges over $200 and all is forgotten.
Scenario 2:  Breakdown
Stock futures witness a sharp pull back and prices plunge into tomorrow's open and throughout the session.
When I take the recent S&P500 futures action and flip it, it confirms why I am leaning toward the market resuming its decline.  This chart looks quite bullish to me, which, in reality, means stocks are headed for more declines.
Perhaps I am wrong on both counts and stocks open flat tomorrow.  But I just don't see it happening.  That large price swings are going to continue for the foreseeable future.
The VIX remains elevated.  With some 400 points of Dow Jones Industrial gains, the VIX dropped 10%.  I'd have penned a bigger decline for the VIX if we had indeed bottomed.  The VIX is still telling you that the fear from a few Monday's ago is still persistence.  It's there, and I don't think we are out of the woods just yet.
The resolution of the wedge will be the tell.  We are in the midst of a correction.  One that I don't think you can pin on one excuse as we had in the past.  Greece, Ebola, Syria.... so many named excuses over the years were great buying opportunities.
If you go back to the flash crash, stocks were able to recover from it initially, but a few weeks later revisited the flash crash lows.  I think that is what will happen with the crash a few Monday's ago.  It's been a nice recovery.  After a 400 point gain for the DJIA the market looks like its ready to put the crash behind it.   I think we'll find out over the next few trading days that these large price swings aren't signs of a strong market, but one that lacks confidence.
We saw it last Thursday evening.  Stock futures  mini-flashed over .8%.
As JB puts it - time to get off the Sandbox.  The price action is going to finish the story.
Have a great evening and see you in the chat room tomorrow.