Friday Morning Reads, Options, Charts
Reads:
News:
Futures:
 Open Interest Changes:
Charts:
Unusual Option Action 
Earnings This Week: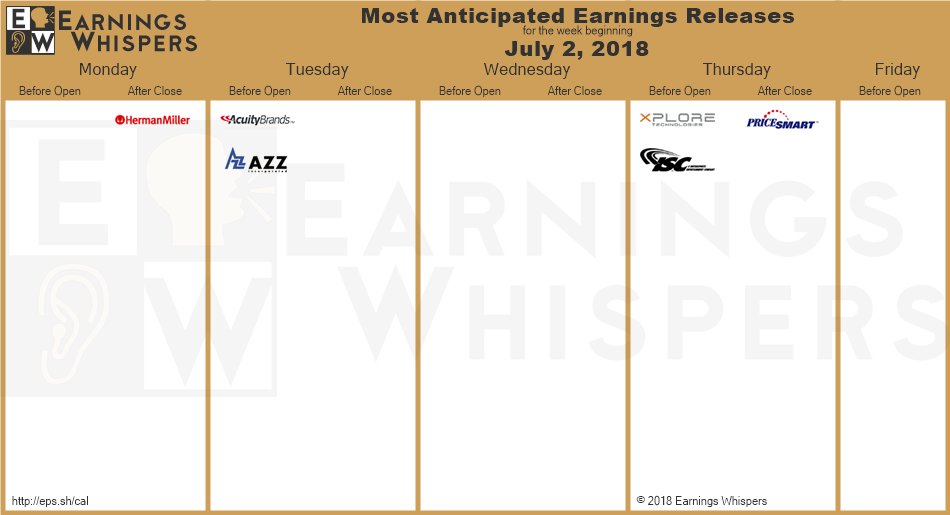 Seekingalpha:
Accusing the U.S. of "launching the largest trade war in economic history to date," Beijing has implemented retaliatory tariffs on 545 items worth $34B in response to the comparable U.S. duties that were enacted at midnight. Another $16B in tariffs are expected to go into effect in two weeks, and President Trump has warned of additional levies on $500B in Chinese goods. Markets in China were unaffected overnight by the widely anticipated trade developments, though U.S. stock index futures dipped slightly.
Economy
U.S. employers likely maintained a rapid pace of hiring in June, with nonfarm payrolls increasing by 200,000, reinforcing expectations of strong economic growth in Q2 and allowing the Fed to continue hiking interest rates. Data from the Labor Department today could also show the unemployment rate ticking down for the third straight month to 3.7%, pushing the jobless reading to the lowest level since December 1969.
Theresa May will urge her cabinet to take "another step forward" towards a Brexit deal when they gather in Chequers today, as hardline Brexiteers warn against remaining too closely aligned with the European Union. Ministers will be kept at the mansion until they can come to an agreement on a blueprint for the divorce, with talks expected to extend late into the night.
The parties in Germany's ruling coalition have reached an agreement on asylum-seekers following threats to bring down Chancellor Angela Merkel's government just months after it took power. The measures will speed up the process of returning migrants who have applied for asylum in other EU states, processing them within 48 hours in police facilities, not separate transit centers.
Struggling to save its nuclear deal, Iran's Mohammad Javad Zarif is meeting in Vienna today with the foreign ministers of Britain, China, France, Germany and Russia for "practical solutions, rather than slogans." President Trump pulled the U.S. out of the multinational accord in May and has since told countries they must stop buying the OPEC producer's oil from Nov. 4 or face financial consequences.
Under fire for ethics scandals, EPA chief Scott Pruitt has resigned, though he was praised by President Trump for doing "an outstanding job" at the agency. He'll be replaced by deputy administrator Andrew Wheeler. Pruitt was known for slashing regulations on the energy and manufacturing industries, and was instrumental in combating the 2015 Paris climate accord and President Obama's Clean Power Plan.
Andrés Manuel López Obrador, the winner of Sunday's election in Mexico, is close to gaining a Congressional two-thirds majority needed to pass constitutional reforms repealing most of the economic overhauls passed during the administration of President Enrique Peña Nieto. AMLO has also invited President Trump and Canada's Justin Trudeau to his inauguration ceremony on Dec. 1.
Stocks
For the first time in seven quarters, Samsung Electronics (OTC:SSNLF) has projected its first record earnings decline, with operating profit expected at 14.8T won ($13.2B) in Q2, only up 5.2% from a year earlier. The Galaxy S9 has posted the lowest sales of any flagship model since the Galaxy S3, due to weak smartphone demand and the lack of significant innovation.
Micron is playing down the likely impact on its business of a temporary Chinese ban, but said it would appeal a decision that has added to U.S.-China trade tensions. A Chinese court in the Fujian province temporarily stopped the sale of certain Crucial and Ballistix-branded memory modules and solid-state drives, which make up slightly more than 1% of Micron's (NASDAQ:MU) total annual revenue.
With more than 125M subscribers worldwide, Netflix (NASDAQ:NFLX) is testing a higher-priced premium "Ultra" subscription in Europe. The plan offers 4K Ultra HD video with HDR quality and the ability to watch on four screens at the same time for €16.99 (three euros higher than the highest-priced plan currently offered). It's just a test, but it could eventually lead to higher monthly bills for subscribers.
Preparations for the public listing of Saudi Aramco (ARMCO) are stalling amid the risk of legal concerns and unprecedented scrutiny of the kingdom's crown jewel. "Everyone is almost certain it is not going to happen," a senior executive at Aramco told WSJ. Although the IPO was aimed at weaning the Saudi economy off oil, it has been pushed back several times and was most recently slated for next year.
The latest reshaping by CEO Warren East... Rolls-Royce (OTCPK:RYCEY) is selling its loss-making commercial marine business to Kongsberg Gruppen (OTC:KNGGY) for an enterprise value of £500M. The disposal will leave Rolls focused on providing engines for civil aircraft, military planes, ships, trains, trucks, mining and nuclear power stations as the 111-year-old company ramps up its consolidation efforts.
The worst is over for engine delays that have hampered deliveries of its A320neo, according to Airbus (OTCPK:EADSY) planemaking chief Guillaume Faury, with the number of semi-finished and undelivered planes beginning to come down. The group has faced a backlog of up to 100 jets nicknamed "gliders" - sitting on the ground outside factories without their engines - due to delays in deliveries mainly from Pratt & Whitney (NYSE:UTX).
The EU is preparing a new list of duties against the U.S. in case President Trump moves ahead with tariffs on European cars, FT reports. It reportedly includes levies worth €18B, which will target staples like ketchup, as well as frozen fish, raisins, suitcases and adhesive bandages. A spokesperson for Kraft Heinz (NASDAQ:KHC) said the company would be unaffected since it has substantial manufacturing operations in Europe.
Deutsche Bank +4.4% premarket following a WirtschaftsWoche report that stated JPMorgan (NYSE:JPM) and Industrial and Commercial Bank of China (OTCPK:IDCBY) may be interested in taking a stake in Germany's flagship lender. Deutsche Bank (NYSE:DB) shares recently touched record lows on skepticism over the appointment of Christian Sewing as CEO and his strategy to refocus on its European core while slashing global investment banking.
Today's Markets 
In Asia
, Japan 
+1.1%
. Hong Kong 
+0.5%
. China 
+0.5%
. India 
+0.2%
.
In Europe
, at midday, London 
-0.1%
. Paris 
+0.1%
. Frankfurt 
+0.1%
.
Futures at 6:20
, Dow 
-0.2%
. S&P 
-0.1%
. Nasdaq 
-0.1%
. Crude 
-0.3%
 to $72.73. Gold 
-0.3%
 to $1255.40. Bitcoin 
-0.5%
 to $6497.
Ten-year Treasury Yield
Today's Economic Calendar
8:30 Non-farm payrolls
8:30 International Trade
10:30 EIA Natural Gas Inventory
1:00 PM Baker-Hughes Rig Count