Friday Morning Reads, News, Options, Earnings
Reads:
News:
Futures:
 Open Interest Changes:
Charts:
Unusual Option Action 
Earnings This Week: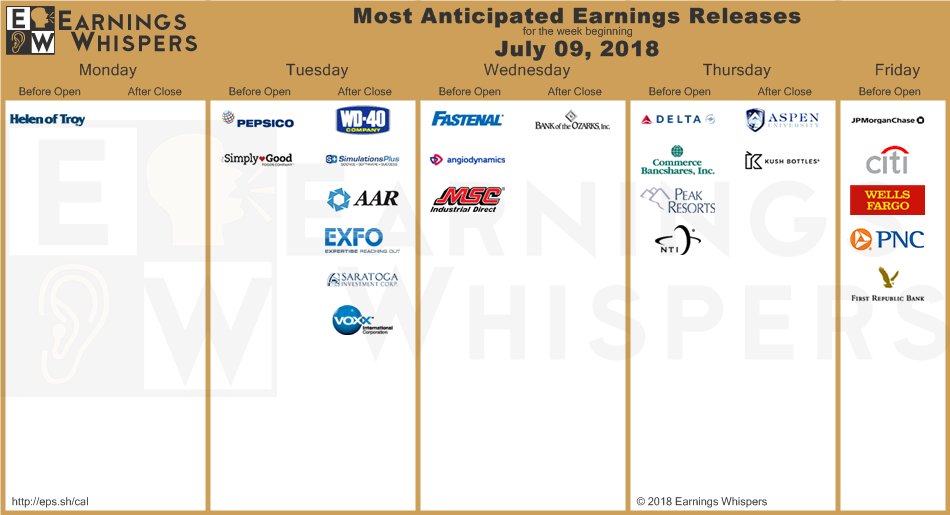 Seekingalpha:
A slew of Wall Street banks are reporting quarterly results before the bell today, unofficially kicking off the second-quarter earnings season. Markets could pick up steam if a positive print is recorded at JPMorgan (NYSE:JPM), Wells Fargo (NYSE:WFC), Citigroup (NYSE:C), First Republic Bank (NYSE:FRC) and PNC Financial (NYSE:PNC). Overall S&P 500 companies are expected to post second-quarter profit growth of around 21%, according to Thomson Reuters.
Economy
President Trump will meet with U.K. Prime Minister Theresa May again today in what could prove to be an awkward exchange after he said her soft Brexit strategy risks killing a trade deal with the U.S. The president also told The Sun that Brexiteer Boris Johnson would "make a great prime minister," although he wasn't "pitting one against another." Sterling -0.7% to $1.3116.
Ratcheting up trade tensions, Italy will not ratify the EU's free trade agreement with Canada, which needs to be approved by all 28 member states in order for it to take effect. "If so much as one Italian official ... continues to defend treaties like CETA (the Comprehensive Economic and Trade Agreement) they will be removed," added deputy Prime Minister Luigi Di Maio.
China's trade surplus with the U.S. swelled to a record in June, a result that could further inflame trade tensions with Washington. Exports to the world's largest economy rose 5.7%, while imports from the U.S. rose 4%, resulting in a trade surplus of $28.97B. Separately, an explosion at a chemical plant in China overnight killed 19 people and injured 12, marking the latest deadly industrial incident in the country.
"The (Trump) administration says that what it's trying to achieve is lower tariffs. So if it works out that way, then that'll be a good thing for our economy," Fed Chair Jerome Powell told the ECB Forum. "If it works out other ways, so that we wind up having high tariffs on a lot of products, goods and services... and that they become sustained for a long period of time, then yes, that could be a negative for our economy."
American officials are on their way to Mexico to meet president-elect AMLO and the current administration, adding to speculation that the U.S. may be looking for a NAFTA victory while trade tensions escalate with China. Ahead of the meeting, Mexico reportedly opposed a deal known as a "Safe Third Country Agreement," which would make people seeking asylum in the U.S. apply in Mexico instead.
The U.S. has rejected a French waiver request for companies operating in Iran, according to Finance Minister Bruno Le Maire, adding that "Europe must provide itself with the tools it needs to defend itself against extra-territorial sanctions." The exemptions would be critical for Total (NYSE:TOT) to continue a multi-billion-dollar gas project in Iran and PSA Group (OTCPK:PUGOY) to pursue its joint venture.
Germany is holding up the final €15 bailout disbursement for Greece as the nation looks to exit an eight-year bailout regime in August. The snag came after Greek Prime Minister Alexis Tsipras decided to push back a value-added tax hike on a handful of islands that have been hit hard by an influx of migrants.
Ireland is set to become the first country to stop public investments in fossil fuels. The bill is expected to pass relatively quickly through the Seanad (Senate), and will force the Ireland Strategic Investment Fund to end any investments in non-renewable energy. The ISIF is worth €8.9B, of which more than €300M is invested in oil, gas, coal and other fossil fuels.
Stocks
In a mild surprise, the Justice Department is appealing its loss in the trial it launched to prevent AT&T (NYSE:T) from acquiring Time Warner. The company closed the megamerger on June 14, just two days after the case ended. U.S. District Judge Richard Leon had ruled that combining AT&T's wireless and satellite businesses with Time Warner's movies and television shows was legal under antitrust law.
Streaming takes the crown... Netflix (NASDAQ:NFLX) has scored 112 Emmy Awards nominations, more than any other television network and breaking a streak that HBO (T) held onto for 17 years. Game of Thrones, which sat out the awards last year because it missed the eligibility window, received 22 nominations, the most of any show. It will be up against last year's winner, Handmaid's Tale, which was the first streaming TV series to win best drama.
A Missouri jury has ordered Johnson & Johnson (NYSE:JNJ) to pay a record $4.69B to 22 women who alleged the company's talc-based products, including its baby powder, contain asbestos and caused them to develop ovarian cancer. Facing some 9,000 talc cases, J&J has denied the claims - saying decades of studies show its talc to be safe - and has successfully overturned prior verdicts on technical legal grounds.
The Iowa and Illinois health departments are investigating over 100 cyclospora infections linked to salads at McDonald's (NYSE:MCD) restaurants, causing shares to fall 1.4% AH on Thursday. Other food trouble? The FDA is recalling Kellogg's (NYSE:K) Honey Smacks cereal still being sold at retail outlets and warned consumers not to purchase the product due to the potential for Salmonella contamination. K -1.7% premarket.
Northrop Grumman operating chief Kathy Warden will take over as CEO in January as Wes Bush prepares to leave the defense giant. She'll take the reins at a time of considerable transformation. Northrop (NYSE:NOC) recently closed the blockbuster $7.8B acquisition of Orbital ATK, and is ramping up work on the next U.S. stealth bomber after winning a pivotal 2015 contract.
Shooting down recent rumors, Walmart (NYSE:WMT) said it has not decided to sell its Japanese supermarket chain Seiyu. "We continue to build our Japan business towards the future to meet the changing needs of customers there," a company spokesperson told Reuters. Seiyu, with more than 300 stores, would be a large asset for a Japanese retailer to absorb.
A Twitter policy change that no longer counts "locked accounts suspected of fraud" cost its 100 most popular users about 2% of their followers, on average, according to data firm Keyhole. Twitter (NYSE:TWTR) CEO Jack Dorsey alone lost 200,000 followers. While the service is looking to increase its credibility, locked accounts had already been kept out of Twitter's daily and monthly active user figures.