Friday Morning Reads
Reads:
News:
S&P500 Futures:
 Futures:
 Open Interest Changes:
Charts:
 Earnings: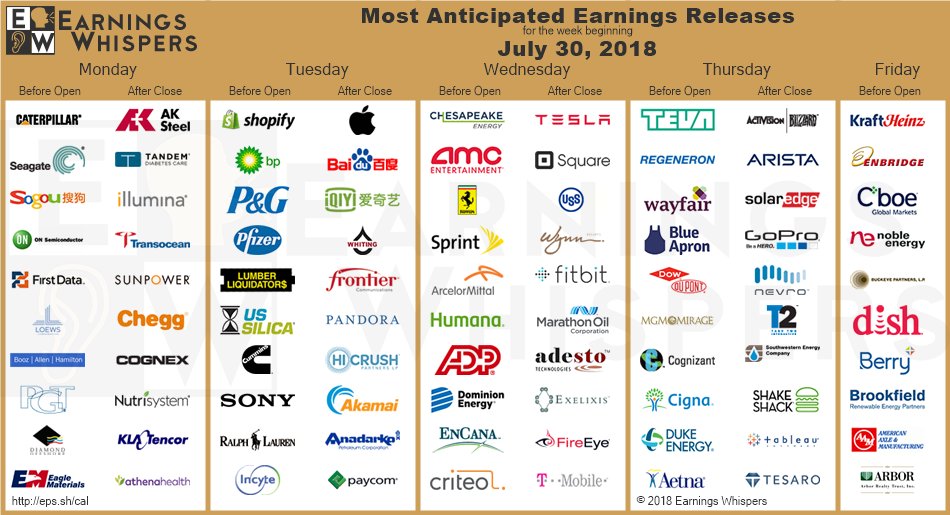 SeekingAlpha:
The latest snapshot of the U.S. labor market will be released this morning, with forecasts for 193,000 payrolls for July, a strong gain but less than June's 213,000 jobs. Meanwhile, the unemployment rate is expected to fall to 3.9% from last month's 4.0%, while wage growth likely advanced 2.7%, the same pace as June. Strong numbers would suggest the robust economy is helping the labor market weather trade tensions, allowing the Fed to raise rates again in September.
Economy
An intensifying trade spat with the U.S. just led China to cede its four-year title as the world's second-largest stock market to Japan. After a Thursday slump, Chinese equities were valued at US$6.09T, losing out to Japan's $6.17T, while the U.S. remains the world's largest with a market cap of $31T. The Shanghai Composite Index has lost more than 16% YTD to be among the world's worst performers, while the yuan has fallen 5.3% against the dollar.
Amid the increasing "external uncertainties," China is seeking more ways to support its economy. The State Council Financial Stability and Development Commission, headed by Vice Premier Liu He, said more attention needs to be paid to the "transmission" of monetary policy. "China's economy is still in a period of transition between new and old drivers... These issues need to be addressed actively, steadily and more accurately."
The U.S. has reportedly been unable to persuade China to cut Iranian oil imports, although Beijing has agreed not to ramp up purchases of Iranian crude. China is the world's top oil buyer and Tehran's No. 1 customer. The news comes as Iran begins major naval exercises near the Strait of Hormuz, a major waterway the Islamic Republic has threatened to close if the U.S. stopped it from exporting.
Fresh worries out of Europe overnight saw the pound extend losses after Bank of England Governor Mark Carney said the chance of the U.K. dropping out of the EU without a deal is "uncomfortably high." Italian bonds also slumped for a third day before a budget meeting between populist leaders and the finance minister, as the government remains split about spending plans.
U.S. senators have introduced legislation to impose stiff new Russian sanctions, including restrictions on new sovereign debt transactions, energy and oil projects, uranium imports, and penalties on oligarchs. It further expresses strong support for NATO and would require that two-thirds of the Senate to vote in favor of any effort to leave the alliance. Russian markets reacted quickly to the measure, with the ruble slumping toward two-week lows.
The U.S. has announced final duties on imported uncoated groundwood paper from Canada that is used for newspapers, with slightly less steep anti-dumping and anti-subsidy rates than previously levied. Canadian Foreign Minister Chrystia Freeland said Ottawa was still disappointed by the final duties, but the fees could be rejected by the U.S. International Trade Commission, which is scheduled to rule in the case on Sept. 17.
Stocks
Apple hit a market cap of $1T on Thursday, becoming the first publicly traded U.S. company to reach the milestone. Many credit the company's growing software and services sales with driving the valuation. The catch-all category - which includes the App Store (NASDAQ:AAPL), AppleCare, Apple Pay, iTunes and cloud services - posted record revenue of $9.55B for the June quarter.
Overnight earnings roundup: Royal Bank of Scotland (NYSE:RBS) +1.8%premarket after announcing its first dividend since the financial crisis. Toyota (NYSE:TM) logged a record quarterly profit, but cut its full year sales outlook. Swiss Re (OTCPK:SSREY) fell 3% in Zurich after warning that major hurricanes are now a once-a-decade event - not once a century.
Investors will also digest Berkshire Hathaway's (BRK.A, BRK.B) Q2 earnings after the bell today. The results come at a time when the conglomerate's board has given chairman Warren Buffett more freedom to conduct stock buybacks and whittle down a $108.6B stockpile of cash. Operating profits hit a record last quarter as economic growth boosted its railroad, industrial and consumer businesses, but may now show scars on global trade tensions.
California and 18 other U.S. states have promised to fight a Trump administration proposal to weaken Obama-era fuel efficiency standards. A rollback would see a requirement to boost vehicles to 50 mpg by 2025 - slashed to 37 mpg - helping lower car prices for consumers, though critics say the plan would accelerate climate change and increase fuel costs. The proposal also opens new questions about the limits of federal powers over states.
Next space race... SpaceX (SPACE) is set to beat Boeing (NYSE:BA) in the battle to be the first company to ferry American astronauts to the International Space Station, with plans to fly its Demo-2 in April 2019 vs. Boeing's Crew Test Flight now slated for mid-2019. NASA awarded both companies a combined $6.8B in September 2014 to revive the U.S.'s ability to fly to the orbiting lab without buying seats on Russian Soyuz capsules.
Amid signals that the liftoff date for its heavy rocket may slip behind schedule, Jeff Bezos is pulling his private space company out of startup mode by doubling Blue Origin's (BORGN) current workforce to around 3,000 employees over the next two to three years. New Glenn intends to haul satellites and, eventually, people into orbit, and is central to the company's hopes of winning lucrative military and commercial contracts.
Fiat Chrysler closed up 3.8% yesterday following reports that it would stick to plans to spin off its Magneti Marelli auto parts division, rebuffing buyers interested in the business. A decision on what to do with the Fiat (NYSE:FCAU) unit may be one of the first moves made by new CEO Mike Manley, the former head of the company's Jeep business who took over for the late CEO Sergio Marchionne last month.
"Cardless no longer means cashless," said Sol Gindi, chief administrative officer of consumer banking at Chase (NYSE:JPM), after the bank expanded cardless access to nearly all of its 16,000 ATMs nationwide. It first rolled out the feature, which uses NFC technology and enables transactions from mobile wallets, in 2016. Other big banks, including Bank of America (NYSE:BAC) and Wells Fargo (NYSE:WFC), followed a year later.
Emerging markets push... Heineken (OTCQX:HEINY) has struck a $3.1B partnership in China that will allow it to expand in a heated lager region that's dominated by local brands. It's acquiring a 40% holding in the parent of China Resources Beer (OTCPK:CRHKY), maker of China's best-selling Snow brew brand, while the latter will take control of the Heineken name in mainland China, Hong Kong and Macau.
It's the latest company to face lawsuits over its role in the U.S. opioid epidemic. AmerisourceBergen (NYSE:ABC) has received a grand jury subpoena from federal prosecutors in Florida seeking documents related to opioid products and its communications with a drugmaker. The office previously sent grand jury subpoenas to Endo International (NASDAQ:ENDP) and Mallinckrodt (NYSE:MNK) regarding their products that contain oxymorphone.
A General Electric engineer linked to Chinese companies has been arrested for allegedly stealing files related to confidential power turbine technology. To conceal the documents, Xiaoqing Zheng embedded encrypted files into the code of a seemingly innocuous image of a sunset. GE is aware of the arrest and has been in "close cooperation with the FBI for some time on this matter."
Thursday's Key Earnings
Activision Blizzard (NASDAQ:
ATVI
) 
-0.4%
 AH on soft guidance.
Aetna (NYSE:
AET
) 
+0.1%
 beating expectations.
AIG (NYSE:
AIG
) 
-4.9%
 AH slumping after a Q2 miss.
CBS (NYSE:
CBS
) 
-1.2%
 AH with Moonves silent on allegations.
DowDuPont (NYSE:
DWDP
) 
-2.2%
 warning of higher costs.
Duke Energy (NYSE:
DUK
) 
-0.7%
 on rising expenses.
EOG Resources (NYSE:
EOG
) 
-1%
 AH despite an easy Q2 beat.
GoDaddy (NYSE:
GDDY
) 
-6.3%
 AH despite upside guidance.
GoPro (NASDAQ:
GPRO
) 
+3.7%
 AH on renewed camera demand.
MGM Resorts (NYSE:
MGM
) 
+1.6%
 posting light EBITDA.
Regeneron Pharma (NASDAQ:
REGN
) 
+7%
 amid strong drug sales.
Shake Shack (NYSE:
SHAK
) 
-4.8%
 AH keeping FY forecast unchanged.
Teva Pharma (NYSE:
TEVA
) 
-9.5%
 on turnaround speculation.
Yum! Brands (NYSE:
YUM
) 
+1.5%
 improving operating margins.