Friday Morning Reads
Reads:
News:
Charts:
Premium:
Futures:
Earnings: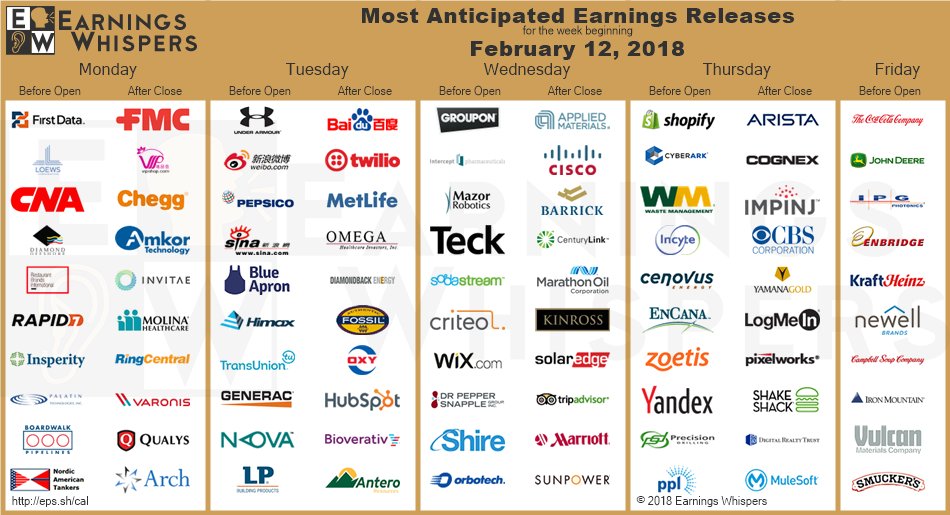 Yesterdays Unusual Option Action:
Seekingalpha:
The S&P 500 and the DJIA have now rallied for five consecutive sessions since falling into correction territory last week, with both indexes up 4% and on track for their biggest weekly percentage rise since November 2016. The Nasdaq is up over 5%, representing its best week since October 2014. "This is a year of recalibration. In January we recalibrated to higher earnings, and now we're doing it for higher bond yields, which have been led by potentially higher inflation," said Leo Grohowski, chief investment officer of BNY Mellon Wealth Management.
Economy
Governor Haruhiko Kuroda has been nominated to serve a second five-year term as head of the Bank of Japan. An advocate of bolder monetary easing - Masazumi Wakatabe - was also nominated as one of his deputies. The reappointment comes at a crucial time for Japanese and global markets, which have been rattled in recent weeks on expectations major central banks will whittle down their crisis-mode stimulus.
Seeking to better safeguard investors, Japan's two cryptocurrency industry groups - the Japan Blockchain Association and the Japan Cryptocurrency Business Association - are planning to merge and form a self-regulating body after last month's $530M heist at Tokyo-based Coincheck. Bitcoin rose above $10,000 on Thursday for the first time in more than two weeks, as investors bought back the crypto following a 70% plunge from its all-time peak hit in mid-December.
The Senate blocked four immigration-related proposals late Thursday, including a bipartisan plan that would have provided $25B for border security and a path to citizenship for 1.8M young, undocumented immigrants. A separate measure that lost by a large margin would've ended a diversity visa lottery program and imposed strict limits on family-based migration.
More power outages? Federal Judge Laura Taylor Swain has rejected a $550M government loan to keep Puerto Rico's troubled electric utility in operation, saying PREPA had not looked hard enough for alternative funding. The U.S. territory has also received 19 energy project proposals from companies, including Tesla (NASDAQ:TSLA) and Sonnen (OTC:SONP), to transform its antiquated energy grid that was decimated by Hurricane Maria.
Stocks
In what would be one of its biggest overseas deals, Walmart (NYSE:WMT) is in talks to purchase a stake of more than 40% in Indian e-commerce firm Flipkart (Private:FPKT), a direct challenge to Amazon (NASDAQ:AMZN) in Asia's third-largest economy. According to Reuters, Flipkart would be valued at more than the $12B figure given when SoftBank's (OTCPK:SFTBY) Vision Fund took roughly a fifth of the firm last year for $2.5B.
The recent layoffs at Amazon's (AMZN) headquarters come as the company works to consolidate its Prime Now and AmazonFresh businesses, according to Yahoo Finance sources. Prime Now offers two-hour delivery for Prime members in certain areas, while AmazonFresh provides grocery delivery at an additional membership fee of $14.99/month. The consolidation could also streamline the Whole Foods side of the business.
Hundreds of senior corporate executives and political figures are gathering today at the annual Munich Security Conference, the most important international forum for security policy. "Cyber threats, from both state and non-state actors, represent the greatest danger to the international community today," Raytheon (NYSE:RTN) CEO John Harris declared ahead of the summit, which will discuss current and future security challenges.
The remaining bidders competing for streaming rights to the NFL's Thursday Night Football include Twitter (NYSE:TWTR), Amazon (AMZN), Verizon (NYSE:VZ) and YouTube (GOOG, GOOGL). Twitter paid $10M for the rights in 2016, and Amazon won them last year for $50M, but the latest renewal could go for much more. TV broadcast rights for Thursday Night Football were just sold to Fox (NASDAQ:FOXA) for $3.3B, roughly $660M per year over five years.
General Electric has reached a deal to sell parts of its overseas lighting business to a company controlled by Joerg Bauer, the former president of GE Hungary, for an undisclosed amount, WSJ reports. The sale, which GE has been weighing since early last year, comes as the conglomerate restructures itself under CEO John Flannery. GE Lighting is one of the company's oldest and most iconic businesses.
"With very high levels of office visits for flu and hospitalization rates, all indications [are] that flu activity is high and will likely continue for several more weeks," said Anne Schuchat, acting director of the CDC. "Some protection is better than none," added Health and Human Services Secretary Alex Azar. "There's still plenty of time. Go get a flu shot." Related tickers: SNY, GSK
Roche has agreed to acquire privately held Flatiron Health, a developer of oncology-specific electronic health record software, for $1.9B in cash. "This is an important step in our personalized healthcare strategy for Roche (OTCQX:RHHBY)," said the company in a press release. Flatiron was founded by ex-Google (GOOG, GOOGL) employees and has raised more than $300M from investors, including Roche and Alphabet's venture arm.
Kraft Heinz is getting hungrier for more deals. "With our global presence and financial strength, I think that we'll continue to generate opportunities for us to expand our portfolio," said Kraft Heinz (NASDAQ:KHC) CEO Bernardo Hees. The company also disclosed that it slashed operating costs by over 5% since it acquired Kraft Foods Group in 2015, stripping $1.7B from annual spending, or $200M more than executives initially expected.
Ready for takeoff... Delta (NYSE:DAL) will start receiving deliveries this year of the 75 CSeries jets it ordered from Bombardier (OTCQX:BDRAF, OTCQX:BDRBF) in 2016, after a trade ruling stopped the U.S. from imposing steep duties on the plane. While Boeing (NYSE:BA) is still reviewing the ITC's decision, an appeal risks further straining its relationship with Canada after staying in the race to supply 88 fighter jets to the country.
The SEC has killed the politically sensitive sale of the Chicago Stock Exchange to a group led by China-based investors. The regulator cited unresolved questions about the ownership structure and whether it would have sufficient oversight of industry player if it were sold. Founded in 1882, the CSE is the smallest of designated U.S. exchanges with about 1% of U.S. equity trading.