Stocks started the session stronger, but sold off late in the day.  A sharp move near the closing bell kept the market from ending the day at the lows.  It was a constructive session after a strong move off Monday's lows throughout the week.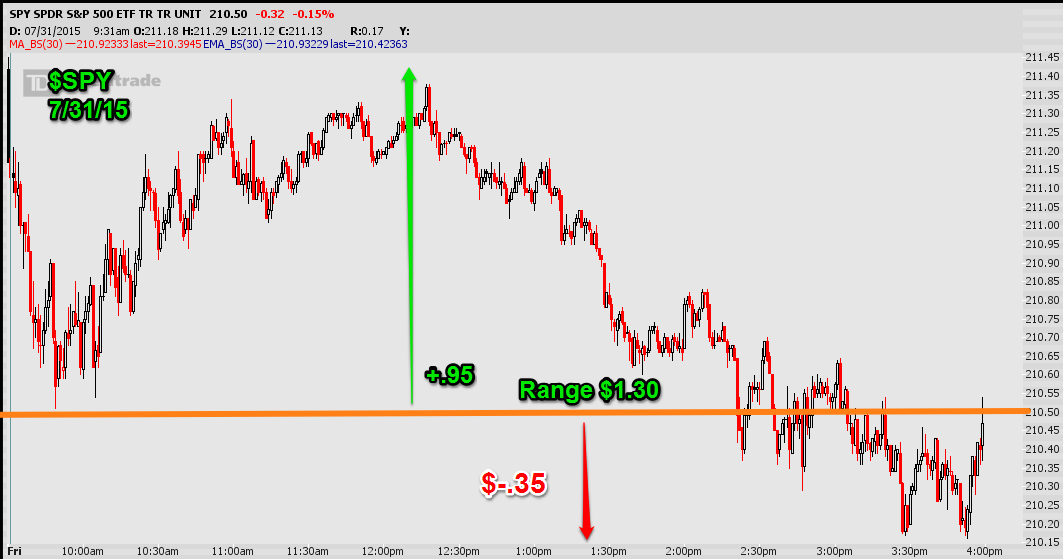 Today's close brings us back to the levels of late last week... Thursday to be more precise.  Another round tripper.  2015 loves bringing prices back to where they started.  That big ole 4 wheeler truck stock in mud.  Tires spinning, engine revving, but it doesn't move anywhere.  I think that truck is heading to solid ground soon and when it does... oh boy... when it does....
From a weekly perspective, after Monday's gap down and consolidation, it was a nice week.
How about next week?  What is going to happen in the short to medium term?  Are we through the worst of it?
Next week we do indeed move into the month of August.  Notoriously a very hot month for the country, with periodic severe weather, tornadoes, and even hail.  To avoid getting caught out in a storm, I suggest frequent weather forecast observations.  There are plenty of apps for your phone to alert you when severe weather is expect............. wait.....
ohhhhh....  August as in, what is the stock market going to do in August kind of August?  Gotcha.  Here is what I think, aside from just hot and stormy weather, which I think has a good chance of happening.  I'm pretty good at that August weather prediction for most of the country kinda  thing.
That inverted head and shoulders I pointed out on Monday of this week is still playing out.  Like a Texas tornado its going to rip everything up in its path as it roars to new record highs.
Stocks were rather buoyant this week without the participation of some of the bigger names.  We had quite a few post earnings collapses, continued negative headlines, the FED continuing to say they are ready, willing, and able to raise the FED funds rate, but keeping them at the same level they've been at since December 2008.  Almost 7 years of Zero Interest Rate Policy and the FED is still standing pat.  The FED remains with the unenviable task of Rate liftoff, and each meeting without one draws more criticism.  They are in the proverbial 'damned if they do, damned if they don't' predicament.  I think for the remainder of 2015, as I have every year since 2008, that they will stay in the 'damned if they don't' portion of the  'damned if they do, damned if they don't' predicament  No signs of inflation.  Slowing growth.  Global turmoil.  and as much as they say they don't base their decisions on the stock market... stocks have halted their parabolic bull market rally.
As I've been saying with the recent plunge in GOLD,  the best time to buy GOLD was at record highs.... that is if you listened to the financial and social media.  GOLD GOLD GOLD GOLD.  You couldn't hear enough of how important it was for you to own gold.  Of course we know now how failed an investment GOLD was as the highs.   Gold has dropped like a brick of lead since hitting record highs.   Those buying the hype are sitting on big losses.   Those hyping the hype are still hyping gold.. they'll be right some day, but your never going to get that 50% loss back.
The same could be said for the stock market.  In 2000 everyone was buying stocks.  If you weren't buying stocks you were losing out.  You don't hear that in 2015.  A matter a fact you hear more about how this market is over valued, than you do about this being a great time to buy stocks.  This is just another reason why I think stocks are going to outperform over the short and medium term.  When everyone is screaming to buy stocks, like they were for GOLD at record highs, that will be a good indication that the top is in.
OK... as we put it at OM.com.... I'll get off the sandbox.
A few more charts here, and I'll get into the option recap, which you can check back for later this evening.
The VIX.   THe VIX remains in.  Yes I have taken the conspiratorial spin on the VIX before.  The VIX in a nutshell, since the lows of March 2009, has been beaten, broken, smashed, cracked, examined, parsed, and used as an excuse on a daily basis.  Right here and now, I think what matters most is that 12 level.  A break and hold under that level will be a key psychological break.  One that might take a while for the bears to recover from.    This will be yet another sign that new record highs are coming.  The 12 break.  It could be here as soon as next week.  And it will make a rough summer, even rougher for the bear (sic).
Now what about those bonds.
$TLT made a big break today.  I've been talking about the big kiss the last few trading sessions.  TLT came up to kiss long term trendline resistance.  A line that has been poison for TLT in 2015.  I took the kiss as a day or two event.  But it looks like the kiss has turned into something more.  Many months from now we may be faced with the specter of a few more TLT's running around , and we will know then exactly what has occurred this week on likely numerous occasions of  'bond'ing.  For now we can only speculate.  Is today's break the real deal, or will next week reveal the break up?  Until this resolves I have a tough time trading bonds.  I hate to be ambiguous here, but it's doing something I didn't expect and until more clarity comes into the picture, let's say the car windows are fogged, there is a lot of movement going on, and in the interest of self preservation we just walk away.... just walk away.
Let's sum this up.  I think stocks are heading higher next week.  I think the VIX is going to head under 12 for an extended period (not sure how long that is, ask the FED), and the bond market has thrown me a knuckle curve ball.
But its the weekend.  Enjoy.  Have a great one.
Lot of wonderful trades this week as earnings continues next week, which should bring another host of solid trade opportunities.
And if you have a chance check out our chat room this coming week.  It's hot and stormy out in August.  What better time to come where its cool.  Live audio commentary throughout the day.  Live webinars.  Live weekend week ahead preppers.  Earnings breakdowns.  Option recaps.  Chart trading ideas.  A forum, a community, you get the picture.  Limited trials for the August month are available first come first serve via email to optionmillioniares@gmail.com with August trial in the subject heading.