Wednesday Market Prepper
Reads:
News:
Premium:
Charts:
Tweets:
Median price-revenue ratio of S&P 500 components. The 2000 peak focused on a subset of hypervalued large-caps. This is an everything bubble. pic.twitter.com/DViNcziG5h

— John P. Hussman (@hussmanjp) January 29, 2017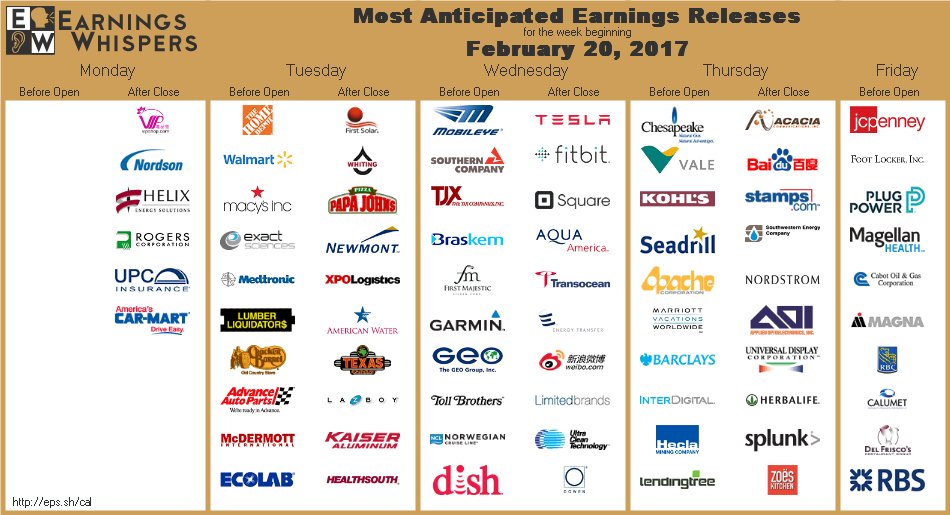 Seeking Alpha:
More rate hike clues? The Federal Reserve will publish the minutes of its Jan. 31 - Feb. 1 meeting at 2 p.m. ET. Janet Yellen indicated in testimony before Congress last week that a rate increase at the central bank's March policy meeting is in play - given signs of rising inflation and a tightening labor force - but market-implied probabilities show a 43% chance of a rate hike next month.
Economy
Fedspeak roundup: Speaking of rate hike signals, Philly Fed President Patrick Harker said yesterday he didn't think "March should be taken off the table," while policymaker John Williams felt the U.S. economy is "essentially at full strength." Meanwhile, Cleveland Fed President Loretta Mester cautioned that Trump's administration brought a new degree of uncertainty to the central bank's outlook, but she's "comfortable" with rates moving higher.
Major institutions such as the IMF and the OECD have recently upgraded their global economic growth forecasts largely due to expectations that tax cuts, infrastructure spending and deregulation will boost the U.S. economy under President Trump. But the World Bank's latest report suggests global trade growth is constrained by a number of factors, like policy uncertainty, rising protectionism and threats to unwind trade agreements.
According to new guidelines, the Trump administration plans to consider almost all illegal immigrants subject to deportation, but will leave protections in place for immigrants known as "dreamers" who entered the U.S. illegally as children. The guidance also calls for the hiring of 15,000 more border patrol and immigration agents and the building of a wall on the Mexican border. GEO +2.6%; CXW +0.6% premarket.
Former Hong Kong leader Donald Tsang has been sentenced to 20 months in prison for misconduct in public office. He was found guilty over a conflict of interest in the Asian financial hub, which prides itself on a reputation for clean governance. In sentencing, Judge Andrew Chan said: "Never in my judicial career have I seen a man fall from so high."
Another fake jobs scandal in France? Judicial police are questioning far-right presidential candidate Marine Le Pen's bodyguard and chief of staff in relation to a probe into alleged misuse of EU funds to pay parliamentary assistants. The National Front's offices have been raided by police and the European parliament has demanded the total sum of money back.
Data dump out of Europe: The U.K. GDP figure for Q4 was revised upwards to a seasonally adjusted 0.7%, surprising economists who had expected it to stay at 0.6%. German business confidence unexpectedly improved in February, with Ifo's business climate index rising from 109.9 to 111. Meanwhile, eurozone inflation was confirmed at an annual rate of 1.8% in January, coming close to the ECB's target of just below 2%.
Stocks
In a big win for rural delivery, UPS just tested a delivery drone on a farm outside of Tampa, Florida, with the UAV returning to the roof of the truck. The big feat? The vehicle already moved 2,000 feet down the road. "Drones won't replace our uniformed service providers," said UPS's Mark Wallace. "That's key, but in this case, it really is there to assist." The company also announced it would roll out Saturday ground delivery starting in April.
The A400M military plane is weighing on Airbus (OTCPK:EADSY) again as the aircraft maker took a new €1.2B charge on the troubled program. Adjusted operating income for 2016 fell 4% to €3.96B, on revenues which rose 3% to €66.58B. The company also proposed an annual dividend of €1.35 per share, up 4% from the year before, and expects to deliver more than 700 commercial aircraft in 2017.
Lloyds +3.2% premarket after reporting its highest annual profit in a decade, helped by a reduction in payment protection insurance provisions. Pre-tax profits increased by 158% to £4.24B, a level last seen in 2006 before the financial crisis. The U.K. government's stake in Lloyds (NYSE:LYG) has also fallen below 5% and it wants to return the bank to full private ownership sometime in May.
Continuing its in-house probe of the account opening scandal, Wells Fargo (NYSE:WFC) has fired four current or former community banking senior managers. The executives will not get bonuses for 2016 and will forfeit unvested equity awards and vested outstanding options. The scandal has also led to the firing of thousands of low-level executives.
Saudi Arabia's state-owned energy company has told JPMorgan (NYSE:JPM), Morgan Stanley (NYSE:MS) and HSBC they will be the lead underwriters for its planned initial public offering, set to be the largest ever, WSJ reports. Authorities are aiming to list up to 5% of Saudi Aramco (Private:ARMCO) on the stock exchange in Riyadh, the Tadawul, and one or more international markets, in an IPO that could raise $100B.
Despite delays, Bayer (OTCPK:BAYRY) remains confident about completing its $66B takeover of Monsanto (NYSE:MON) by the end of the year. The drugmaker will only seek EU approval for the transaction in Q2 after regulators there requested more information. Meanwhile, Bayer's crops and consumer-care units failed to boost profit last quarter, leaving prescription drugs as its sole engine of growth.
ABB will likely have to take a $100M pre-tax charge from its 2016 results after uncovering criminal activity at its South Korean subsidiary. The treasurer of the unit is suspected of forging documentation and colluding with third parties to steal from the company. He went missing on Feb. 7, and ABB subsequently discovered significant financial irregularities.
Making a legal deadline set for today, Qualcomm (NASDAQ:QCOM) has sought a stay over an estimated $873M in fines levied by South Korea's Fair Trade Commission, the Korea Herald reports. Last December, Qualcomm was accused of abusing its market position by refusing to offer licenses to chipset manufacturers and demanding high fees for patents used by smartphone makers.
Facebook is in talks with Major League Baseball to live stream one game per week during the upcoming season, which could be a key win as the social media platform works to offer more live sports. According to Reuters, Facebook (NASDAQ:FB) has aggressively pushed to sign the deals, going after an audience that competitor Twitter (NYSE:TWTR) is also trying to capture.
Fallout from its cyber breaches... Verizon (NYSE:VZ) has officially announced a $350M reduction to the price it will pay for Yahoo's (NASDAQ:YHOO) consumer business. The two companies also agreed to share certain costs associated with the massive data hacks at Yahoo. The $4.48B deal is expected to close in the second quarter.
Martin Shkreli's former lawyer and current co-defendant Evan Greebel has blasted him as a "serial liar" in a bid for separate trials, accusing him of "committing fraud" and creating a media "circus" to distract jurors from the evidence against him. The two men face an upcoming court case on charges they conspired to loot Retrophin (NASDAQ:RTRX) out of millions of dollars, in part to pay off investors whom the "pharma bro" allegedly had defrauded.
Daimler has announced plans to open its first passenger-vehicle factory in Russia, amid signs the country's auto market is starting to rebound after years of declines. Daimler's (OTCPK:DDAIY) €250M project constitutes the first significant investment in Russia by a major Western carmaker since sanctions were imposed against the country three years ago.
Separately, automakers have asked new EPA chief Scott Pruitt to withdraw an Obama administration decision to lock in fuel economy and emissions standards through 2025. The carmakers argue the rules could result in the loss of up to 1M jobs because consumers could be less willing to buy the more fuel efficient vehicles since their engineering would result in higher price tags. Related stocks: F, GM, FCAU, TM, HMC, OTCPK:NSANY, OTCPK:VLKAY, OTCPK:DDAIY
Tuesday's Key Earnings
First Solar (NASDAQ:
FSLR
)
-2.4%
AH margins down, expenses up.
Home Depot (NYSE:
HD
)
+1.4%
with strong comparable sales.
Macy's (NYSE:
M
) flat on mixed results.
Medtronic (NYSE:
MDT
)
+2.1%
beating expectations.
Newmont Mining (NYSE:
NEM
)
-1.3%
AH missing profit estimates.
Wal-Mart (NYSE:
WMT
)
+3%
as e-commerce sales impressed.