Wednesdays Market Prepper:  News, Reads, Charts, Options, and more
Reads:
News:
Premium:
Charts:
Earnings this week: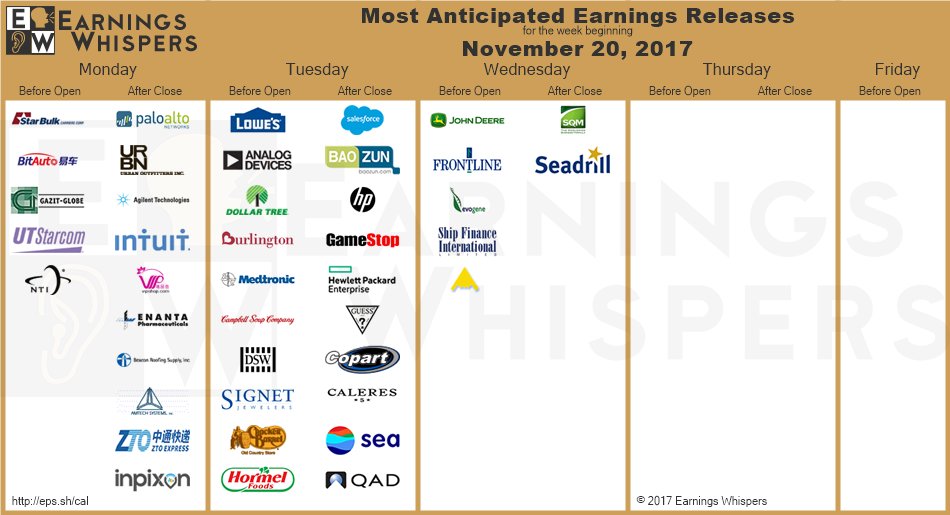 Unusual Option Action:
Seekingalpha:
Minutes of the last Fed meeting may keep a few traders at their desks until mid-afternoon before they bolt for the Thanksgiving holiday. The release is likely to assure an interest rate hike in mid-December, along with positive economic readings on hiring, unemployment and GDP hitting 3% in Q3. The only thing really worrying the central bank is persistently low inflation, with Janet Yellen saying yesterday that the Fed was "monitoring the situation very closely."
Economy
Britain and the EU are targeting a Brexit divorce deal within three weeks as officials seek to overcome the toughest unresolved issues on a financial settlement and Northern Ireland, FT reports. Theresa May's offer to pay £40B for a "divorce bill" if trade discussions begin has given new momentum to the negotiations and the two sides are now looking to open a second phase of trade talks.
The new TPP deal could be signed without... Canada? That's according to Sankei newspaper reports, which said Japan wants an agreement as soon as possible and may look to move ahead without Ottawa. Justin Trudeau, who inherited the TPP from his predecessor, has always stopped short of full-throated support for the pact and often declares that his government is almost entirely preoccupied by ongoing NAFTA talks.
Hong Kong's benchmark equities index has climbed above the 30,000 level for the first time in more than a decade as Tencent (OTCPK:TCEHY) extended its rally and Chinese financials soared amid sustained inflows from across the border. The Hang Seng had a rocky ride in the past 10 years, buffeted by the global financial crisis, the bursting of two different Chinese stock bubbles, as well concerns over European debt.
Prime Minister Saad Hariri returned to Lebanon late Tuesday and put his resignation on hold amid a regional power struggle between Saudi Arabia and Iran. The crisis has also raised questions about the country's currency peg - the bedrock of its relative financial and economic stability - as well as fixed foreign exchange regimes across the GCC region.
Holders of Venezuelan bonds, including advisers and fund managers, are meeting with each other and considering forming committees as questions mount about President Maduro's proposal to restructure $60B of debt. Meanwhile, Venezuela's intelligence agency has arrested six top executives at U.S.-based refiner Citgo, a subsidiary of PVDSA, as part of what authorities are calling an anti-corruption "crusade."
Oil prices are up almost 2% to $58 per barrel as the API reported falling U.S. crude inventories, while expectations of a prolonged OPEC-led production cut offered support. TransCanada (NYSE:TRP) is also cutting deliveries by at least 85% on its 590K bpd Keystone pipeline through the end of November, which was shut down last week after a 5,000-barrel spill in South Dakota.
Stocks
Pushing deeper into the mainstream, a Paris-based asset manager has launched Europe's first bitcoin mutual fund. Tobam is classifying it as an alternative investment fund since it's not traded on an exchange, but it does have daily liquidity based on market closing prices. JPMorgan (NYSE:JPM) is also reportedly getting into bitcoin futures trading even though CEO Jamie Dimon believes it's a fraud.
After setting up a distribution warehouse in Melbourne city, Amazon (NASDAQ:AMZN) has told its Australian sellers to be ready to take orders on Nov. 23. It's the first time the retail juggernaut has given a start date for doing business in the world's No. 12 economy. Going live at this time would also help Amazon tap into Black Friday demand.
Uber is now the latest tech firm to reveal a large data breach. The company paid hackers $100,000 in an effort to cover up the incursion last year, which compromised 57M accounts and about 600,000 drivers' license plate numbers. UBER has fired chief security officer, Joe Sullivan, and a deputy, Craig Clark, because of their role in the handling of the incident.
Research by Apple computer scientists on how self-driving cars can better spot objects while using fewer sensors has been posted online, in what appears to be the company's first publicly disclosed paper on autonomous vehicles. The approach called "VoxelNet" is significant because Apple's (NASDAQ:AAPL) corporate secrecy around future products has been seen as a drawback among AI and machine learning researchers.
Separately, Samsung Electronics is creating an artificial intelligence research center to "quickly respond to market changes," although it hasn't disclosed its location. Samsung (OTC:SSNLF) will also strengthen the "business development" role of Young Sohn, its chief strategy officer, to look for new areas for all of the company's three major business groups.
A U.S. Navy aircraft carrying 11 crew and passengers crashed overnight near Okinawa, Japan, en-route to the USS Ronald Reagan, which is currently operating in the Philippine Sea. The cause and type of aircraft is still not known, but previous military aviation accidents this year involved the Black Hawk (NYSE:LMT) and the MV-22 Osprey (BA, TXT).
Marking the latest setback for foreign tech services in China, Skype (NASDAQ:MSFT) has disappeared from app stores in the country, while Apple (AAPL) dropped hundreds of VPN apps at Beijing's request. "We have been notified by the Ministry of Public Security that a number of voice over internet protocol apps do not comply with local law," an Apple spokeswoman told Reuters.
FCC Chairman Ajit Pai has unveiled plans to repeal net neutrality rules, posting an op-ed in the WSJ and circulating an order to end what he says is micro-managing the Internet. The agency will vote Dec. 14 on eliminating the regulations. Related stocks: ATUS, CMCSA, CTL, CHTR, FTR, T, VZ, NFLX, DISH, CCOI, S, TMUS
CBS This Morning wants Oprah Winfrey to fill in for Charlie Rose after he was axed due to a sexual-harassment scandal. "Not full time... But they are hoping she'll do one day, two days, one hour, fill in till Christmas. Anything," sources told Page Six. Winfrey joined CBS's 60 Minutes in September, and is good friends with CBS This Morning co-host Gayle King.
Tuesday's Key Earnings
Dollar Tree (NASDAQ:
DLTR
) 
+2.4%
 boosted by same-store sales.
GameStop (NYSE:
GME
) 
+7.6%
 AH on strong gaming demand.
Hormel Foods (NYSE:
HRL
) 
+3.4%
 beating estimates.
HP Enterprise (NYSE:
HPE
) 
-6%
 AH following a CEO change.
HP Inc. (NYSE:
HPQ
) 
-5.6%
 AH after in-line results.
Lowe's (NYSE:
LOW
) 
-1.1%
 on a disappointing outlook.
Medtronic (NYSE:
MDT
) 
+4.8%
 reiterating FY18 forecast.
Salesforce (NYSE:
CRM
) 
-1.5%
 AH with mixed guidance.