Wednesday Morning Reads
Reads:
News:
This week: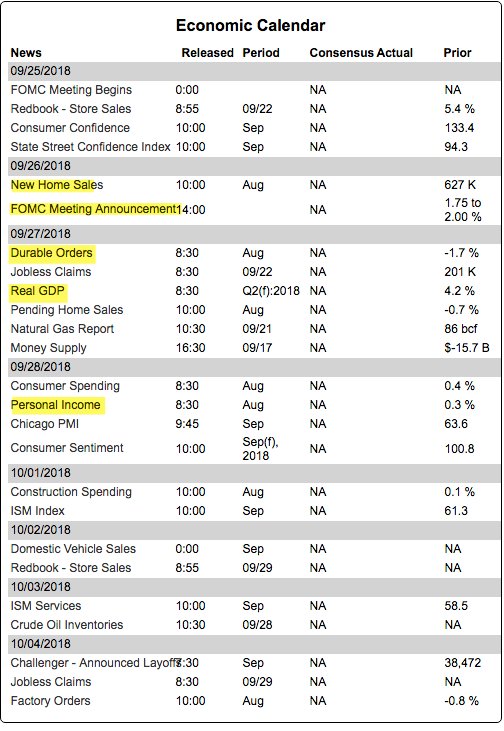 Futures:
Premium:
Open Interest Changes:
Charts:
Seekingalpha:
The Federal Open Market Committee is expected to lift the federal funds rate by a quarter point to 2.25% when the central bank finishes its two-day meeting today. The central bank is looking to guide the U.S. economy in for a soft landing, with an eye on the gap between the inflation rate and the fed funds rate. The so-called "neutral" federal funds rate (tossed around as R* by some economists) is either quite low or somewhat elevated by historical standards, depending upon which Fed governor you ask. Updated dot plot rate forecasts will be released after the meeting to give interest rate watchers plenty to chew on. Heading into the meeting, the 2-year Treasury is showing a 2.83% yield and the 10-year is at 3.08%.
Economy
In Asia, most markets registered gains today ahead of the FOMC meeting. Japan's Nikkei increased 0.4% and closed over 24K for the first time since January. Hong Kong's Hang Seng Index rose 1.2% on the day and the Shanghai Composite Index gained 0.9%. Australia's ASX 200 Index poked out a gain of 0.1%, while South Korean markets took a breather for a holiday. Meanwhile, the European Stoxx 600 Index is flat on the day and U.S. stock futures are pointing higher in early action, led by a 0.3% uptick in the Nasdaq 100.
Canada appears to be calling the bluff of the Trump Administration, saying it will not make the concessions required to reach a deal with the U.S. for a trilateral NAFTA pact. The U.S. has warned that it will move ahead with a trade deal involving only Mexico if the Canadian government didn't bend on certain issues such as access to the nation's dairy market. The Trump team wants Canada to conclude the deal by Sunday. "The relationship between Canada and the United States is far deeper than between the Canadian government and the U.S. administration," Prime Minister Justin Trudeau has said about the trade squabbles.
Crude oil prices are on watch after the U.S. said it would ensure crude markets are well supplied before sanctions are slapped back on Iran. The U.S. is due to apply sanctions on Iran oil exports on November 4. Traders have oil data to digest today when the EIA posts its weekly report on crude oil inventories for the previous week. With just a few trading days left in the quarter, Brent prices are poised to record five straight quarterly increases to mark the longest stretch of gains since early in 2007. WTI crude oil futures +0.06% to $72.32/bbl at last check. Brent crude +0.29% to $82.11/bbl.
The Census Bureau is due to release data on new home sales for August. Economists expect a mark of 630K to top the 627K new home sales for July. The housing market has been in a cooling trend amid higher mortgage rates. Today's report could be key for Floor & Decor (NYSE:FND), Lumber Liquidators (NYSE:LL) and Tile Shop (NASDAQ:TTS) - which all fell sharply yesterday in reaction to some soft reads on U.S. house prices.
Stocks
All eyes in the Canadian cannabis market will be on Ontario on expectations that a new legalization law will be unveiled today. Ontario is the only province that hasn't created guidelines for how cannabis will be sold in brick-and-mortar retail shops, despite the province accounting for more than 40% of all cannabis usage in the nation last year. An announcement isn't anticipated until after the market closes today, which could lead to more speculative trading on Aurora Cannabis (OTCQX:ACBFF), Canopy Growth (NYSE:CGC), Cronos Group (NASDAQ:CRON) and Tilray (NASDAQ:TLRY).
Merger strategies are part of the strategic planning going on at Deutsche Bank (NYSE:DB), according to German media reports. Sources said the bank simulated a merger with UBS Group (NYSE:UBS) and Commerzbank (OTCPK:CRZBF, OTCPK:CRZBY) to see what the shakeout would look like. UBS is said to have been the clear winner in the test. Shares of Deutsche Bank are down 27% over the last 52 weeks.
There could be some spillover from Nike's (NYSE:NKE) FQ2 earnings today for a variety of stocks. While Nike topped quarterly consensus estimates, analysts think Nike's miss on the gross margin line and lower-than-anticipated sales growth in China could impact the broad athletic apparel sector. For the full year, Nike said it expects full-year revenue growth to be up in the high single digits and margins to improve, but investors may have expected just a bit more. Shares of Nike are down 2.8% in premarket action. Keep an eye on Under Armour (UA, UAA), Adidas (OTCQX:ADDYY), Columbia Sportswear (NASDAQ:COLM), Hibbett Sports (NASDAQ:HIBB) Foot Locker (NYSE:FL), Dick's Sporting Goods (NYSE:DKS) and Finish Line (NASDAQ:FINL) to name a few.
In the wake of Les Moonves' departure under a cloud of accusations, CBShas tapped Richard Parsons to serve as interim chairman. Parsons, the former CEO of Time Warner, has also been considered to be on the shortlist of external execs who might take over Moonves' CEO post at CBS. Adding to heavy board turnover, longtime members Bruce Gordon and William Cohen are exiting.
IPO heat check: SurveyMonkey (NASDAQ:SVMK) priced its initial public offering above range at $12 per share after citing strong demand from investors. The online survey specialist will raise $162M through the issuance of shares. Companies that have seen impressive IPO debuts recently include Farfetch (NYSE:FTCH), Y-mAbs Therapeutics (NASDAQ:YMAB), Elanco (NYSE:ELAN) and Eventbrite (NYSE:EB). Then there is the most talked about IPO of the bunch, Chinese EV player NIO (NYSE:NIO), which closed yesterday about 21% above where the IPO was priced ten days ago.
Delta Air Lines had to ground all flights in the U.S. due to a technology issue last night. The company's IT teams were able to restore the systems and the airline is working to help customers affected by the groundstop. It's not a surprise that Delta (NYSE:DAL) was a trending topic on Twitter for quite a while last night.
M&A chatter: Nielsen Holdings is up 2.3% in premarket trading on a report of interest from Blackstone (NYSE:BX) and the Carlyle Group (NASDAQ:CG). The company has just recently opened up to the idea of selling itself in its entirety, not just the "Buy" segment part of the business. The latest development follows a push by activist investor Elliott Management for Nielsen (NYSE:NLSN) on strategic considerations.
Electrify America says it will include a subscription plan for Lucid electric vehicle owners as part of its network of 500 charging stations in the U.S. By comparison, Tesla (NASDAQ:TSLA) has around 1,344 fast-charging stations globally with 11,041 Superchargers. The coast-to-coast Electrify America network is expected to be built or under construction by next summer, well ahead of the planned 2020 launches of the Lucid Air and Audi (OTCPK:AUDVF) e-tron SUV. Volkswagen (OTCPK:VWAGY) created Electrify America as a subsidiary in connection to the settlement with the U.S. government in the diesel emissions case.
It might an ultra-bad day for Ultra Petroleum (NASDAQ:UPL) after shares fell 25% in after-hours trading following the company's disclosure that it was unable to reach an agreement with lenders on terms of a senior secured first lien term loan. Without any further talks planned, Ultra Petroleum said it moved forward the semi-annual redetermination of its borrowing base under its reserve-based credit facility.
A number of companies host meetings with analysts today in the form of road shows, group lunches, and conferences. Keep an eye out for news from Cars.com (NYSE:CARS), Blucora (NASDAQ:BCOR), Boyd Gaming (NYSE:BYD), Conn's (NASDAQ:CONN), Jack In The Box (NASDAQ:JACK), Cooper-Standard (NYSE:CPS), NovoCure (NASDAQ:NVCR) and Liberty Global (NASDAQ:LBTYA) as analysts pick away at business updates and earnings projections.