Wednesday Morning Reads
Reads:
News:
S&P500 Futures:
 Futures:
 Open Interest Changes:
Charts: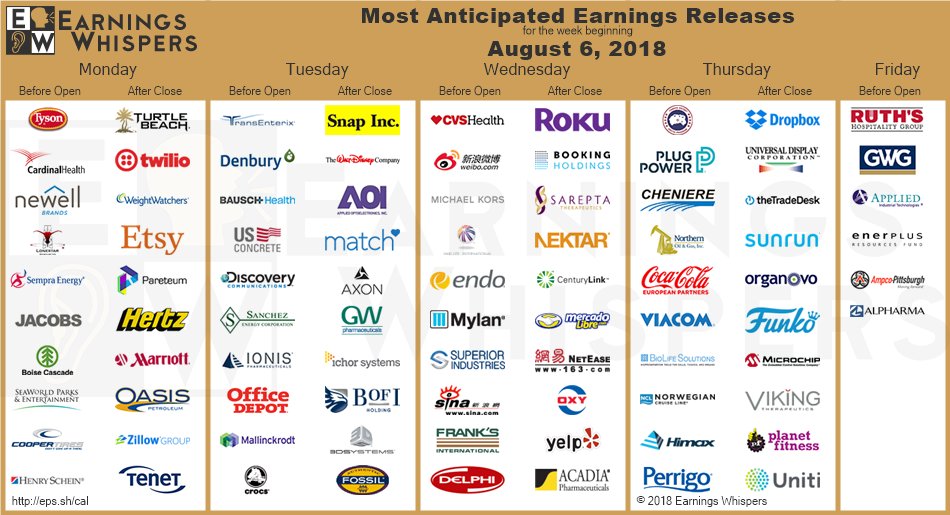 SeekingAlpha:
Despite elevated trade tensions with China (see below), positive sentiment is being seen from a strong second-quarter earnings season. The S&P 500 now stands less than half a percent off the record 2,872.87 seen in January, reassuring investors who have worried in recent months that almost a decade of gains on Wall Street might be ending. 79% of S&P 500 companies have also topped estimates in Q2, and if the beat rate holds, it will be the highest on record - dating back to the first quarter of 1994.
Economy
China's exports growth unexpectedly accelerated in July despite fresh American tariffs, as its closely watched surplus with the U.S. dipped only slightly to $28.09B last month from a record $28.97B in June. The two sides have also shown no signs of letting up, with the U.S. finalizing plans overnight to begin collecting 25% tariffs on another $16B in Chinese goods - across 279 product lines - on Aug. 23.
Traders are continuing to monitor developments around Brexit. A monthly survey published today by the Recruitment and Employment Confederation showed that U.K. hiring slowed last month, as employers reported a shortage of EU migrant workers available for work. The Bank of England is further due to release a report on domestic business conditions this morning, which will likely provide insight into Brexit business sentiment. Sterling -0.3% to $1.2896.
While reiterating his commitment to a prudent fiscal policy, Italy's economy minister has lowered upcoming GDP growth estimates, bringing the deficit to 1.2% in 2019 (higher than a target of 0.8% drawn up by the previous administration). The worsening expectations could put the new anti-establishment government on a collision course with the European Commission, which monitors the budgets of EU countries.
Saudi Arabia has stopped all medical treatment programs in Canada and is coordinating for the transfer of all Saudi patients from Canadian hospitals to facilities outside the country. Riyadh froze new trade and investment with the North American nation and expelled the Canadian ambassador on Monday, in a stern gesture of retaliation after Ottawa urged it to free arrested civil society activists.
The congressional special election in Ohio went down to the wire Tuesday night, with Republican Troy Balderson and Democrat Danny O'Connor separated by 1,754 votes, making the race too close to call. More than 8,400 provisional votes and outstanding absentee ballots - nearly quadruple the margin - remain to be counted, but that didn't stop the GOP from claiming victory. Both parties see the election as a potential bellwether of the Democrats' chances of picking up the 23 seats they need to flip the House in November.
President Trump's small dinner for business leaders last night included corporate leaders who previously distanced themselves from Trump over his comments on the Charlottesville rally a year ago. Business healing? The heads of PepsiCo (NYSE:PEP), EY, Boeing (NYSE:BA), International Paper (NYSE:IP) and Johnson & Johnson (NYSE:JNJ) had once sat on the White House Strategic and Policy Forum and Manufacturing Advisory Council.
Stocks
Tesla had its busiest trading day since 2014 yesterday after Elon Musk tweeted plans to take the company private. More than 30M shares changed hands, despite trading being halted for more than 90 minutes. "The structure envisioned for Tesla (NASDAQ:TSLA) is similar in many ways to the SpaceX (SPACE) structure," which has raised funding around every six months for the past three years, but many are still pondering the legalities.
Amazon is launching curbside pickup at select Whole Foods (NASDAQ:AMZN) stores, its latest tactic in the U.S. grocery wars. Orders of at least $35 will be loaded into customers' cars for free within an hour of placement, while pickup in 30 minutes costs $4.99. Cheaper than delivery, pickup has long been touted by Kroger (NYSE:KR) and Walmart (NYSE:WMT), which have been rolling out the service to thousands of stores.
Things were looking up for bitcoin in July, with the crypto reaching as high as $8,496, but its latest descent has seen the digital currency fall overnight to under $6,500. The move was accelerated after the SEC pushed back an eagerly-awaited decision on the SolidX Bitcoin ETF (XBTC), sponsored by SolidX Management with marketing assistance from Van Eck Securities. A verdict is now expected by the end of September.
U.S. prosecutors are investigating whether Goldman Sachs (NYSE:GS) has any culpability in a Malaysian fraud involving a government fund that had ties to a former bank employee, sources told the NYT. About $4.5B was said to be misappropriated from 1MDB. Goldman, which generated about $600M in fees for its work, has repeatedly denied any wrongdoing and said it's fully cooperating with authorities.
"China doesn't want to close its doors to Apple (NASDAQ:AAPL) despite the trade conflict, but if the U.S. company wants to earn good money in China, it needs to share its development dividends with the Chinese people or face anger and nationalist sentiment amid the ongoing trade war," warned the state-backed People's Daily. The article originally appeared in another state-backed publication, Global Times, last week.
Future of tech? The Samsung Group will invest 25T won ($22B) over three years on artificial intelligence, 5G, auto-tech components and its biopharmaceutical business, with the bulk of spending earmarked for Samsung Electronics (OTC:SSNLF). The news comes amid new research that Galaxy S7 smartphones are vulnerable to hacking (the devices were previously thought to be immune to a security vulnerability known as Meltdown).
Salesforce has promoted current COO Keith Block as its new co-CEO, working alongside co-CEO Marc Benioff, who remains chairman of the company he co-founded in 1999. Block joined Salesforce (NYSE:CRM) from Oracle (NYSE:ORCL) in 2013 and has been COO since February 2016. Under the new dual leadership, Benioff will lead vision and innovation in areas including technology, marketing, stakeholder engagement and culture, while Block will head the company's growth strategy, execution and operations.
There are better corporate options for Verizon's (NYSE:VZ) recently created media subsidiary called Oath, which houses the acquisitions of faded tech brands AOL and Yahoo, according to former Yahoo CFO Ken Goldman. Although Verizon management has resisted the idea, he supports spinning off the units into a separate publicly traded company, while retaining an 80% ownership stake. "You can give stock... so you can motivate those employees."
While it did not provide a reason, China has denied Walt Disney's (NYSE:DIS) request to screen Christopher Robin in the country, Reuters reports. The decision has revived online discussion as censors have in the past targeted Winnie the Pooh - due to memes that compare the bumbling bear to President Xi Jinping - although the country also limits the number of foreign-made films allowed in to 34 a year.
An Ebola outbreak in the Democratic Republic of Congo has been confirmed as the Zaire strain of the virus, with experimental vaccinations, supplied by Merck (NYSE:MRK), set to begin today. In the latest flare-up, 43 people are believed to have been infected in North Kivu province, including 36 who have died. Forty-six other suspected cases are being investigated, including 25 in Beni.
CVS Health plans to expand its MinuteClinic offering nationwide by the end of the year, allowing patients round-the-clock treatment for minor illnesses, injuries and conditions from their mobile devices. The partnership with Teladoc Health (NYSE:TDOC) marks the company's latest pivot away from retail and toward healthcare services. CVS already offers virtual appointments, branded as MinuteClinic Video Visits, in nine states and D.C.
Tuesday's Key Earnings
Disney (
DIS
) 
-0.5%
 AH amid increasing streaming fees.
Emerson Electric (NYSE:
EMR
) 
+4.3%
 after a guidance boost.
LendingClub (NYSE:
LC
) 
-2.4%
 AH amid rising costs.
Papa John's (NASDAQ:
PZZA
) 
-10.5%
 AH as pizza sales fell.
Snap (NYSE:
SNAP
) 
+0.6%
 AH with a Saudi prince taking a stake.
Today's Markets 
In Asia
, Japan 
-0.1%
. Hong Kong 
+0.4%
. China 
-1.3%
. India 
+0.6%
.
In Europe
, at midday, London 
+0.9%
. Paris 
+0.1%
. Frankfurt 
+0.3%
.
Futures at 6:20
, Dow flat. S&P flat. Nasdaq flat. Crude 
-0.2%
 to $69.06. Gold 
+0.1%
 to $1219.30. Bitcoin 
-3.4%
 to $6487.
Ten-year Treasury Yield
 flat at 2.97%
Today's Economic Calendar
7:00 MBA Mortgage Applications
10:30 EIA Petroleum Inventories
1:00 PM Results of $26B, 10-Year Note Auction