Wednesday Morning Reads
Reads:
News:
Futures:
S&P500 Futures:
 Open Interest Changes:
Charts:
 Earnings: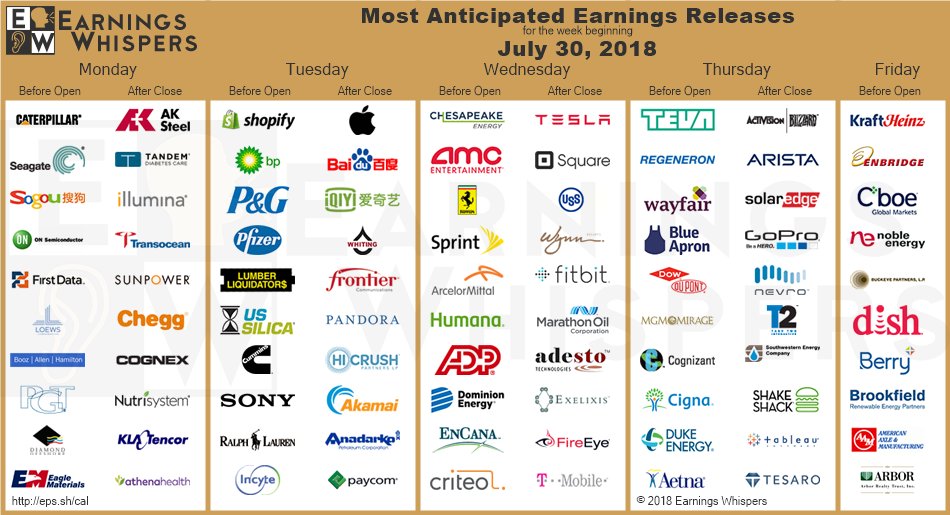 SeekingAlpha:
The Fed is not expected to raise interest rates at its meeting that ends this afternoon, but its policy statement is anticipated to set the stage for a September hike and may remove language about remaining accommodative. The announcement comes against a backdrop of debate in the markets, where disagreement reigns over how many more rate hikes the central bank will be able to carry through this year because of the flattening yield curve.
Economy
Conflicting signs over the state of U.S.-China trade relations are pulling markets from both directions. The two countries are seeking to resume talks to defuse a tariff battle, according to Bloomberg, although later reports suggested the Trump administration plans to propose tariffs of 25% on $200B of imported Chinese goods after initially setting them at 10%. The Caixin-Markit PMI overnight also showed China's manufacturing sector growing at its slowest pace in eight months in July, dragged down by declining export orders.
Mexican President-elect AMLO expects there to be a revised NAFTA deal in the coming days as negotiators iron out dispute resolution, auto sector rules and the so-called "sunset clause," but so far Canada has yet to participate in the summertime round of talks. "My hope is that we will before very long have a conclusion with respect to Mexico and that as a result of that, Canada will come in and begin to compromise," said U.S. trade czar Robert Lighthizer.
Calling it expensive and unsustainable, Ontario's new government is scrapping the province's basic income pilot, which began in April 2017 and was set to last three years. The decision brings an end to North America's first government-backed trial of the idea in decades following a move by Finland to terminate Europe's first government-backed basic income experiment.
India's central bank has raised its benchmark interest rate to the highest in two years, upping the repurchase rate to 6.5%, as it stepped up efforts to curb inflation and stem capital outflows. The rate move is the RBI's second in eight weeks and follows emerging market counterparts who are trying to reverse currency routs triggered by higher U.S. rates and a stronger dollar.
Pakistan's growing debt to China, as part of the "Belt and Road" initiative, is emerging as a point of contention with the U.S. as the South Asian nation prepares to possibly seek an international financial bailout in the coming weeks. "There's no rationale for IMF tax dollars... to go to bail out Chinese bondholders or - or China itself," Secretary of State Mike Pompeo told CNBC.
Iranian lawmakers have given President Hassan Rouhani one month to appear before parliament to answer questions on his government's handling of Iran's economic difficulties. Topics include the rial's decline, which has lost more than half its value since April, weak economic growth and rising unemployment. Rouhani appointed a new central bank governor last week, suggesting that he's conceding a need for reshuffling his economic team.
Stocks
A trillion dollar market value is now just a few iPhones away. Apple (NASDAQ:AAPL) shares rose over 4% AH following strong results for the fiscal third quarter, posting big beats on earnings per share and average iPhone selling price. The tech giant also reported $9.55B in services revenue (App Store, iTunes, cloud services etc.) - a jump of 31% from a year ago - and now has $243.7B in cash on hand.
Meanwhile, China's Huawei overtook Apple (AAPL) to become the world's second-biggest smartphone seller in the second quarter as it gained ground in Europe and expanded its lead back home. According to IHS and Strategy Analytics, Huawei grabbed more than 15% of the global smartphone market during April-June, topping Apple's roughly 12% and just behind Samsung Electronics' (OTC:SSNLF) share of nearly 20%.
European earnings roundup: ArcelorMittal (NYSE:MT) +2.9% premarket driven by resurgent steel demand and ever-tightening trade protections. Rio Tinto (NYSE:RIO) -3.2% despite seeing a first-half profit rise, as well as announcing an additional share buyback and dividend hike. Meanwhile, Volkswagen (OTCPK:VLKAY) posted a forecast-beating Q2 profit, but new anti-pollution rules clouded its sales outlook.
Shares in Russian aluminum producer United Company Rusal (OTC:RUALF) slipped almost 1% in Moscow overnight as the U.S. Treasury extended its deadline for divesting from the sanctioned company. Yesterday, the EU also imposed asset freezes on six Russian firms for their involvement in the construction of a new road-and-rail bridge linking Russia to annexed Crimea.
Pinduoduo -6.7% premarket as China's markets regulator investigates the online group discounter over media reports about counterfeit goods and intellectual property infringements on its platform. Earlier this month, Pinduoduo (NASDAQ:PDD) priced its U.S. IPO at $19 per American depositary share, raising $1.63B in the second-biggest U.S. float by a Chinese firm this year.
Becoming the basketball league's first sports betting partner, MGM Resorts (NYSE:MGM) has signed a multi-year deal with the NBA and WNBA that allosw the casino chain to use their official names, logos and data streams across its hotels. The agreement is for three years and at least $25M, and will also enable innovative in-game gambling.
A new use for Waymo's self-driving cars? Shuttling people to the bus station. The Alphabet (GOOG, GOOGL) unit just announced a new partnership with the Valley Metro transportation center in Phoenix to take passengers to and from the public transit station. The idea is to provide first- and last-mile transportation, instead of longer trips.
Sanofi has been making drug shortage contingency plans for more than a year in case the U.K. fails to reach a deal with the EU on Brexit, WSJ reports. Stocks have been increased for all therapeutic areas by about four weeks to a total of 14, excluding Sanofi (NYSE:SNY) medicines that are in constant shortage. It follows a similar decision by AstraZeneca (NYSE:AZN), which said earlier this month it was increasing its stockpiles.
Pfizer CEO Ian Read believes the Trump administration intends to stop the practice of allowing rebates on prescription drug purchases. That suggests U.S. drug pricing reforms may focus on middlemen rather than drugmakers, keeping price hikes in line with health care inflation. Pfizer (NYSE:PFE) currently receives around 58% of its list prices on drugs, meaning about 40% goes to middlemen.
Los Angeles prosecutors have declined to pursue three accusations of sexual abuse against CBS CEO Les Moonves dating back to the 1980s because the statute of limitations had expired. Separately, CBS alleged that its vice chairman, Shari Redstone, pushed to remove a board member earlier this year after he recorded a meeting with her father, Sumner Redstone, to document his medical condition.
U.S. District Judge Robert Lasnik has blocked the planned release of 3D printed gun blueprints hours before they were set to hit the internet, siding with U.S. states that sued to halt publication of the designs. Another hearing in the case has now been set for Aug. 10. "I am looking into 3-D Plastic Guns being sold to the public," President Trump wrote on Twitter. "Already spoke to NRA, doesn't seem to make much sense." Related: PRLB, SSYS, DDD, XONE, VJET, AOBC, RGR