Wednesday Morning Reads
Reads:
News:
Charts:
Premium:
Futures:
 Option Action:
UOA
Earnings: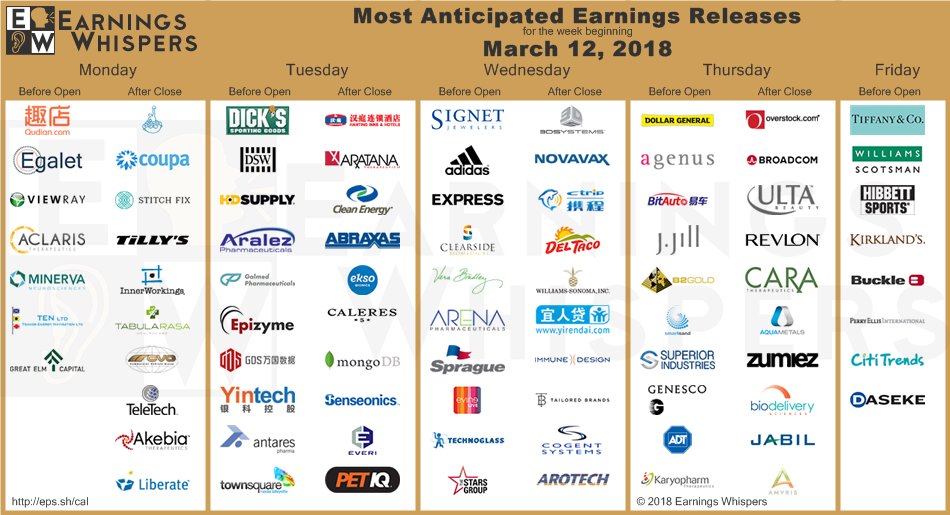 SeekingAlpha:
Walmart is expanding its online grocery delivery service to a total of 100 metropolitan areas by the end of the year, up from six currently, a push that will help the retailer reach 40% of American households. Orders will be packed by Walmart (NYSE:WMT) employees before they are handed off to delivery companies, a costly model it previously resisted as Amazon (NASDAQ:AMZN), Kroger (NYSE:KR) and Target (NYSE:TGT) invest in similar services.
Economy
Crude is back over $61/barrel following the firing of Secretary of State Rex Tillerson. Some assume that will clear the way for President Trump to make good on his promise to withdraw from the Iran nuclear deal, which is theoretically bullish for oil, as sanctions would be reinstituted against the Islamic Republic. Saudi Arabia and others still have enough spare capacity to make up for any deficit.
Democrat Conor Lamb is the apparent winner of a House seat in Pennsylvania's 18th congressional district, a region President Trump won by 20 percentage points in 2016. Lamb was said to have only won by a few hundred votes, so it's possible that there may be a recount ordered. The election was watched nationwide as a sign of political tides eight months ahead of congressional elections.
The U.S. government has hit the Canadian forestry industry with more duties after finding that exporters underpriced uncoated groundwood paper by as much as 22.16% and will collect cash corresponding to those rates. "President Trump made it clear from the beginning that we will vigorously administer our trade laws to provide U.S. industry with relief from unfair trade practices," said Commerce Secretary Wilbur Ross.
Shares in Asia buckled under pressure overnight despite positive economic data out of China. Industrial output grew 7.2% in January-February, while fixed-asset investment expanded 7.9% and retail sales rose 9.7%. Equities seemed to be nervous over impending U.S. tariffs, which may now target up to $60B worth of goods, as well as punitive measures against intellectual property theft.
"We currently see inflation converging toward our aim over the medium term, and we are more confident than in the past this convergence will come to pass," Mario Draghi told the the annual ECB and Its Watchers conference. "But we still need to see further evidence that inflation dynamics are moving in the right direction. So monetary policy will remain patient, persistent and prudent."
Theresa May is preparing to set out a range of reprisals against Russia after a midnight deadline passed for the Kremlin to explain why a former spy was poisoned by a Russian-manufactured nerve agent. Maria Zakharova, Russian foreign affairs ministry spokeswoman, said Britain must not try to threaten Moscow and announced that there would be retaliation against any fresh sanctions.
Stocks
Singapore-based Broadcom is still pressing on with a plan to move its base to the U.S. despite President Trump blocking its bid for Qualcomm (NASDAQ:QCOM) on national security grounds, Reuters reports. It will cost the company about $500M a year under a higher tax rate, but Broadcom (NASDAQ:AVGO) believes the relocation will allow it to make acquisitions of U.S. companies that will not fall within the jurisdiction of CFIUS.
Following a similar hard-line approach taken by Facebook (NASDAQ:FB), Google (GOOG, GOOGL) will ban crypto-related advertising starting in June, including ICOs, wallets, and trading advice across any of its platforms. "We don't have a crystal ball to know where the future is going to go with cryptocurrencies, but we've seen enough consumer harm or potential for consumer harm," said Scott Spencer, Google's director of sustainable ads.
Coinbase has obtained a bank account with U.K. lender Barclays (NYSE:BCS) in a move that will make it easier for British customers to use its product. The deal marks the first major partnership between a U.K. bank and a cryptocurrency exchange. Coinbase, which has nearly 12M users, was also granted an e-money license by the U.K.'s Financial Conduct Authority.
President Trump will visit a Boeing (NYSE:BA) plant in St. Louis today to tout the impacts of the tax overhaul bill signed into law in December. The stop comes amid recent steel and aluminum tariffs that may make the iconic American planemaker a vulnerable target for retaliation. Boeing employs 137K people in the U.S., nearly as many workers as the entire primary steel and aluminum industries.
State-run Korea Development Bank has agreed to provide short-term loans to GM Korea after April. However, the agreement is conditional on the automaker cooperating with due diligence, which started in earnest today and will continue for two months. General Motors' South Korean unit has previously said that without new funding from its major shareholders it would have a first-quarter "cash crisis."
Volkswagen has secured €20B in battery supplies to underpin an aggressive push into electric cars in the coming years, ramping up pressure on Tesla (NASDAQ:TSLA) as it struggles with production issues for its Model 3. VW (OTCPK:VLKAY) is committed to electrifying all of its brands by 2030, with 30 new plug-in hybrids and 50 new battery electric vehicles due by that date.
A Senate Commerce subcommittee has set a March 20 hearing on the largest-ever recall in automotive history that some lawmakers say is moving too slow. It will include the independent monitor of the Takata (OTCPK:TKTDQ) recall program, as well as representatives from Honda (NYSE:HMC), Ford (NYSE:F) and the NHTSA. Takata will have recalled almost 125M vehicles worldwide by 2019 for its inflators that can explode with excessive force.
Blow to the toy industry... After more than half a century in business, Toys "R" Us could file a court motion for its liquidation plan by the end of today, resulting in the closing of all 800 stores in the U.S. Shares of Mattel (NASDAQ:MAT) have dropped 8% since reports that the retailer was weighing a bankruptcy filing in September, while rival Hasbro's (NASDAQ:HAS) stock has shed almost 5%.
Amazon has launched its first-ever debit card in Mexico as the local e-commerce sector gains in popularity. "Clients that don't have a credit or debit card will find Amazon Rechargeable an easy and practical way to convert cash into a payment method," said Fernando Ramirez, Amazon's (AMZN) product manager in Mexico. According to a 2017 government report, less than a third of adults in Mexico have credit cards.
Netflix is in the early stages of developing a news show similar to CBS's 60 Minutes and ABC's (NYSE:DIS) 20/20. A hole in the market was spotted for a "current affairs TV show encompassing both sides of the political divide," a source told MarketWatch. Netflix (NASDAQ:NFLX) is expected to spend roughly $8B on content in 2018 to fund 700 shows and films, rising to $12.2B in 2020.
Looking to halt the spread of misinformation, YouTube (GOOG, GOOGL) is introducing a new tool to combat online conspiracy theories and divisive content. Videos about "widely accepted events" will include "information cues" - a text box that links to third-party sources including Wikipedia. "These features will be rolling out in the coming months," according to a YouTube spokeswoman.