Wednesday Morning Reads
Reads:
News:
Charts:
Premium:
Futures:
Earnings: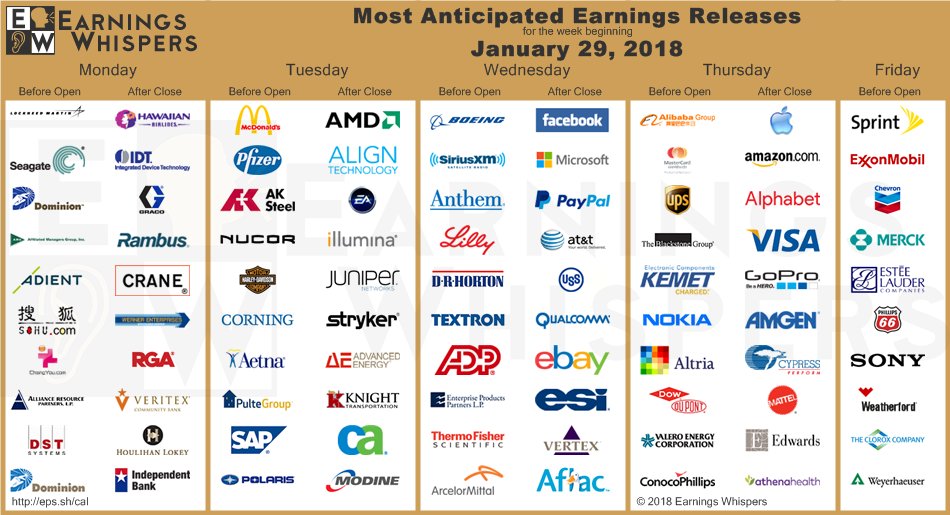 Unusual Option Action:
Seekingalpha:
With the outset of the Jerome Powell era only days away, analysts do not expect a dramatic shift at the Fed's policy meeting today, which will be the last for Chairwoman Janet Yellen. While the benchmark interest rate will likely remain unchanged, in a range between 1.25% and 1.5%, investors are still anticipating three rate hikes this year. Another big event today will be the Treasury's refunding announcement, which will include details on first-quarter auctions and possibly other funding needs for 2018.
Economy
"This is our New American Moment. There has never been a better time to start living the American dream," President Trump said in his State of the Union address last night. "Since the election we have created 2.4M new jobs, we are seeing rising wages, unemployment claims have hit a 45-year low and the stock market has smashed one record after another." Trump also announced the "end of the war on American energy... the time to rebuild our crumbling infrastructure... and finally turn the page on decades of unfair trade deals."
At a Senate hearing on Tuesday, EPA Administrator Scott Pruitt refused to rule out an effort to repeal the "endangerment finding," a 2009 determination that greenhouse gases threaten the public health and welfare of Americans. Scrapping the rule would make it easier for the Trump administration to wipe the slate clear of Obama-era environmental regulations and climate change directives.
Mexico's GDP staged a recovery in Q4 by expanding at an annualized 1.8% pace during the period, resulting in growth of 2.1% for all of 2017. The data confirms the resilience of the Mexican economy, which has continued to grow despite uncertainties over trade with the U.S., the destination of 80% of its exports, and despite two destructive quakes that shook the country in September.
Britain is seeking a free trade agreement with China, Prime Minister Theresa May said on Wednesday as she flew to the country for talks with Chinese leaders, pledging to challenge Beijing to stick to international trade rules. Country in transition? The deal comes as China's manufacturing sector grew at a slower pace than forecast in January, according to official PMI figures, while the services industry picked up at the start of 2018.
European Commission officials have rejected the City of London's proposal to strike a post-Brexit free trade deal on financial services because of signals it will leave the single market, sources told Reuters. About €6T, or 37%, of Europe's financial assets are managed in the U.K. capital, almost twice the amount of its nearest rival, Paris. London also dominates Europe's €5.2T investment banking industry.
While the eurozone economy may be enjoying its best growth in a decade and seeing unemployment drop sharply, the inflation rate is getting further away from the ECB's target of "just under 2%." The figure fell to 1.3% in January from the previous month's 1.4%, making it even harder for the ECB to follow its peers like the Fed and BOE in reversing some of its crisis-era stimulus measures.
Stocks
Samsung Electronics soared as much as 8.7% in Tokyo overnight after announcing a 50:1 stock split to enhance corporate value and broaden its investor base. It's the latest in a series of moves to bolster shareholder returns, including annual dividends and share buybacks in 2017. Led by a memory chip "super-cycle," Samsung (OTC:SSNLF) also reported annual operating profit of 53.7T won ($50.2B) last year, outstripping its previous record of 36.8T won in 2013.
Earnings roundup: Santander (NYSE:SAN) +1.1% premarket after posting a healthy jump in underlying profits, although the bank's bottom line was hit by U.S. impairment charges. Missing analysts' estimates, Ericsson (NASDAQ:ERIC) fell 7.3% premarket with the network market remaining weak, while Nintendo (OTCPK:NTDOY) climbed 2% in Tokyo, raising its Switch sales expectations to 15M consoles as operating profits rose 261%.
Overhauling its photocopying business amid a tough market environment, Fujifilm (OTCPK:FUJIY) is cutting 10,000 jobs at its joint venture with Xerox (NYSE:XRX) after agreeing to take a majority stake in the U.S. company and combine the latter's operations into its business. Xerox will still be listed on the NYSE, while stakeholders will receive a special cash dividend of $9.80 per share. XRX +6% premarket.
Triple threat? Amazon (NASDAQ:AMZN), JPMorgan (NYSE:JPM), and Berkshire Hathaway (BRK.A, BRK.B) are partnering up to form a healthcare company. Details about this coalition effort are still scant, but the initial focus will be on tech solutions that will give hundreds of thousands of their U.S. workers and their families transparent, understandable and affordable healthcare coverage.
French coastguards are searching for Pierre Agnes, CEO of Boardriders - Quiksilver's parent company - after his boat was discovered washed ashore in the surfing resort town of Hossegor. Agnes, who joined the business almost 30 years ago, recently oversaw a deal which brought Quiksilver and sports apparel seller Billabong (OTCPK:BLLAY) under the Boardriders umbrella.
Crackdown continues... Facebook (NASDAQ:FB) is banning ads that promote cryptocurrencies, in a sweeping policy that covers bitcoin as well as initial coin offerings. It's an "intentionally broad" approach to prevent "financial products and services that are frequently associated with misleading or deceptive promotional practices." The news didn't help bitcoin, which dropped 12% to below $10,000 yesterday as Bitfinex and Tether were sent subpoenas by the CFTC.
The DOJ and SEC are investigating Apple's (NASDAQ:AAPL) slowing of older iPhone models, according to Bloomberg, seeing whether the tech giant violated securities laws by not disclosing the effects of an early 2017 software update. Apple later apologized for not communicating the information, offering discount replacement batteries and promising to make battery information more transparent.
Diversifying? Oil major subsidiary BP Ventures has invested $5M in FreeWire Technologies, a U.S. company that specializes in electric vehicle rapid charging systems and plans to expand in the U.K. and Europe this year. BP joins Royal Dutch Shell (RDS.A, RDS.B), which last year agreed to buy NewMotion, the owner of one of Europe's largest electric vehicle charging networks.
A pre-sale of Venezuela's new "petro" cryptocurrency will begin on Feb. 20, according to President Nicolas Maduro. The 100M issued tokens, each valued at - and backed by - the equivalent of one barrel of Venezuelan crude, would put the value of the entire issuance at just over $6B. Earlier this month, the U.S. warned investors curious about the petro, saying dealing in it may contravene sanctions.
Tuesday's Key Earnings
AMD (NASDAQ:
AMD
) 
-0.4%
 AH warning of costly security fixes.
Corning (NYSE:
GLW
) 
-5.6%
 despite healthy demand for Gorilla Glass.
Electronic Arts (NASDAQ:
EA
) 
+7.3%
 AH on a strong bookings outlook.
Illumina (NASDAQ:
ILMN
) 
+1.2%
 AH after beating estimates.
McDonald's (NYSE:
MCD
) 
-3%
 following Dollar Menu fears.
Pfizer (NYSE:
PFE
) 
-3.1%
 amid a higher-than-expected tax rate.