Wednesday Morning Market Prepper
Reads:
News:
Yesterdays  Unusual Option Action
Premium:
Earnings: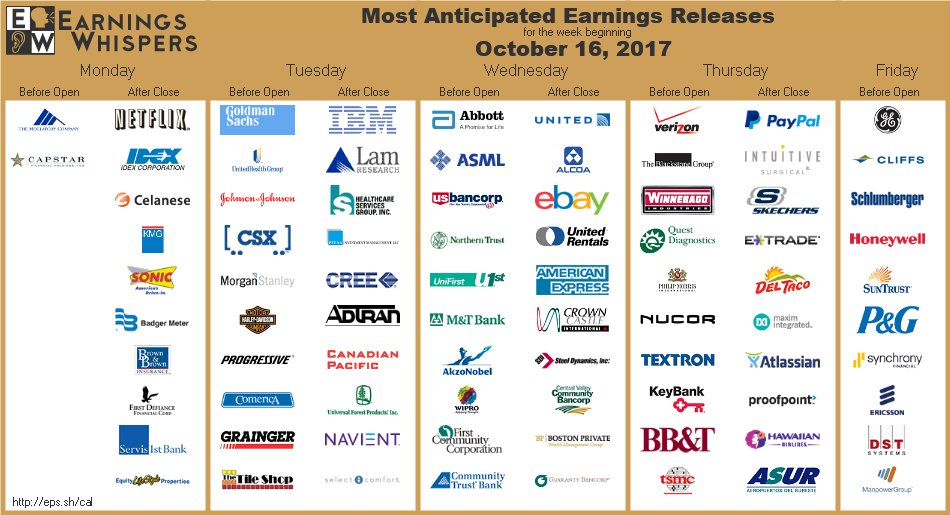 Charts:
Seekingalpha:
Chinese President Xi Jinping opened a critical Communist Party Congress today with a pledge to build a "modern socialist country" that will remain open to the world. The nation will also push ahead with market-oriented reforms of its foreign exchange rate as well as its financial system, and let the market play a decisive role in the allocation of resources. The twice-a-decade meeting will run for a week until Oct. 24.
Economy
Meanwhile, the U.S. Treasury has declined to name China a currency manipulator although it remained critical of the government's economic policies ahead of a planned visit to Beijing by President Trump. The semi-annual currency report said no countries deserved the label, but kept China on a watch list for special attention because of its large trade surplus with the United States.
"It took Ronald Reagan over two years on a bipartisan basis to get tax reform done... If we get it done this year, it will be extraordinary," Treasury Secretary Steven Mnuchin said during an interview on Fox News' Special Report with Bret Baier. "Our objective is to get it on the President's desk by December to get him to sign it this year," he added, but cautioned that there's "no artificial deadline."
President Trump has reiterated U.S. support for "responsible debt relief" for Greece after meeting with Prime Minister Alexis Tsipras at the White House. The country is still in a bailout program - its third in the last eight years - which is expected to end in August 2018. Trump also notified Congress of a potential deal to upgrade Greece's Air Force F-16 aircraft (NYSE:LMT) worth some $2.4B.
The Canadian dollar and Mexican peso reversed losses and jumped against the dollar after trade officials said they were extending the negotiations towards a new NAFTA trade deal into next year. "People seemed to have been thinking NAFTA was going to get ripped to shreds, and this is going to be the end of it," said Mark McCormick, North American head of forex strategy at TD Securities.
Besides the Dow hitting the 23,000 milestone on Tuesday, the healthcare sector was fired up after two U.S. senators reached a bipartisan agreement to shore up Obamacare for two years by reviving federal subsidies for health insurers. President Trump, during comments at the White House, suggested he could get behind the Alexander-Murray plan as a short-term solution.
U.S.-backed forces have captured Islamic State's de facto capital of Raqqa, driving the group from a Syrian city that became synonymous with their reign of terror and was used as a center to stage attacks on the West. "Addressing the economic, political grievances of the Sunnis so that another ISIS doesn't come about will be as important as the military fight," said Bilal Saab, a senior fellow at the Middle East Institute.
Stocks
Saudi Arabia still plans to publicly list a portion of its state oil company in 2018 following reports that the effort may be abandoned. "We are on track," Saudi Oil Minister Khalid al-Falih said at the Oil and Money energy conference in London. Prince Mohammad bin Salman announced the IPO of up to 5% of Aramco (Private:ARMCO) in January 2016 and estimated the company's value at between $2T-$3T.
Iraqi Oil Minister Jabar al-Luaibi has asked BP "to quickly make plans to develop the Kirkuk oil fields" after government forces seized control of the region on Monday, testing the Kurdish drive for independence. Peshmerga fighters had occupied the area in 2014, in the course of the war on Islamic State. Kirkuk is estimated to have around 9B barrels of recoverable oil remaining.
Exxon Mobil is firing up a huge new Texas plant just two months after Hurricane Harvey hit the Gulf Coast. The new petrochemical facility in Mont Belvieu making polyethylene - the most common plastic used in manufacturing - will have a total output of 2.5M tons per year. That will make the Exxon (NYSE:XOM) factory one of the biggest polyethylene plants in the world.
The SEC has charged Rio Tinto (NYSE:RIO) and two of its former top executives with fraud, stating they inflated the value of coal assets in Mozambique and concealed critical information while tapping the market for billions of dollars. It comes after the U.K.'s Financial Conduct Authority reached a settlement with Rio under which the company would pay a fine of £27M to settle similar claims.
Bombardier's CSeries jets could still be hit with high U.S. import duties, even if they are assembled in Alabama through an industry-changing deal with Airbus (OTCPK:EADSY). "Any duties finally levied against the CSeries (OTCQX:BDRAF, OTCQX:BDRBF)... will have to be paid on any imported CSeries airplane or part, or it will not be permitted into the country," said Michael Luttig, Boeing's (NYSE:BA) general counsel.
Officially in business! Starting today, 10 Kohl's (NYSE:KSS) stores in Los Angeles and Chicago will sell Amazon's (NASDAQ:AMZN) smart home products and accept the online retailer's returns. The arrangement should help draw more shoppers to Kohl's stores, and make it easier for Amazon's customers to bring back unwanted items.
A year-old pact underpinning billions of dollars of transatlantic data transfers will get the green light from the EU today after the first review to ensure Washington protects Europeans' data stored on U.S. servers. The conclusion will come as a relief to the over 2,400 companies signed up to the EU-U.S. Privacy Shield including Google (GOOG, GOOGL), Facebook (NASDAQ:FB) and Microsoft (NASDAQ:MSFT).
A U.K. parliamentary report has criticized Amazon (AMZN) and eBay (NASDAQ:EBAY) for not doing enough to prevent tax fraud on their online market places and proposed the government hold the giants accountable for tax lost to evaders. In April, the National Audit Office said Britain was losing up to £1B a year in VAT from China-based sellers on eBay and Amazon.
"We have a big focus on AI," Microsoft's (MSFT) Peggy Johnson announced at yesterday's WSJ D.Live conference, stating that the company's investments will remain focused on the space. The firm has made about 18 AI technology acquisitions over the past few years and has about 8,000 staff focused on that area following a reorganization in 2016.
A proposed regulatory experiment to test the effects of lowering stock exchange fees could end up making stocks harder to trade, the NYSE (NYSE:ICE), Bats (NASDAQ:CBOE) and Nasdaq (NASDAQ:NDAQ) wrote in a letter to the SEC. The exchange operators collectively pay around $2.5B a year in rebates, which they say compensate market makers for the risks of providing liquidity, but without the cash flow, investors, listed companies, and exchanges would "all suffer."
Floodgates in Hollywood... Amazon Studios (AMZN) head Roy Price has resigned following details of a sexual harassment accusation that became public late last week. The studio's COO, Albert Cheng, will oversee the operation while the company searches for his replacement. Meanwhile, Harvey Weinstein has resigned from the board of The Weinstein Company as it ratified its decision to fire him as CEO.
Tuesday's Key Earnings
CSX Corp. (NYSE:
CSX
) 
+2.6%
 lifted by rail shipments.
Goldman Sachs (NYSE:
GS
) 
-2.5%
 after a bond trading hit.
IBM (NYSE:
IBM
) 
+4.4%
 AH with impressive guidance.
Johnson & Johnson (NYSE:
JNJ
) 
+3.5%
 boosted by new cancer drugs.
Morgan Stanley (NYSE:
MS
) 
+0.3%
 following an earnings topper.
UnitedHealth (NYSE:
UNH
) 
+5.6%
 beating earnings estimates.