Wednesday Morning Market Prepper
Reads:
News:
Yesterdays  Unusual Option Action
Premium:
Earnings: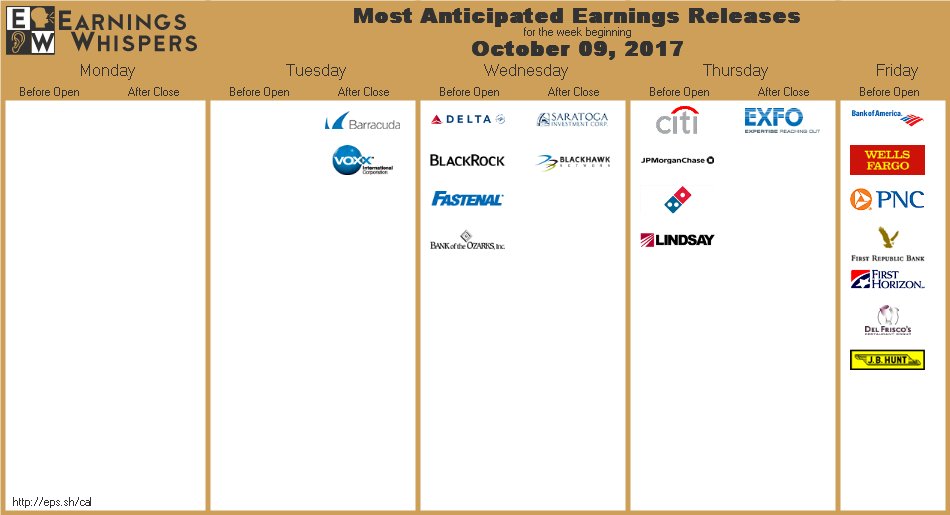 Charts:
Seekingalpha:
"We say this not as hyperbole, but based on a quantitative perspective," said the team at Morgan Stanley. "Dispersions in valuations and growth rates are among the lowest in the last 40 years; stocks are at their most idiosyncratic since 2001; and equity hedge fund beta is at its highest since March 2008." Record highs seem to come on a daily basis, just two of 11 S&P sectors are in the red for the year, and even the most modest of pullbacks have been nonexistent. Similar action is being seen across Europe and in emerging markets. Morgan Stanley said it is seeing evidence of boosted investor risk appetite of late - noting cyclical sectors are doing better than defensive ones, and small-caps outperforming big-caps.
Economy
Catalan President Carles Puigdemont defused at least a little bit of tension with Madrid, declaring independence but then stopping the separation process to instead propose talks with the Spanish government. Puigdemont and his team remain in danger of arrest for sedition, and Spanish President Mariano Rajoy had previously rejected any talks until secession plans are abandoned. A Rajoy spokesman said following Puigdemont's speech: "He has made a deferred declaration of independence ... [Puigdemont] has taken his irresponsibility to the absolute extreme by ignoring the laws, citizens." Spanish stocks are rallying, up 1.25% vs. flat action in the rest of Europe.
China is closing in on its first dollar-denominated debt sale in 13 years, a move that could serve to help set reference borrowing rates. With a $2B sale of five-year and 10-year bonds, if China can draw low rates (and the bonds are expected to go a half-point above comparable Treasurys), it could indicate confidence despite S&P's sovereign downgrade.
A longtime $56B deal to swap currencies between China and South Korea was allowed to expire, with tensions higher over Seoul's determination to host a U.S. missile defense system. But Communist Party Congress preparations may play a role, and South Korea says the sides are still talking.
The Nikkei gained a modest 0.3% overnight to close at 20,881, its highest level since late 1996. Before getting too excited, some will remember the Nikkei as breaking above the 20K level a number of times over those 20-plus years, only to pull back. It's never come anywhere close to its record of nearly 39K hit on the last trading session of 1989. Bulls, however, will note corporate profits as up 23% Y/Y in Q2 and corporations actually making shareholder-friendly moves like bringing in independent directors and buying back stock. Federated Investors portfolio manager Dariusz Czoch: "It was difficult for us to invest in Japan because of lack of transparency and corporate governance issues, and also the country itself for the last two decades was quite difficult ... We are changing our mindset."
Stocks
Working to preserve profit at its longstanding brands, Time Inc. (NYSE:TIME) is cutting back on its print - both in circulation and in frequency of key magazine titles - as it intends to cut circulation of the weekly Time magazine by a third to 2M copies. In part this will be done by cutting back on promotional copies and focusing more on an ad-friendly core audience. It will cut circulation for People en Espanol as well. Meanwhile, seven other titles will come out less often, including Sports Illustrated, Entertainment Weekly and Fortune. In 2018, SI will publish 27 issues rather than this year's 38, but there will be 23% more editorial pages in each, on a weightier paper stock. The moves are effective January 1. A revenue hit is expected, as the company will likely lower ad rates to make up for reduced circulation, but the bet is that expense savings will be bigger.
Driver's license data for roughly 10.9M Americans were compromised during the cyberattack on Equifax (NYSE:EFX), according to the WSJ. This, of course, is in addition to the personal information of more than 140M Americans, not all of whom would have had DL information with Equifax. In a separate announcement, the company said a file with 15.2M U.K. consumer records was also part of the breach (roughly double the previous number of those in the U.K. thought to be affected). Shares gained another 1.15% yesterday, and are now ahead about 25% since touching a low in mid-September. They remain down by 20% since the news of the attack was first disclosed in early September.
Looking to reduce the theft of unattended packages sitting on porches or stoops, Amazon (NASDAQ:AMZN) is exploring creative ways to get packages to consumers by delivering to car trunks or the inside of houses, reported CNBC. Amazon is talking to smart license plate company Phrame, which makes a small key storage box that fits around a car's license plate. The box is accessible through an app, and the car owner can also give key permission to others like delivery drivers. Amazon is also reportedly developing a smart doorbell device that could grant drivers a one-time pass to the home for delivery. Wal-Mart (NYSE:WMT) announced an in-home delivery service last month and partnered with smart doorbell maker August on the project. Dogs across the country wag their tails in approval.
A forecast for 3% or more sales growth and a new $20B buyback plan helped send Wal-Mart (WMT) shares surging by 4.5% yesterday. Holding its annual investment company meeting, management also said it expected 40% growth at its U.S. eCommerce unit. Perhaps most interesting were company plans to add 1K online grocery locations in the U.S., but fewer than 15 Supercenters in 2019.
Influential proxy advisers ISS and Glass Lewis are determined to challenge the results at Toshiba (OTCPK:TOSYY), which they note can't get an unqualified auditor endorsement. The firms are also against putting President Satoshi Tsunakawa on the board. Shares were significantly lower in Tokyo until the TSE took the stock off its delisting watchlist, propelling shares into the green.
With an eye to building even more film properties out of its popular toy franchises, Hasbro (NASDAQ:HAS) has hired an ex-Paramount executive to head up a film division it hopes can grow into a studio to rival Disney's (NYSE:DIS) Marvel. Greg Mooradian, taking over Hasbro's Allspark Pictures in January, has relevant experience working on the Teenage Mutant Ninja Turtles, G.I. Joe and Transformers films.
The biggest-ever San Francisco office lease now belongs to privately held Dropbox (Private:DROPB), which is taking all 736,000 square feet in a new complex in Mission Bay. The project is the last prime headquarters site in that area, and it will become home to about 1,500 Dropbox employees (and perhaps 102 more to come from current job listings).