Tuesday's Market Prepper
Reads:
News:
Premium:
Charts:
Tweets: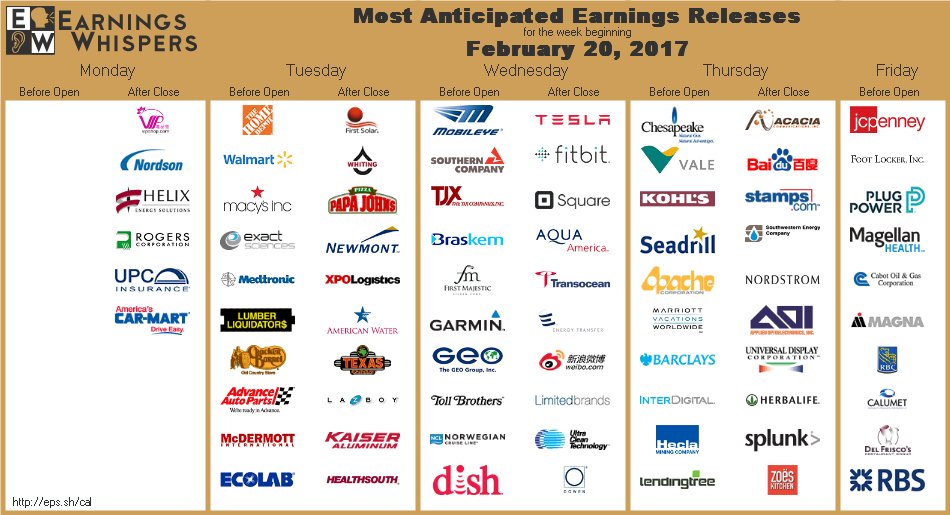 US oil rigs surge to highest level since October 2015 as OPEC cuts stabilize prices above $50 pic.twitter.com/qyaBIptyi9

— Mark Constantine (@vexmark) February 21, 2017
Seeking Alpha:
Unilever shares are down around 8% premarket after Kraft Heinz (NASDAQ:KHC) - whose shares are 4% lower - abruptly ditched its surprise $143B merger proposal. A spokesperson for the U.S. food giant said it had hoped to negotiate on a "friendly basis," but decided to drop the bid when Unilever (UN, UL) made it clear it "did not wish to pursue a transaction," declaring it saw "no merit, either financial or strategic" in the offer.
Economy
Growth in eurozone business activity surged in February to its highest level in almost six years, according to the latest survey by IHS Markit. The overall flash composite index of services and manufacturing spiked to 56.0, up from 54.4 in January. "The ECB will be cheered by the signs of stronger growth... though will no doubt remain concerned that elections and Brexit could disrupt the business environment this year," said Chris Williamson, chief economist at IHS Markit.
Greece and its international lenders have agreed to let a team of experts work out new reforms to pensions, income tax and the labor market that would eventually allow the country to qualify for more cheap loans. The nation needs a new tranche of financial aid under its €86B bailout by the third quarter of this year, but the last mission to Athens broke down in acrimony in late 2016.
Mike Pence met with EU council president Donald Tusk in Brussels yesterday, where he expressed the American desire for "the continued cooperation and partnership with the European Union." It's yet another round of diplomacy for the U.S. Vice President. He also met with Jean-Claude Juncker, head of the European Commission, who said the U.S. needs a strong EU and now is not the time for the bloc to divide itself.
Lieutenant General H. R. McMaster has been named as President Trump's new national security adviser, while retired Army Lt. Gen. Keith Kellogg, who had been his acting adviser, will now serve as the National Security Council chief of staff. Trump also plans to issue a revised version of his temporary travel ban as early as today, with a likely focus on fewer people so it could survive immediate legal challenges.
Japan has logged its first trade deficit in five months due to a decline in shipments to the U.S. and Lunar New Year holidays. Exports in January rose 1.3% from the same period a year ago, while imports climbed 8.5%, resulting in red ink of ¥1.08T ($9.6B). Concerns about growing trade protectionism also cast doubts over the nation's economic and international outlook.
China has halted all coal imports from North Korea for the rest of 2017, effectively slicing the country's exports by about half, as it steps up efforts to implement U.N. sanctions against the country. The surprise announcement is causing a fracas in China's coal market. According to BMI Research, China imported 22.5M tons of the commodity from North Korea in 2016, representing 12.3% of its total imports.
Facing falling output from North Sea producers, oil pricing agency S&P Global Platts is updating the method by which Brent Crude is priced. It will add the Troll field, operated by Norway's Statoil (NYSE:STO), to the basket of existing crudes - Brent, Forties, Oseberg and Ekofisk - from January 2018. Around two-thirds of global oil trades are priced in the Brent benchmark.
Stocks
HSBC -5.5% premarket after it posted a pre-tax profit for 2016 of $7.1B - down more than 60% on the previous year. The slide was largely blamed on one-off costs and multibillion-dollar writedowns, while the lender confirmed reports that 1,000 roles may be moved from London to Paris in the wake of Brexit. To alleviate the blow to shareholders, HSBC said it would buy back another $1B of shares.
Royal Bank of Scotland is abandoning the sale of its Williams & Glyn division, taking a £750M provision on its 2016 results in an attempt to turn around the retail bank unit. A sale of roughly 300 branches was agreed to as part of a government bailout in 2008. The new plan? RBS will deliver a fund, administered by an independent body, that challenger banks can access to increase their business banking capabilities. RBS +6.4% premarket.
A deal to acquire Popeyes Louisiana Kitchen (NASDAQ:PLKI) could be announced as early as this week, according to Reuters, as Restaurant Brands (NYSE:QSR) looks to take over the fried-chicken chain. It would represent a small consolation prize for Restaurant Brands shareholder 3G Capital, which just lost a $143B bid to merge Kraft Heinz (KHC), its biggest holding, with consumer products group Unilever (UN, UL).
Toshiba wants to raise at least ¥1T ($8.8B) from the sale of a majority stake in its flash memory chip business as a buffer against any fresh financial problems, sources told Reuters. Toshiba (OTCPK:TOSYY) is looking to restart the sale process as soon as possible and may sell to multiple buyers rather than one bidder.
Facebook has found another way to mimic the most popular features of Snapchat (Pending:SNAP), but instead of inserting features into Instagram, it's adding them to another big-name app it owns: WhatsApp (NASDAQ:FB). The new Status feature will let users share photos or videos overlaid with drawings, emojis and a caption that will be visible for 24 hours, before disappearing.
Meanwhile, Snap is making Spectacles available to buy online in the U.S. The $130 glasses, which allow wearers to take circular videos and post them to their Snapchat (SNAP) accounts, are now available on Spectacles.com. Before, the glasses were sold through vending machines which popped up in major metro areas around the country, as well as a store in Manhattan.
Buoyed by a resurgence in commodity prices, BHP Billiton (NYSE:BHP) swung back into the black during the fiscal first half of 2017, posting a net profit of $3.2B, compared with a loss of $5.7B in the same period a year earlier. The company said it would also raise its interim dividend to $0.40, up from $0.16, on the back of the uptick in earnings. BHP +1% premarket.
Saudi Arabia is leaning toward listing its giant, state-run oil company in New York, sources told WSJ, but is considering London and Toronto as well. The desire for a Western stock exchange has emerged after a series of meetings with Asian bourses - Singapore, Hong Kong, Tokyo and Shanghai - as it prepares to float as much as 5% of Saudi Aramco (Private:ARMCO).
PSA Group said it will adhere to labor agreements at GM's Opel and expressed its willingness to cooperate with labor chiefs to safeguard jobs, following concerns their tie-up would result in job losses in Germany and Britain. Theresa May is also set to meet with PSA (OTCPK:PEUGF) to push for guarantees that it will safeguard existing plants, echoing demands already made by Angela Merkel.
SpaceX successfully launched a cargo capsule into orbit on Sunday, sending 5,500 pounds of food and experiments to the ISS, and landed the leftover booster back at Cape Canaveral, a feat accomplished only twice before. SpaceX (Private:SPACE) has previously sketched out an aggressive timetable to launch as frequently as twice per month later this year, while internal documents project ramping up to weekly launches by 2019.
Company practices are in the spotlight at UBER after former engineer Susan Fowler made allegations of sexual harassment and gender bias against the firm. She published a blog post of her time at the company detailing numerous incidents of management and human resources acting inappropriately. Uber has hired former U.S. Attorney General Eric Holder to lead an investigation into the claims.
A resort hosting casinos in Japan could cost up to $10B to build, Las Vegas Sands (NYSE:LVS) CEO Sheldon Adelson said in Tokyo, as the casino operator looks to win operating rights in what is widely expected to become the world's second-biggest casino market. Japan legalized casinos late last year and is now drafting rules on how to regulate the industry and pick locations of "integrated resorts" - large-scale complexes combining casinos, hotels and shopping.
Shares in SoftBank rose 3.2% in Tokyo on Monday after Reuters reported that the Japanese company was prepared to cede control of Sprint (NYSE:S) to T-Mobile (NASDAQ:TMUS) to clinch a merger of the two U.S. wireless carriers. SoftBank (OTCPK:SFTBY) is expected to approach T-Mobile parent Deutsche Telekom (OTCQX:DTEGY) for negotiations when an ongoing auction of airwaves ends in April and a ban on talks between rivals is lifted.
Alibaba has formed a strategic partnership with Bailian Group, one of China's largest retail conglomerates, extending a push into bricks-and-mortar retail as online growth slows. The two companies will leverage their troves of consumer data in order to integrate offline stores, merchandise, logistics and payment tools and will also "explore new forms of retail opportunities across each other's ecosystem." BABA +0.8% premarket.
Amazon is set to create more than 5,000 jobs in Britain this year, boosting its investment in the country even as it prepares to leave the EU. The move, which will see the hiring of software developers and warehouse staff, will take its permanent workforce in the country to 24,000. Along with other tech giants, Amazon (NASDAQ:AMZN) has recently increased its commitment to the U.K., stating last June's Brexit referendum did not affect its investment plans.
Telefonica has agreed to sell up to a 40% stake in telecom masts subsidiary Telxius to KKR for €1.3B. The deal includes a call option for 62M Telxius shares for €790.5M. It's seen as a small step in bringing down Telefonica's (NYSE:TEF) €50B debt pile, but will also show investors that last year's dividend cut, aimed at waiting for a more profitable asset sale, is paying off.
After kicking off its first investor roadshow in London yesterday, Snap Inc. (SNAP) will be touting its IPO around the U.S. over the next week, before pricing the listing on March 1. Attendees heard about the company's products, revenue sources and expansion plans, but concerns still surround its three class share structure - the first of its kind - that will mean stockholders will not have any voting rights.