Tuesday Morning Reads, Charts, Options, News
Reads:
News:
Futures:
 Open Interest Changes: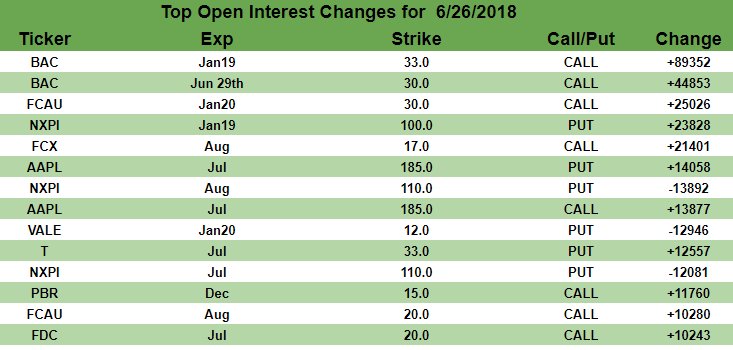 Top Tweet
2018 Returns...
JP Morgan: -1%
Bank of America: -2.8%
Morgan Stanley: -7.8%
Citigroup: -10.9%
Goldman Sachs: -12.5%
All closed at year-to-date low today. pic.twitter.com/Cqta8nI4KQ

— Charlie Bilello (@charliebilello) June 25, 2018
Charts:
Unusual Option Action 
Earnings This Week: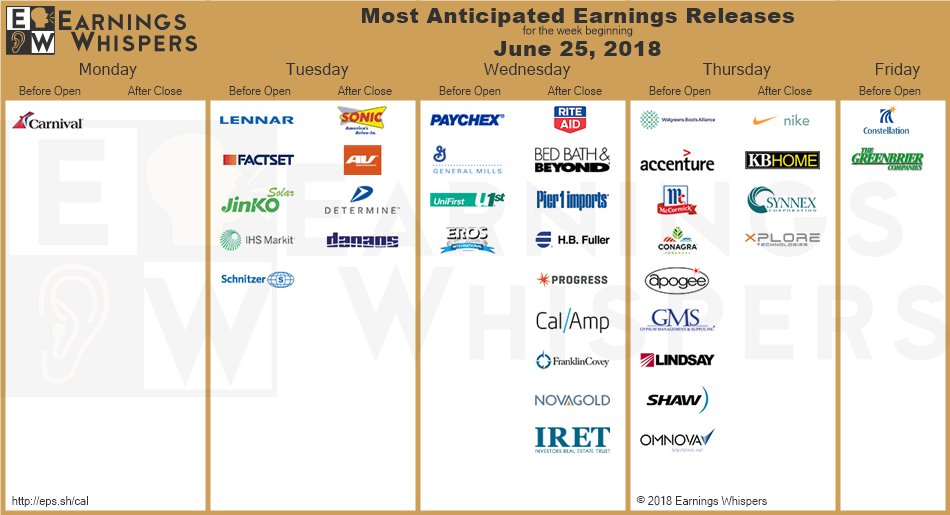 Seekingalpha:
Breaking up is hard to do, but it's now a reality for General Electric (NYSE:GE). The once industrial conglomerate is spinning off its healthcare business and unloading ownership in its oil services company Baker Hughes (NYSE:BHGE). CEO John Flannery's final turnaround plan will further turn GE into a standalone company focused on its power, aviation and renewable-energy divisions. GE +4% premarket.
Economy
Chinese stocks growled their way into a bear market overnight, taking the Shanghai Composite's loss since a January high to 20% and wiping out $1.8T in market value. Investors have largely ignored government measures to support market sentiment, including a weekend bank reserve-ratio cut, as trade tensions add concerns about Beijing's deleveraging campaign and weaker-than-expected economic data.
Meanwhile, China is removing import tariffs on animal feed ingredients including soybeans, soybean cake and fishmeal from five of its Asian neighbors, including Bangladesh, India, Laos, South Korea and Sri Lanka. It's a sign that Beijing wants to boost foreign supplies as a trade dispute with the U.S. escalates. Soybeans are China's biggest American agricultural import by price value.
Investors are debating the magnitude of sweeping new restrictions on foreign investment in U.S. technology companies following conflicting signals from the Trump administration. The forthcoming limits would apply "to all countries that are trying to steal our technology," Treasury Secretary Steven Mnuchin declared, while top trade adviser Peter Navarro downplayed the remarks, stating they would just target China.
The world's largest economy would not be immune from the catastrophic consequences of a full-blown trade war, Britain's finance chief Philip Hammond warned amid the harsh trade rhetoric enveloping the globe. "The old certainty for many decades has been that the U.S. was completely wedded to open markets and free trade," he declared, adding that a "full scale trade war would be a disaster for everyone."
Despite thorny U.S.-Russia relations, the Trump administration may press Russia and other producers to expand on their just-announced deal to increase crude output, as the U.S. attempts to cut off Iran from the world oil market. U.S. Energy Secretary Rick Perry is expected to meet with his Russian counterpart, Energy Minister Alexander Novak, in Washington today, where they'll speak at the World Gas Conference.
Stocks
U.S. Federal District Judge William Alsup has granted a motion by BP, Royal Dutch Shell (RDS.A, RDS.B), Exxon Mobil (NYSE:XOM), ConocoPhillips (NYSE:COP) and Chevron (NYSE:CVX) to dismiss lawsuits claiming Big Oil should pay to protect cities' residents from the impacts of climate change. "The dangers raised in the complaints are very real... But those dangers are worldwide. The problem deserves a 'political branch' solution on a more vast scale than can be supplied by a district judge or jury in a public nuisance case."
Another mega media merger has just been sealed as Gray Television (NYSE:GTN) and Raycom Media announced a $3.6B deal that would create the third-largest television broadcast group in the U.S. The combined operation would have more than 140 TV stations serving 92 regions, ranging from large markets like Cleveland, Ohio, to smaller areas in Iowa and Maine.
Netflix tumbled 6.5% on Monday, the first day of trading since the ouster of communications chief Jonathan Friedland over a second instance of his use of a racial slur. A memo from CEO Reed Hastings suggested larger problems in the company's culture. It was Netflix's (NASDAQ:NFLX) largest single-day drop since 2016, when the company said it would not renew an agreement with the cable network Epix.
Emotional AI... The All England Lawn Tennis Club is partnering again with IBM's Watson AI platform for the Wimbledon tennis tournament, but this year the learning system will be taught to recognize emotion. It will combine an analysis of crowd noise, players' movements and match data to automate video highlights, as well as providing a chatbot service within Facebook Messenger and other applications.
A big win for American Express! According to a U.S. Supreme Court ruling, the credit card company didn't violate federal antitrust laws with restraints it places on merchants. Amex (NYSE:AXP) has historically charged higher swipe or interchange fees to merchants than competitors because it delivers wealthier cardholders who spend more money.
Wells Fargo is settling more charges of alleged misconduct in its sales practices, this time with the SEC over market-linked investments - or MLIs - to retail investors. Wells (NYSE:WFC) is said to have generated large fees by improperly encouraging customers to actively trade the products, which were intended to be held to maturity. It will pay $930K of ill-gotten gains plus $178K of interest and a $4M penalty.
Days after Airbus (OTCPK:EADSY) said it would be forced to leave the U.K. if Brexit leads to its operations becoming uncompetitive, BMW (OTCPK:BAMXF) has issued a similar warning. "We always said we can do our best and prepare everything, but if at the end of the day the supply chain will have a stop at the border, then we cannot produce our products in the U.K.," customs manager Stephan Freismuth declared.
"Surprised that Harley-Davidson, of all companies, would be the first to wave the White Flag," President Trump wrote on Twitter, after the company said it would move some motorcycle production out of the U.S. to avoid EU tariffs. "I fought hard for them and ultimately they will not pay tariffs selling into the EU, which has hurt us badly on trade, down $151B. Taxes just a Harley (NYSE:HOG) excuse - be patient!"
Back from the dead? Former CEO of bankrupt Toys "R" Us, Jerry Storch, is considering reviving the company amid an auction this summer for the toy retailer's intellectual property. According to Bloomberg, he has been working with Credit Suisse and Fairfax Financial to stitch a plan together. Others are also planning to capitalize on the bankruptcy, with Party City (NYSE:PRTY) opening Toy City stores ahead of this holiday season.