Tuesday Morning Options, Stocks, Charts, News, and Reads
Reads:
News:
Charts:
Premium:
Futures:
Options:
UOA:
Earnings: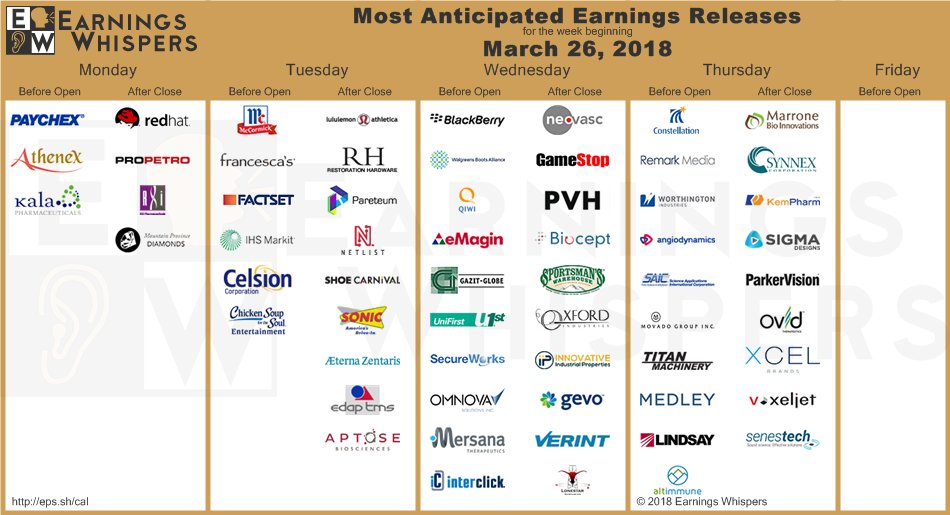 SeekingAlpha:
It's a powerful comeback from one of the worst weeks for stocks in years. Equities across the globe are building on Monday's rally, when the Dow recorded its biggest one-day point gain since 2008 and the S&P 500 jumped 2.7%. Reports of trade talks between the U.S. and China have reduced fears of a possible trade war, while some traders are pointing to additional forces, including equity valuations, chart patterns and fund positioning.
Economy
Saudi Arabia's crown prince will rub shoulders today with top figures from Corporate America and Wall Street, by taking part in the 2018 Saudi US-CEO Forum in New York. The official theme - "An era of transformation: From vision to implementation." Mohammed bin Salman is also drumming up capital and reviewing investment opportunities with an old partner, Softbank (OTCPK:SFTBY) CEO Masayoshi Son.
Puerto Rico bonds rallied heavily on Monday after the island released a revised financial turnaround plan thanks to an influx of insurance money and federal aid following Hurricane Maria. While the economy is projected to shrink by about 10.6% in the current fiscal year, the government now anticipates it will expand 7.3% in 2019 and continue to grow for the following four years.
Annual bonuses for the average Wall Street worker are back to heights not seen since before the financial crisis, though the industry has shrunk in size since then and recent changes have been made to U.S. tax laws. For last year, the average bonus jumped 17%, to an estimated $184,220, the most since 2006, according to data released by the New York state comptroller.
The Russian government has threatened retaliation for the decisions by the U.S. and 14 of its European allies to expel scores of Moscow's diplomats in the wake of the nerve agent attack on a former spy in the U.K. It's also taking retaliatory suggestions on Twitter. Users were polled on "What US Consulate General would you close" by the official handle for Russia's embassy in the U.S.
South Korea is "watching things in Beijing very closely, while keeping all possibilities open," following reports of a surprise visit by Kim Jong-un. The leader is said to be in the Chinese capital for what is believed to be his first foray outside North Korea since taking power in 2011. Kim is also slated to hold summits with South Korea in late April and the U.S. in May.
Stocks
The whistleblower behind the Facebook (NASDAQ:FB) and Cambridge Analytica data scandal, Christopher Wylie, is now appearing before U.K. lawmakers. What caused him to speak out? "I wouldn't say it was just because of Donald Trump... I don't think that military-style information operations is conducive for any democratic process." Facebook has also offered to send its CTO or CPO to appear in front of the committee, but not CEO Mark Zuckerberg.
Apple is taking a "field trip" to the Windy City, where the tech giant is expected to unveil a budget iPad (NASDAQ:AAPL) for students, the Apple Pencil and iOS 11.3. Also in the rumor mill: A "ClassKit" platform for developers to create puzzles, tests and lesson plans for students. The education-related event kicks off at 11 a.m. ET, with executives including CEO Tim Cook taking the stage at the Lane Tech College Prep School.
GlaxoSmithKline is still looking for consumer health. After pulling out of the contest for Pfizer's (NYSE:PFE) unit last week, Glaxo (NYSE:GSK) said it will buy Novartis's (NYSE:NVS) 36.5% stake in their consumer healthcare joint venture for $13B. The transaction is expected to strengthen the cash flow and add to GSK's adjusted earnings from 2018, and "strengthen the ability to grow" Novartis's core businesses.
A consortium led by Carlyle Group (NASDAQ:CG) and Singapore's GIC has agreed to buy the specialty chemicals business of Akzo Nobel (OTCQX:AKZOY) for €10.1B, including debt. The sale is a key part of the company's plan to boost its share price to appease Elliott Management and other shareholders after successfully fending off a $27.6B takeover bid last year from PPG Industries (NYSE:PPG).
More M&A? Brookfield Property Partners (NYSE:BPY) has reached an agreement with GGP to buy the remaining shares of the mall owner it doesn't already own. The $9.25B deal, which would create one of the world's largest retail real-estate companies, is a sweetened version of the offer that Brookfield made for the roughly 66% stake in November. BPY -1%; GGP +3.3%premarket.
Crypto crackdown... Bitcoin fell about 7% on Monday to below $8,000 after Twitter (NYSE:TWTR) announced it would ban advertising for cryptocurrencies. It follows similar bans by Google (GOOG, GOOGL) and Facebook (FB) amid regulatory concerns and worries over ICOs. Bitcoin is down more than 42%YTD after starting this year above $13,000.
Deutsche Bank is looking to replace CEO John Cryan amid heightened tensions between him and chairman Paul Achleitner, the Times reports. Deutsche (NYSE:DB) approached Richard Gnodde, a senior executive of Goldman Sachs (NYSE:GS), to take on Cryan's role less than two years into his tenure, but he's thought to have spurned the overture. Other candidates? UniCredit (OTCPK:UNCFF) CEO Jean Pierre Mustier and Standard Chartered (OTCPK:SCBFF) CEO Bill Winters.
It's a giant vending machine standing five-stories tall and containing 42 cars. Alibaba (NYSE:BABA) and Ford (NYSE:F) have unveiled an unstaffed Super Test-Drive Center in China's southern city Guangzhou, allowing buyers to have a three-day test drive for free as long as they have a great credit score. While the program will only run until April 23, similar machines are being planned for Beijing and Hangzhou.
GM Korea will file for bankruptcy if its union does not agree to cut labor costs by April 20, heaping pressure on the administration of President Moon Jae-In, who came to power last year promising to prioritize job creation. Swift rescue plan? GM Korea must also secure $600M in operating funds by the end of April for vendors and employees who applied for voluntary resignations.
Arizona Governor Doug Ducey has suspended UBER's ability to test self-driving cars on public roads in the state following a fatal crash last week that killed a 49-year-old pedestrian. It's a significant setback to the ride hailing company, which sees its future success reliant on autonomous vehicles, and trails competitors in developing driverless technology.
Listen on the go! A daily podcast of Wall Street Breakfast will be available by 8:30 a.m. on iTunes, Stitcher and SoundCloud (click the highlighted links).