Tuesday Morning Market Prepper
Reads:
News
EARNINGS THIS WEEK: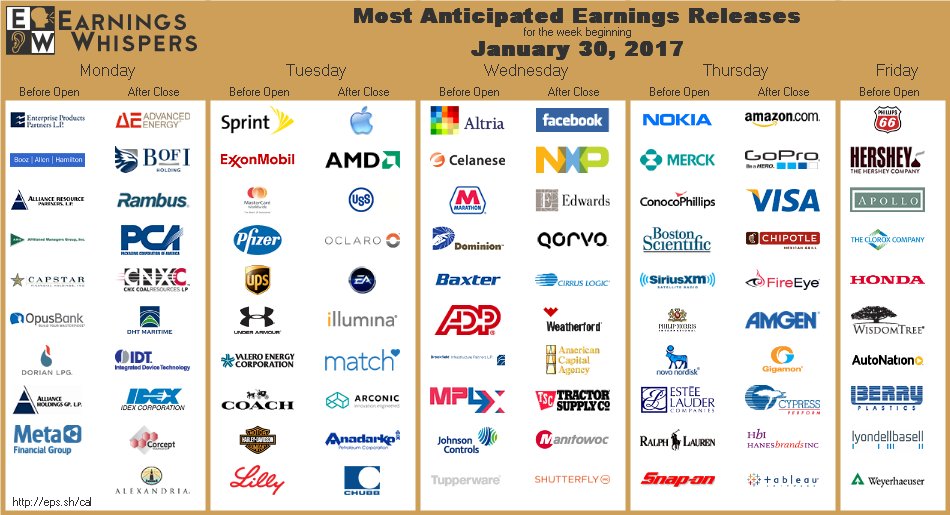 Premium:
Charts:
Tweets:
74 days in a row without a 1% #SPX close lower. Could end today. Here's where it ranks. https://t.co/1pMFTcuKkI pic.twitter.com/YmdZTKdfX6

— Ryan Detrick, CMT (@RyanDetrick) January 30, 2017
Gold, 5m
getting a bid over the past hr pic.twitter.com/OkP7onXwCw

— Tom Wrigley (@WrigleyTom) January 31, 2017
$FB reports weds after-hours, option market pricing in a 5.1% move-has closed the next day ⬆⬇ 5.59% on average over the past 12 quarters pic.twitter.com/m75nn198Rr

— Option Millionaires (@OMillionaires) January 28, 2017
Seeking Alpha:
Economic growth for the eurozone rose 1.7% last year, growing at a faster rate than the U.S. managed when averaged across the whole of 2016. That's the first time that happened since 2008. The region's jobless rate also fell to 9.6%, the lowest figure since May 2009, while inflation of 1.8% is now near the ECB's target of "close to, but below 2%." Stock appetite is back on in Europe, as less stimulus could mean investment in riskier assets.
Economy
"When will the Democrats give us our Attorney General and rest of Cabinet! No wonder D.C. doesn't work!" President Trump tweeted a few minutes ago. He fired top federal government lawyer Sally Yates yesterday after she ordered DOJ lawyers not to defend new travel and immigration restrictions. Dana Boente, U.S. Attorney General for the Eastern District of Virginia, has been named acting AG until Jeff Sessions is confirmed by the Senate.
President Trump will announce his choice for a Supreme Court Justice tonight at 8 p.m. ET. Reports indicate that he's considering two federal appeals court judges from opposite sides of the country: Neil Gorsuch of Colorado and Thomas Hardiman of Pennsylvania. The nominee will face intense opposition from Senate Democrats and liberal interest groups, which already scheduled a 9 p.m. protest at the Supreme Court to follow the announcement.
British MPs will begin a two-day debate today over the government's bill to trigger Article 50, giving the Prime Minister the go-ahead to launch formal negotiations for Britain to leave the EU. It comes as The Times newspaper reports that Theresa May will trigger Brexit proceedings on March 9th, during a European Council summit in Malta.
Following a two-day board meeting, the Bank of Japan kept its monetary policy on hold, but policymakers were more bullish on the economy, forecasting stronger growth in the coming years. Despite the central bank raising GDP estimates and confirming it was on course to meet its 2% inflation target by 2018, the Nikkei fell by 1.7%, hit by selling around a stronger yen.
Iran has conducted its first ballistic missile test since Donald Trump took over as President, in another apparent violation of a United Nations resolution. As a result, the UN will hold an urgent meeting today at the request of the U.S. President Trump was a sharp critic of the Iran nuclear deal during last year's campaign and has suggested he may seek to renegotiate its terms.
Stocks
The U.K. Financial Conduct Authority has fined Deutsche Bank (NYSE:DB) £163M for failing to maintain an adequate anti-money laundering control framework. The penalty joins a $425M fine paid to U.S. regulators in relation to a $10B Russian laundering scheme. Using a "mirror trading" strategy, its London office would sell a trade that its Moscow branch bought earlier in the day. DB +1.2% premarket.
Depending on talent from around the world, a group of tech firms will meet today to discuss filing an amicus brief in support of a lawsuit challenging President Trump's action restricting immigration and travel (invitees are listed below). The discussions come after Amazon (NASDAQ:AMZN), Expedia (NASDAQ:EXPE) and Microsoft (NASDAQ:MSFT) filed declarations of support for a lawsuit against the order by the Washington state attorney general. ADBE, AIRB, GOOG, GOOGL, MATIC, BOX, CLOUD, FLARE, ESIGN, DROPB, ETSY, GIT, GLUU, NFLX, PINIT, CRM, SPACE, STRIP, TWLO, YELP, ZNGA
Strong sales of the iPhone 7 mean Apple (NASDAQ:AAPL) probably returned to growth in the quarter that ended December following revenue declines in the previous three quarters. The tech giant will reports results after the bell today. Wall Street will also look for clues about the 10th anniversary iPhones, due out this fall, as well as the performance of Apple's fast-growing service businesses.
Nintendo only takes a fraction of revenue from Pokemon Go, but its popularity has boosted its own Pokemon games as evidenced by the company's latest results. Nintendo's (OTCPK:NTDOY) profit for October-December reached ¥64.7B ($569M) from ¥29.1B a year earlier, returning the videogames maker to the black following a loss last quarter, and raising expected profits for its upcoming annual report.
In what could be among the first deals from its new $100B technology fund, SoftBank (OTCPK:SFTBY) is weighing an investment of well over $1B in shared office space company WeWork (Private:VWORK), sources told WSJ. WeWork, valued by investors at nearly $17B last year, is one of many richly valued private companies that has recently held discussions with the Japanese investment giant.
Dropbox recently surpassed $1B in annualized revenue, CEO Drew Houston told CNBC, stating the company is under no immediate pressure to go public. Dropbox (Private:DROPB) last raised private capital in early 2014 at a $10B valuation; however, with market sentiment cooling on emerging tech companies, money managers including T. Rowe Price and Morgan Stanley slashed the per-share value of their holdings.
The parent company behind Snapchat could file for its IPO as soon as this week, according to Recode. Snap (Private:CHAT) gets set to report earnings this week ahead of its likely stock market debut on the New York Stock Exchange, which could take place around March. It's understood that Snap's listing would value the business around $25B or more.
Mylan has received a "preliminary" inquiry from the Federal Trade Commission asking about the company's commercial practices for its EpiPen. A statement from the company indicated the inquiry included questions about Mylan's (NASDAQ:MYL) efforts to block rival Teva Pharmaceutical (NYSE:TEVA) from gaining approval in the U.S. to sell a generic version of the severe-allergy treatment.
Three of the biggest makers of diabetes treatments, Sanofi (NYSE:SNY), Novo Nordisk (NYSE:NVO) and Eli Lilly (NYSE:LLY), were named in a proposed class action lawsuit by a group of patients alleging price-fixing. The suit accuses the companies of exploiting the U.S. drug pricing system that benefits them and pharmacy benefit managers, and claims they simultaneously hiked the price of insulin by over 150% during the past five years.
Royal Dutch Shell has struck deals worth up to $4.7B to sell offshore oil and gas assets in the North Sea and Thailand, adding momentum to the debt-reduction program launched after its $50B takeover of BG Group (OTCQX:BRGYY). The agreement will breathe new life into the ageing North Sea, where production has steadily declined since the late 1990s and where oil majors such as Shell (RDS.A, RDS.B) and BP have struggled to generate profits.
Just three months after MetLife (NYSE:MET) dropped the Peanuts characters it had been using for more than three decades, Iconix Brand (NASDAQ:ICON) is exploring a sale of its majority stake in Peanuts Worldwide, which owns the rights to Snoopy and Charlie Brown. Created by Charles Schulz and licensed in over 100 countries, the characters generate about $30M in annual EBITDA, Reuters reports.
Another sports deal? Twitter (NYSE:TWTR) has signed an agreement with European broadcaster Sky to live-stream Deadline Day – the final day for soccer clubs in the U.K. to hire new players. Live video has become a key battleground for social media firms as they try to boost engagement on their platforms, especially for Twitter, which has struggled with growing its user base in recent times.
Wal-Mart will offer shoppers free two-day shipping on a minimum order of $35 starting today, its latest attempt to compete with Amazon Prime (AMZN). Free shipping will replace "Shipping Pass," Wal-Mart's (NYSE:WMT) existing two-day shipping program that charged shoppers an annual membership fee of $49. Amazon Prime charges customers $99 a year for two-day shipping that comes with additional features like a streaming video service.
The voice interface craze has reached a new height after Starbucks (NASDAQ:SBUX) announced two forms of voice ordering, on iPhones (AAPL) and on the talking speakers featuring Amazon's (AMZN) Alexa assistant. To order or not to order? The company is also facing threats of a boycott from some customers after CEO Howard Schultz promised to hire 10,000 refugees over the next five years, possibly jeopardizing some jobs that would have gone to American citizens.
It's getting more political... LYFT has surged past UBER in iPhone downloads for the first time. It follows a weekend internet campaign urging passengers to "#deleteUber" after protesters accused the latter of trying to break up an anti-Trump taxi strike at New York's JFK airport. Lyft has even climbed the top free apps chart to No. 4, surpassing Uber, which is in 13th place.